Raise Your Cone to Ben & Jerry's New 'Anchorman' Ice Cream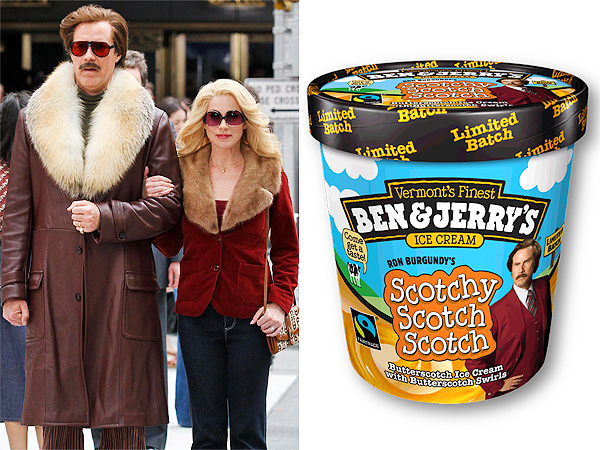 Ramey, Courtesy Ben & Jerry's
Make it a double. Scoop, that is.

Inspired by the favorite libation of Anchorman's Ron Burgundy, Ben & Jerry's has introduced a non-alcoholic, limited-batch butterscotch ice cream with butterscotch-swirl ribbons called Scotchy Scotch Scotch.
The creamy dessert—which arrives on store shelves in the next few weeks but is currently available at select Ben & Jerry's shops across the country—is a tasty tie-in with the sequel, Anchorman, the Legend Continues, scheduled for release December 20. (You can check out the hilarious trailer below.)
In the 2004 movie, the fictional newsman famously uttered, "Scotchy Scotch Scotch, here it goes down, down into my belly…" whenever it was drink time. Which was often.
The new flavor was officially unveiled on Tuesday at New York City's Pier 36 with a performance by Nutty, the waterskiing squirrel who appeared in the first Anchorman film.
Willing to give it a try? As Ron Burgundy might say after you've had a few licks, "Don't act like you're not impressed."
—Nancy Mattia