Sunny Anderson & Katie Lee: Healthy Recipes Kids Love to Make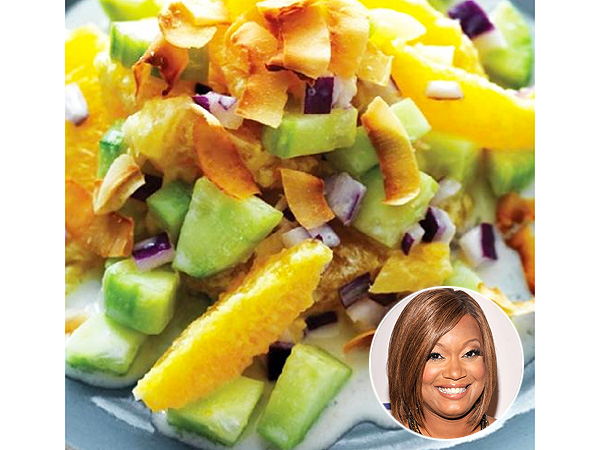 John Lee
TV food stars Katie Lee and Sunny Anderson know that getting kids to eat healthy is a lot easier if they help with the prep.

Kids in the kitchen? With sharp knives and hot burners? Don't be intimidated—it can be fun (and burn-free) if set yourself up for success:
On a weekend afternoon—because, as you parents already know, this is not a fast, weeknight activity!—choose a recipe that's easy enough for your mini-chefs to follow, preferably one that doesn't involve too much chopping or an open flame. It also helps to use ingredients the little ones generally love, like shredded cheese and fruit slices.
Two plates that fit the bill: Lee's veggie taco wraps, filled with cheese, lettuce and salsa; and Anderson's orange-cucumber fruit salad topped with a sweet pineapple dressing. The duo unveiled the recipes Thursday morning at NYC charter school Mott Haven Academy, where they teamed up with social-service provider The New York Foundling to teach fourth-graders about the importance of healthy eating.
If the looks on these kids' faces are any indication of the results, these no-cook dishes will be a hit in your kitchen, too.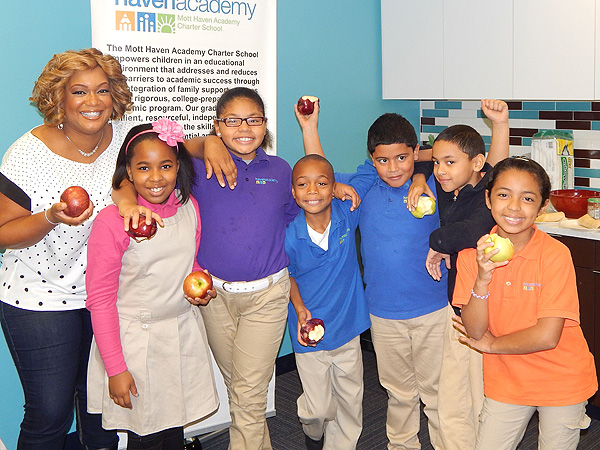 Sunny Anderson's Fruit Salad with Creamy Pineapple Dressing  
Serves 4-6
½ cup canned crushed pineapple, undrained
¼ cup sour cream
2 tbsp. apple cider vinegar
2 tsp. sugar
Salt, to taste
2 oranges
2 English cucumbers, peeled
½ cup red onion, finely chopped
2 tablespoons sweetened coconut flakes, for garnish (optional)
1. In a large bowl, combine the pineapple, sour cream, apple cider vinegar and sugar to make the creamy pineapple dressing. Stir until the sugar dissolves and is not gritty. Taste and season with a tiny pinch of salt. 

2. Peel and divide oranges into segments.
3. Halve each cucumber lengthwise, then halve again to quarter them. Slice cucumber quarters in ½-inch thick slices.
4. Add the cucumber, red onion and dressing to the oranges. Gently toss, then serve chilled or at room temperature with an optional sprinkle of coconut.
Katie Lee's Veggie Taco Wraps 
Serves 6
1 can black beans, drained and rinsed
1 tsp. olive oil
1 tbsp. taco seasoning
6 whole-wheat tortillas
1 cup shredded cheddar cheese
1 cup baby spinach leaves or lettuce
Salsa, to taste
1. In a small bowl, mash beans with olive oil and taco seasoning.
2. Spread a few tablespoons of beans on the center of each tortilla.
3. Top each tortilla with a couple tablespoons of cheese, spinach or lettuce, and salsa.
4. Roll the tortilla over the filling, starting at the bottom and rolling upwards. Fold the edges in.
5. Wrap stuffed tortilla in a piece of wax paper and cut in half.