Little Work, Big Flavor: Amy Roloff's Pumpkin Scones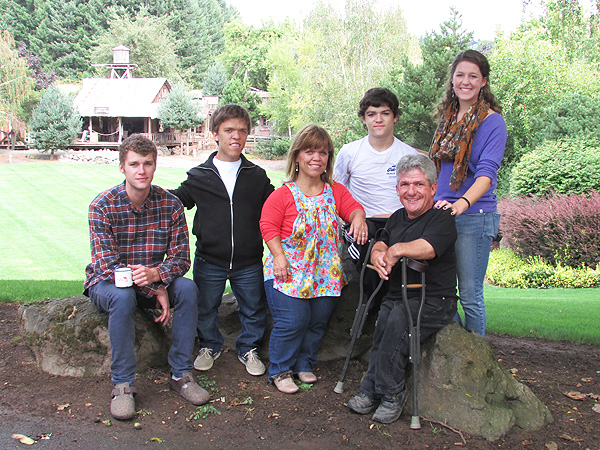 Courtesy Amy Roloff
When you live on a 110-acre farm in Oregon and grow thousands of pumpkins every season, you've got to have some gourd-eous recipes in your arsenal.

Just ask Little People, Big World's Amy Roloff. "We grow pumpkins on our farm and have been for about 17 years," she tells PEOPLE. "It's been in the last number of years [that] I've started to realize, 'Oh, yeah! Pumpkins are more than just in pumpkin pie.'"
Fans of the popular TLC series, which returns for its new season on Tuesday, know Roloff is an avid cook—she published her cookbook Short and Simple Family Recipes last year—and is often whipping up homemade feasts for her husband Matt, and children Jeremy and Zach, 23, Molly, 20, and Jacob, 16. With her three eldest away at college, Roloff is feeding fewer mouths these days but is still having fun experimenting in the kitchen—and planning for visits. "I have a little more time now that most of my kids have left the house," she says. "So when they do come home, it smells really good in the kitchen and reminds them that this is what mom does."
One of her favorite recipes to make when the gang's all here is her rustic pumpkin scones, which "remind me of having a quaint old-fashioned tea party," she says. "I like these scones because they are not overly sweet. [They] go great with maple butter or powder sugar drizzle icing and with a cup of tea."
Plus, it's a recipe everyone in her family enjoys, "even my youngest, Jacob, who is a picky eater," she says.
While October may be primetime for pumpkin coffees, cocktails and desserts, her scones can be turned into a year-round treat by subbing in dried apricots, dried apples or any seasonal fruit. "They're easy to store, pack up on the go—they're really for anytime," she says, even when entertaining: "I love to make food and make people feel welcome at the Roloff home."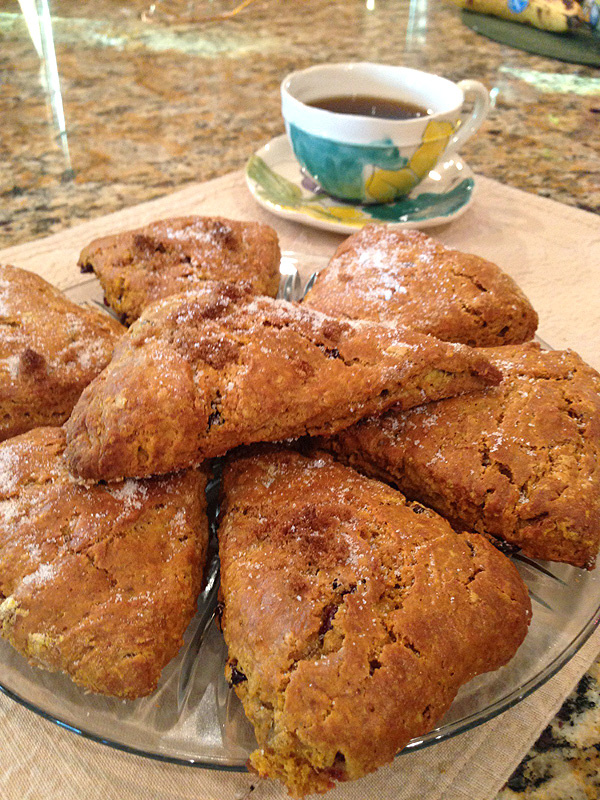 Courtesy Amy Roloff
Amy Roloff's Pumpkin Scones
2 cups of flour, plus more for dusting
⅓ cup lightly packed light brown sugar
1 tsp. baking powder
¾ tsp. ground cinnamon
½ tsp. baking soda
½ tsp. ground ginger
¼ tsp. sea salt
½ cup cold unsalted butter, cut into pieces
½ cup cold buttermilk
½ cup canned pumpkin pureé
½ cup dried cranberries
½ tsp. pure vanilla extract
candied ginger, finely chopped, to taste
¼ cup heavy cream
1. In a small bowl, soak the dried cranberries in hot water for 15-20 minutes to plump and soften them up. Remove, drain and set aside.
2. Preheat the oven to 375F and line a baking sheet with parchment paper.
3. In a large bowl, whisk together the flour, sugar, baking powder, cinnamon, baking soda, ginger and salt. Incorporate the butter cubes into the mixture until it resembles coarse meal.
4. In a medium bowl, whisk together the buttermilk, pumpkin puree and vanilla until smooth. Slowly add the wet ingredients to the flour mixture along with the cranberries and candied ginger. Mix until it is all just combined (do not over-mix or the scones will be tough).
5. Transfer to a lightly-floured surface and knead the dough gently 4 or 5 times. Pat the dough into a disc (about 8-inches round and 1½-inches thick). Cut the disc in half, and then cut each half into 4 pie-shaped wedges (triangles).
6. Place the scones on the baking sheet and brush the tops with the heavy cream. Bake until golden brown and a toothpick inserted in the middle comes out with a few moist crumbs attached, 20 to 25 minutes. Let cool on a baking rack for 15 minutes before serving.
—Sonal Dutt