Presto Pizza-o! Alton Brown's Secrets to Making a Perfect Pie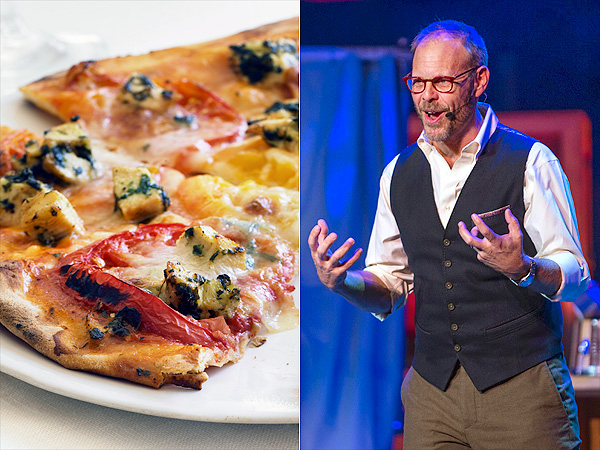 Left: Maren Caruso/Getty; Right: David Allen
Has Alton Brown invented the world's largest pizza oven?

As he tours the country with his first stage show, Alton Brown Live!, the Food Network star has been winning over audiences with cooking demos, stand-up comedy and the world's greatest retaliation to never getting an Easy Bake oven as a kid: his new, giant Mega Bake oven.
The enormous oven was summed up by Eater as a "massive 12-foot long contraption that uses 54 stage-light bulbs running 54,000 watts, one million lumens, and heats up to 650 degrees." Whoa.
At the Cerritos, Calif. show on October 19, Brown pulled up a lucky volunteer to make a pepperoni-kale pizza in his new toy, which turned out hot, bubbly pie in four minutes flat.
Brown is keeping the magic of the Mega Bake close to his heart, but we got the next best thing: his secrets to making the perfect pizza in a regular home kitchen.
Turn up the heat. "It's hard to get a home oven too hot for pizza," says Brown, who recommends cranking up your oven's heat as high as it will go. Wood-fire pizza ovens often reach temps over 500 degrees F.
Bottom's up. For a crispy crust, you should get your pie as close to the oven's heat source as possible. Use a pizza stone "set on the floor or bottom rack of the oven," he says, so the heat transfers directly to the stone.
Don't forget to brush. "Right before you slide the pizza in the oven,  brush the crust with a little olive oil to enhance browning," he says.
It's easy being green. Brown says baby kale is a surprising way to make a pizza taste great. "I kind of mix it into the cheese," he says. "I think it's better than spinach, which gets a bit stringy."
Take a time-out. You'll want to slice into your pizza the second it's out of the oven, but Brown advises a 3-minute rest period before cutting. As with anything baked, it continues to cook until it has cooled. Bonus: You won't burn your mouth. Now, go devour that pie!