Recipe Redo (Guilt-Free!): John Elway's Chocolate Brownies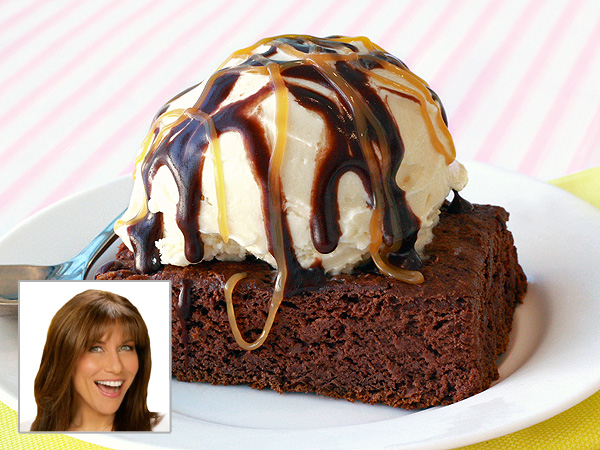 Courtesy Hungry Girl
Lisa Lillien is the author of the popular Hungry Girl website and email newsletter, featuring smart, funny advice on guilt-free eating.

She is also the author of eight Hungry Girl cookbooks, five of which debuted at number one on the New York Times Best Sellers list. Read her PEOPLE.com blog every Monday for slimmed-down celebrity recipes and more.
We all know John Elway is no slouch when it comes to the gridiron: He's a two-time Super Bowl champion quarterback, a Football Hall of Famer and the recipient of numerous other pigskin honors. And apparently, he's no stranger to scoring touchdowns in the kitchen, either.
I got word that No. 7 makes a mean pan of Chocolate Brownies—from scratch! But I couldn't help but make a few tweaks to speed up the baking process and slim down the finished treats. Fall is football season and pumpkin season, so there's no better time to make over a football legend's brownies using the high-fiber orange stuff! It adds moisture and eliminates the need for eggs, oil, and butter. All you taste is chocolatey goodness.
That said, I fully support the addition of subtle coffee flavor… great idea. Just like John, I suggest loading up your brownies, sundae-style—using guilt-free light ice cream, of course!
P.S.: John, I hear you also make a mean hamburger soup. Let's tailgate! (I'll bring the brownies.)
'Til next time… Chew the right thing!
HG's Fully Loaded Brownie Sundaes 
Serves 16
1 tsp. instant coffee granules
1 15-oz. can pure pumpkin (not pumpkin pie filling)
1 box (15.25 – 18.25 oz.) moist-style devil's food cake mix
8 cups light vanilla ice cream
½ cup fat-free, low-fat, or light caramel dip
½ cup light chocolate syrup
1. Preheat oven to 400 degrees. Spray a 9″x13″ baking pan with nonstick spray.
2. In a large bowl, mix coffee granules into pumpkin until dissolved. Add cake mix, and stir until smooth and uniform. Spread batter into the baking pan, and smooth out the top.
3. Bake until a toothpick inserted into the center comes out clean, 18-20 minutes. Let cool completely, about 1½ hours, then slice into 16 pieces.
4. Just before serving, warm brownie(s) in the microwave. Top each piece with ½ cup ice cream, ½ tbsp. caramel dip and ½ tbsp. chocolate syrup.
In 1 serving (1 brownie sundae): 265 calories, 5.5g fat, 350mg sodium, 51g carbs, 2g fiber, 33g sugars, 4.5g protein