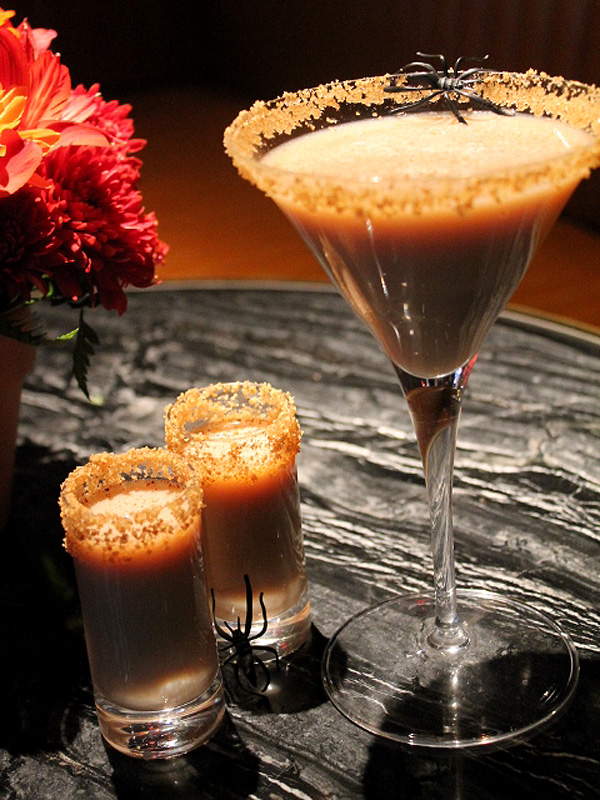 Courtesy Bar at Clement
Let's run down your Halloween party checklist:

Spooky haunted house decorations, check. Long beard and fatigues for your Duck Dynasty costume, check. Candy, candy and more candy, check. Killer signature cocktail? Um …
Get ready to check off that final box because Rich Lilley, manager at the Bar at Clement in The Peninsula Hotel New York, has created a fall-spiced cocktail you can serve from Halloween to Thanksgiving—and every get-together in between.
Before your friends arrive, rim several martini glasses and shooter glasses with cinnamon and crushed graham crackers, and line them up on your bar. Then just scatter a few plastic spiders around and let your friends shake up their own bewitching cocktail.
Drunken Pumpkin Pie
Makes 1
½ cup sugar
1 cinnamon stick
1 tsp. powdered cinnamon
½ cup graham crackers, finely crushed
2 oz. vanilla vodka
1 oz. coffee-flavored rum
.75 oz Irish cream
1. Bring sugar and ½ cup water to a boil, stirring until the sugar dissolves. Remove from heat and drop in a cinnamon stick. Set aside, and let cool. (Once cool, discard the cinnamon stick.)
2. Combine the powdered cinnamon and graham cracker crumbs in a shallow bowl or saucer. Dampen the rim of a martini glass with water, and dip it into the graham cracker mixture.
3. In a shaker with ice, mix the vanilla vodka, coffee-flavored rum, Irish cream and .25 oz. cinnamon simple syrup. Shake and strain it into the rimmed glass.