Recipe Redo: The Neelys' Whoopie Pumpkin Pies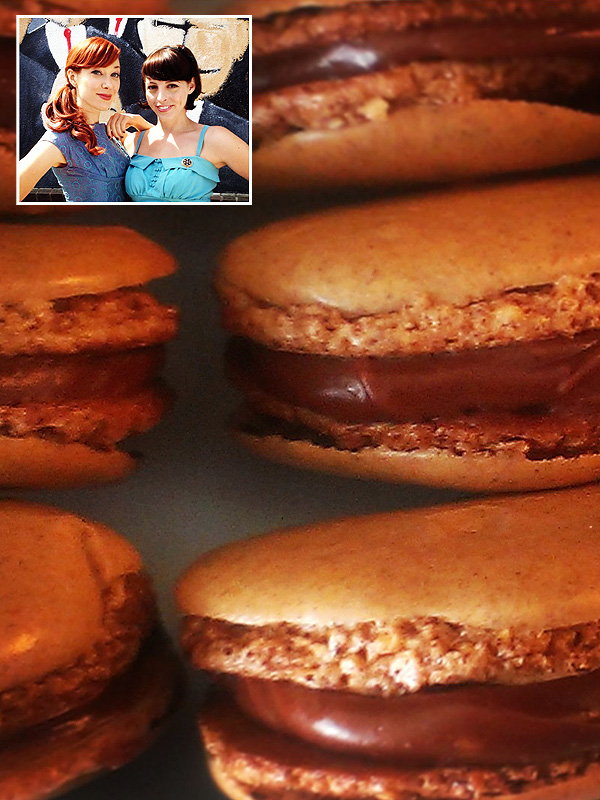 Courtesy Alie & Georgia
Alie Ward and Georgia Hardstark, a.k.a. Alie & Georgia, host Cooking Channel food-travel series Tripping Out with Alie & Georgia. Visit PEOPLE.com every Thursday for their playful spins on celebrity recipes, cocktails, entertaining ideas—and, of course, lots of laughs!

We're not gonna lie, we drooled over the photo and recipe for The Neelys' Whoopie Pumpkin Pies for a good five minutes straight as we imagined how good a dense chocolatey cookie sandwiched around creamy pumpkin frosting would taste.
As party planner extraordinaires, we then imagined biting into a giant whoopie pie and having sticky gooey fingers and getting frosting all over your pretty dress that you picked out just for this party and making all your friends mad at you for serving such a messy dessert and then going into party exile for the rest of the holiday season.
While we love a good, Wet-Nap-needed dessert as much as the next guy, we thought we'd take these whoopie pies and turn them into something a little more holiday-party friendly by remaking them into delicate French macarons.
Lay these out on a beautiful crystal serving dish alongside a carafe of coffee, or put a few in a little plastic candy bag tied with twine and hand them out as your guests leave. As your friends bite into these crisp, pumpkiny cookies in the elevator (because c'mon—no one's going to wait longer than that to bust into a bag of cookies), they'll remember what an awesome host you are, and we're sure you'll be at the top of everyone's "must invite" list this party season.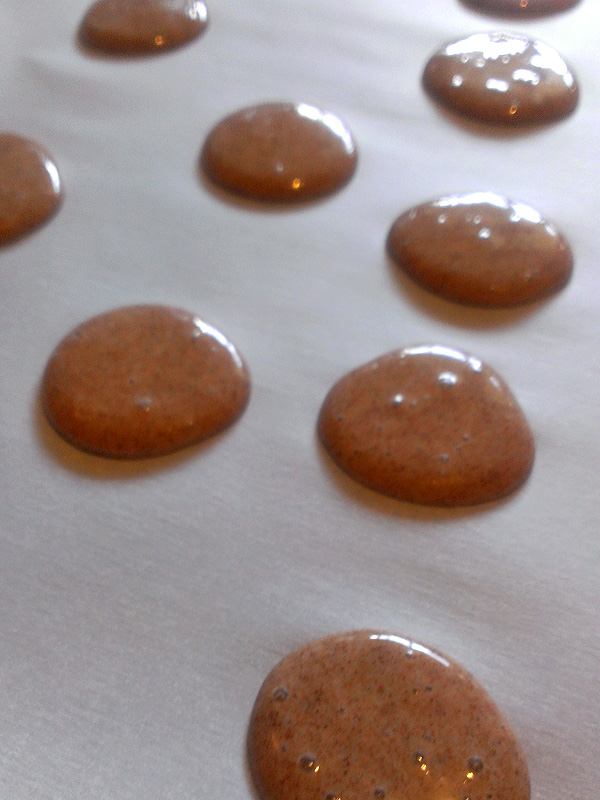 Courtesy Alie & Georgia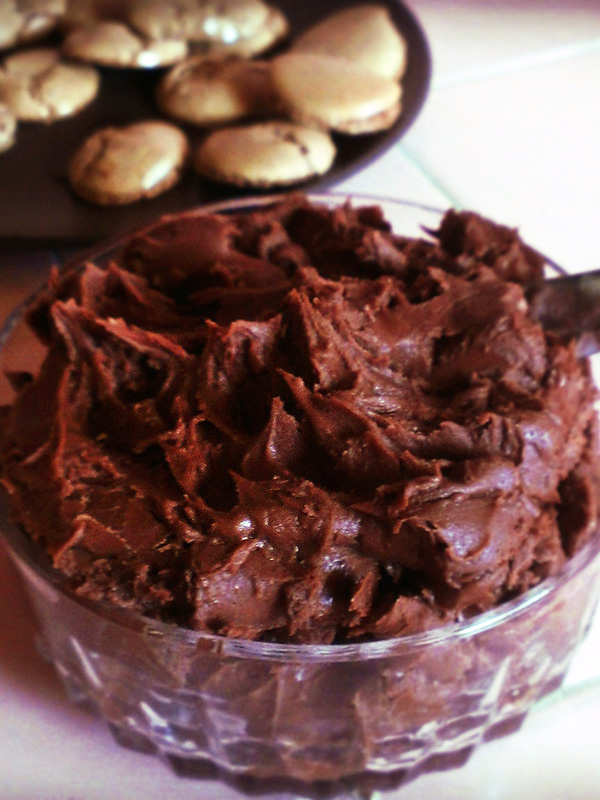 Courtesy Alie & Georgia
Pumpkin Pie French Macarons with Chocolate Buttercream Frosting
Makes about 40 macarons
For the pumpkin spice cookies:
½ cup blanched almonds, whole
1¾ cup confectioners' sugar, divided
1½ tbsp. pumpkin pie spice
3 egg whites, room temp
Pinch of salt
2 tsp. granulated sugar
For the chocolate buttercream frosting:
1 cup butter (2 sticks), softened (2 sticks)
3 cups confectioners' sugar
½ cup cocoa powder
½ tsp. salt
2 tsp. vanilla extract
¼ cup heavy cream
1. Preheat oven to 350 degrees and line 2 baking sheets with parchment paper.
2. In a food processor, combine the almonds with 1 cup of confectioners' sugar and pulse until the almonds are finely ground. Add the pumpkin pie spice and the remaining confectioners' sugar and pulse until everything is incorporated.
3. In a large bowl, use a hand mixer to beat the egg whites and salt until the whites form soft peaks. Add granulated sugar and beat until stiff peaks form.
4. Sift the almond mixture into the bowl containing the egg whites, discarding any bits of almond that weren't pulverized. Stirring gently with a spatula, incorporate the almond mixture into the egg white mixture until all is combined.
5. Transfer the batter into a squeeze bottle (we find this easier than using a piping bag) and pipe out 1-inch diameter rounds of batter onto the sheet pans lined with parchment paper, spacing each about 2 inches apart. After piping, hold the sides of each sheet pan and firmly tap the tray on your counter a couple of times.
6. Let the piped out cookie batter rest for about ten minutes, then bake the cookies for 7-8 minutes. Once cooked, immediately transfer the cookie-lined parchment paper onto a damp kitchen towel to rest until cooled (this will make it easier to cleanly remove the cookies from the parchment paper).
7. While the cookies cool, add the butter to a food processor and mix until creamed, about 2 minutes. Sift in the 3 cups confectioners sugar' and cocoa powder and pulse to incorporate.
9. Increase speed and add the vanilla extract, salt and cream. Beat until frosting is well incorporated and creamy, 3-5 minutes.
10. Spread a tablespoon of chocolate buttercream onto the flat side of a cookie, topping it with another cookie of the same size. Stuff approximately six cookies and four spoonfuls of chocolate buttercream into your mouth at once and high five yourself for mastering the French macaron. Bonjour!