Get Your Cupcake Fix with a '2 Broke Girls'-Themed Treat!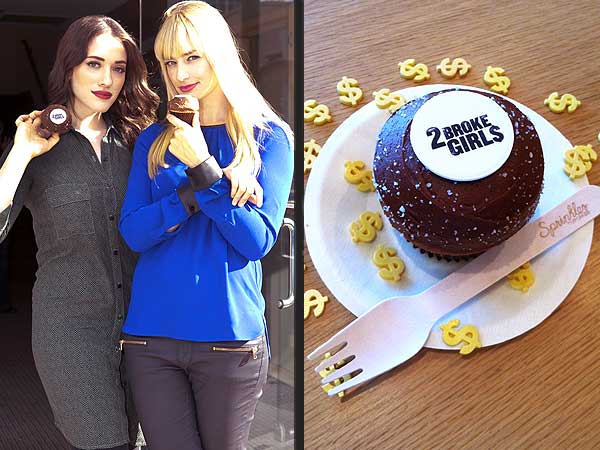 Courtesy Warner Bros; Sprinkles
Let them eat (cup)cake!

There's a food holiday for everything these days: National Hot Pastrami Day, Four Prunes Day and even a Moldy Cheese Day. Let's be honest, most of them are pretty eye-roll-worthy—except when it comes to a day devoted entirely to cupcakes. Then, we're all about it.
For National Vanilla Cupcake Day (yup, there is one) on Nov. 10, Kat Dennings and Beth Behrs, the stars of CBS's hit comedy series 2 Broke Girls, teamed up with Sprinkles cupcakes to celebrate the release of a limited-edition, sitcom-inspired 2 Broke Not So Vanilla cupcake.
More than just cake and frosting, the original creation features a buttery, crumbly graham cracker crust and vanilla cake with chocolate chips mixed in. Topped with dark chocolate frosting and a sprinkling of fleur de sel, this melt-in-your-mouth delight is not so vanilla, indeed!
Currently in its third season, Dennings and Behrs play sassy, financially-struggling roommates who hope to turn their small start up, Max's Homemade Cupcakes, into a full-fledged, successful storefront all while working as waitresses in a Brooklyn-area diner.
"The entrepreneurial spirit of Sprinkles' founder, Candace Nelson, is mirrored by Kat and Beth's characters on 2 Broke Girls," Lisa Gregorian, Chief Marketing Officer, Warner Bros. Television Group, says in a statement.
Want to get your hands on a cupcake of your own? The decadent dessert won't break the bank ($3.50 each) and is now available at all Sprinkles locations through November 15.
—Karen J. Quan