Breeders' Cup: Make the Official Cocktail and Cupcake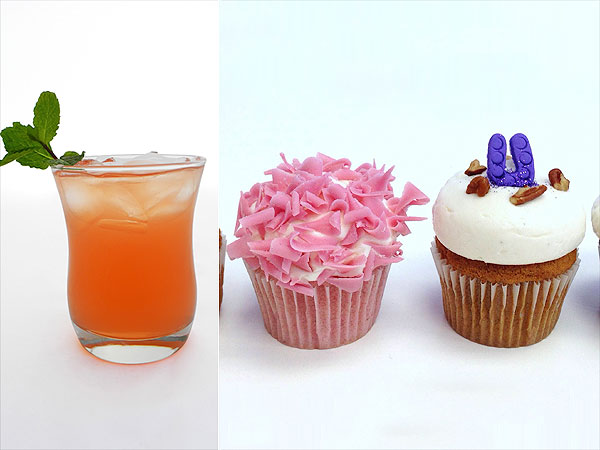 Courtesy Breeders Cup
The spirit of competition should have you racing for the kitchen.

The Breeders' Cup horse racing world championships take place at Santa Anita Park in L.A. on Nov. 1 and 2. Off the track, though, lucky (and some not-so-lucky) guests will be sipping on the event's signature citrus-spiked cocktail and snacking on Goodie Girls' pumpkin-pancake cupcakes in the Artisanal Food Court.
If you can't snag one at the track this weekend, whip them up at home. You can bet these recipes will be a big hit with your race fans.
The Classic
Makes 1
1.5 oz. vodka
.5 oz. elderflower liqueur
1.5 oz. fresh grapefruit juice
Club soda
Mint leaves, for garnish
Combine the vodka, liqueur and grapefruit juice, and pour into an ice-filled glass. Top off with a splash of club soda, and garnish with a sprig of mint.
Pumpkin Pancake Cupcakes
Makes 12
1½ cups all-purpose flour ­
1 teaspoon baking powder
½ teaspoon baking soda ­
1 teaspoon ground cinnamon
¼ teaspoon ground ginger
¼ teaspoon ground cloves
½ teaspoon salt
½ cup unsalted butter, room temperature
1 cup brown sugar
2 large eggs ­
1 teaspoon vanilla extract
¾ cup solid packed, canned pumpkin puree
Maple frosting (recipe below)
Toasted pecans­, garnish
1. Preheat oven to 350F. Line cupcake pan with 12 paper liners.
2. In a large bowl, combine the flour, baking powder, baking soda, ground spices, and salt.
3. In the bowl of your electric mixer, beat the butter and sugar until light and fluffy. Add the eggs, one at a time, beating well after each addition. Beat in the vanilla extract. Scrape down the sides of the bowl. With the mixer on low speed, alternately add the flour mixture and pumpkin puree, in three sections.
4. With an ice cream scoop, fill the cupcake liners evenly with the batter about ¾ full. Place in the oven and bake for about 18-20 minutes, or until firm to the touch and a toothpick inserted in the center of one of the cupcakes comes out clean. Place on a wire rack to cool completely before frosting.
5. Once cool, frost your cupcakes. Garnish with another small drizzle of maple syrup and a handful of toasted pecans.
Maple Frosting
1 pound of unsalted butter
5-6 cups powdered sugar
¼ cup pure maple syrup
Dash of salt
1. With an electric mixer, cream the butter and salt. Sift 3 cups of powdered sugar and add to the butter with the mixer on low. Mix until smooth and creamy on medium speed. Add the maple syrup and continue to mix until well incorporated. Add the remaining powdered sugar with the mixer on low. Mix until you reach a creamy consistency but do not over mix as you don't want to incorporate too much air to reach a silky consistency.
2. Your frosting should be able to hold its shape in the bowl. If it is still too soft, add an additional cup of powdered sugar until you reach your desired piping consistency.
—Dahvi Shira