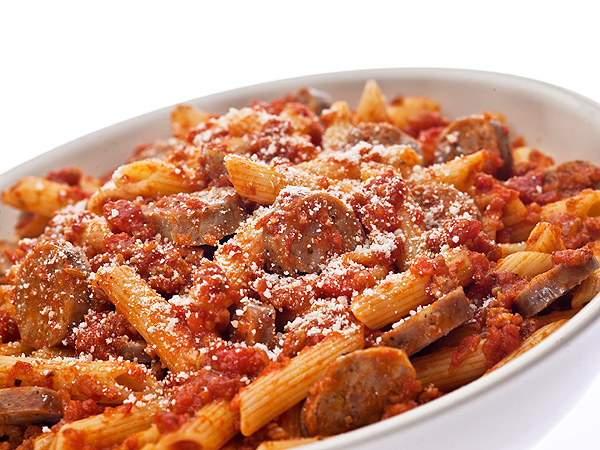 Courtesy Buca Di Beppo
With the New York City Marathon coming up on Sunday, there's going to be a lot of pasta eating going on the night before!

Okay, we're not actually participating in the marathon, but we can still carbo-load to support the 48,000 others tackling the 26.2 mile race. You bought that justification, right? And if you are running, you've got science on your side: A recent study found that runners who downed the most carbs the day before a marathon finished faster than competitors (of the same skill level) who didn't pack on the pasta. Okay, we're convinced—and now hungry.
Even if you've never laced up a pair of running shoes in your life, look at this bowl of saucy noodles and tell us you don't want to gobble it up right now. The pasta, a medley of penne, marinara sauce, Parmesan cheese and spicy sausage, is one of the most popular menu items at Buca di Beppo in N.Y.C.'s Times Square. The dish also packs a lot of protein, says executive chef Sanjay Miller, who was happy to share the recipe.
On your mark. Get set. Eat.
Penne Arrabbiata
Serves 6
2 lb. spicy sausage links
1 lb. penne pasta
4 cups marinara sauce
1 tbsp. crushed red pepper
⅓ cup plus 1 tbsp. Parmesan cheese, grated
1. Heat oven to 400F. Place sausage on a baking sheet and bake until brown, about 10 minutes. Remove from oven and let cool.
2. In a large pot, cook penne pasta according to package directions and drain.
3. Slice cooled sausage into ½-inch coins. In a large skillet over high heat, cook sausage until brown, about 3 minutes. Add marinara sauce, red pepper flakes and ⅓ cup Parmesan cheese and toss until mixed.
4. In a large heat-proof bowl, toss pasta with sausage and sauce mixture. Transfer pasta to a serving bowl and sprinkle 1 tbsp. Parmesan cheese over top. Serve immediately.