Sushi's Secret Health Pitfalls—And How to Avoid Them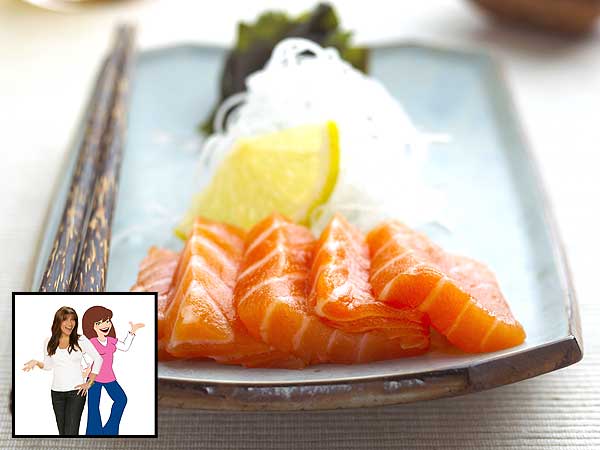 Meike Bergmann/Getty; Inset: courtesy Hungry Girl
Lisa Lillien is the author of the popular Hungry Girl website and email newsletter, featuring smart, funny advice on guilt-free eating.

She is also the author of eight Hungry Girl cookbooks, five of which debuted at number one on the New York Times Best Sellers list. Read her PEOPLE.com blog every Monday for slimmed-down celebrity recipes and more.
Celebrities love sushi! I've seen Ashton Kutcher and Mila Kunis out on sushi dates, Hugh Jackman is a fan of NYC restaurant SushiSamba, and Robert De Niro co-founded sushi empire Nobu. But just because a celeb is spotted at a sushi restaurant doesn't mean his or her meal is automatically light. Yes, there are a ton of fantastic guilt-free picks on sushi menus. But there are some calorie disasters, too. Here's how to order smartly:
To start, I like to get a bowl of miso soup and a sunomono salad (thinly sliced cucumbers and rice vinegar). Nice and light! At least one study has shown that people who start a meal with broth-based soup take in fewer calories overall—plus, miso soup is delicious! Edamame is also a great starter. It's high in protein, and popping the beans out is like a little food project…fun!
For the main course, sashimi is my go-to—it's never fried or slathered in cream cheese, and it doesn't even have rice. If I'm ordering a sushi roll, I ask for it to be made with just a little rice. My favorite sushi chef tells me it's better to ask for it this way than to leave some rice on the plate! Making sushi is an art, and you don't want to pick apart the masterpiece.
Buzzwords to avoid: tempura (deep-fried), dynamite (packed with mayo!) and crunch (deep-fried or topped with something deep-fried). But when it comes to extras, say yes to soy sauce, wasabi and pickled ginger, which don't pack on fat or calories. Just go easy on the soy sauce if you're watching your sodium—or reach for the low-sodium bottle, which usually has a green lid.
'Til next time… Chew the right thing!