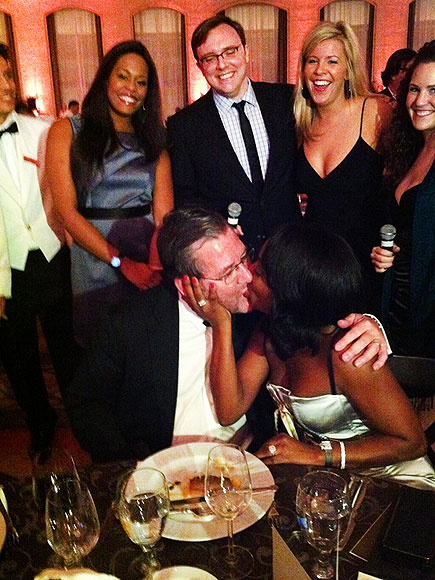 Courtesy Anthony Bourdain; Jason DeCrow/AP
With the sad, sudden news that famed Chicago chef Charlie Trotter died Tuesday at the age of 54, chefs and celebrities have taken to Twitter to pay respects to—and reminisce about—the chef who brought the world thousands of great meals.

The outpouring included simple condolences from Emeril Lagasse, who wrote "We've lost a tremendous human being & a visionary chef, my brother, Charlie Trotter. It's a very sad day. My heart goes out to his family." While others, like Anthony Bourdain—who posted a photo of Trotter and his wife, Rochelle, with the caption "Happy. And in love."—included memories of the chef from years ago.
What a shock to hear of the passing of Charlie Trotter. My heart goes out to his family.

— rachael ray (@rachael_ray) November 5, 2013
Sad day…lost one of the greats…chef Charlie Trotter will be missed.

— Guy Fieri (@GuyFieri) November 5, 2013
The Charlie Trotter I'd like to remember: Happy. And in love. pic.twitter.com/Ikx91ncREn

— Anthony Bourdain (@Bourdain) November 5, 2013
CHARLIE TROTTER: chef, mentor, trailblazer, philosopher, artist, teacher, leader. He now belongs to the ages.

— GRAHAM ELLIOT (@grahamelliot) November 5, 2013
Rest In Peace Charlie Trotter. A giant. A legend. Treated shabbily by a world he helped create. My thoughts go out to those who loved him.

— Andrew Carmellini (@andrecarmellini) November 5, 2013
We've lost a tremendous human being & a visionary chef, my brother, Charlie Trotter. It's a very sad day. My heart goes out to his family.

— Emeril Lagasse (@Emeril) November 5, 2013
Charlie was a legend in the world of cooking, and a great friend to me. He will go down as one of the greats next to Julia Child. RIP

— Sandra Lee (@SandraLee) November 5, 2013
Very sad day in the chef community #charlietrotter influence on young American chef was tremendous and inspiring .he will be missed greatly — Daniel Boulud (@DanielBoulud) November 5, 2013
Sorry to hear of the passing of Chef Charlie Trotter. My thoughts and prayers are with his family. — Tom Colicchio (@tomcolicchio) November 5, 2013
We so loved you.Our hearts are broken XO pic.twitter.com/k6GpPLdVZb — Chef Art Smith (@ChefArtSmith) November 5, 2013
So sad to wake up on this gray Tokyo morning and learn that Charlie Trotter is no longer with us. He was an important American chef. — ruthreichl (@ruthreichl) November 5, 2013
Unbelievably sad to hear about Charlie Trotter's passing. He was such a mentor and visionary and we lost a good one today. — Marcus Samuelsson (@MarcusCooks) November 5, 2013
Such a huge loss to the culinary world… RIP Charlie Trotter

— anne burrell (@chefanneburrell) November 5, 2013
RIP Chef Charlie Trotter and God Bless the Trotter family. Chicago and the World have lost a great Chef… — Rick Tramonto (@cheftramonto) November 5, 2013
Charlie Trotter was a visionary; one who exemplified what a young American chef could do to influence a generation. He'll be greatly missed — Thomas Keller (@Chef_Keller) November 5, 2013
So sad ! lost a great friend and an inspiration for the Art of Cooking . Chef Charlie Trotter , condolences to the family — JG Vongerichten (@jeangeorges) November 5, 2013
A vey very sad day for the country and our industry , I had the pleasure to work with Charlie briefly and wow what an amazing man.

— Robert Irvine (@RobertIrvine) November 5, 2013