Eggs-celent! Who Won the 'How I Met Your Mother' Scrambled Eggs Battle?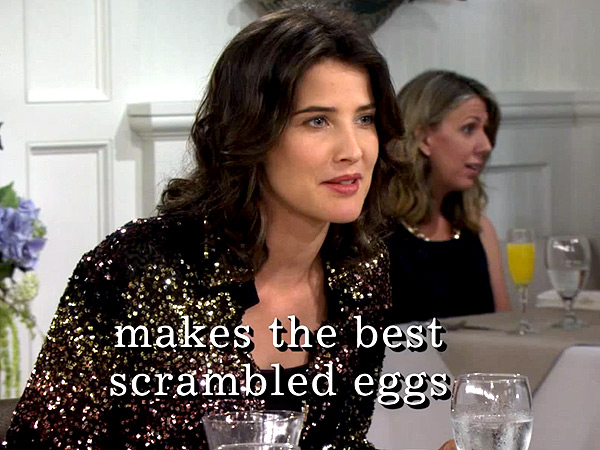 .
How do you like your eggs in the morning?

It's a simple question, but one that proved to be contentious when, on Monday's episode of How I Met Your Mother, Robin found herself at odds with Barney's mother for the second week in a row—this time over who could better prepare a plate of scrambled eggs. For anyone who's been a longtime fan of the series, it was a surprise to see Robin assert her authority over anything in the kitchen—but it proved to be exactly what we were thinking: a bluff.
When push came to shove, Robin admitted she had no idea what to do with a pan, while Mrs. Stinson, nee Loretta, had the fellow guests of the Farhampton Inn begging for a taste of her eggs after the scent of them wafted into other parts of the estate. Though we've never tasted Loretta's batch, which Barney alleged was the true inspiration for some classic rock songs from the '80s, we're positive we could give the "Queen of Scrambled Eggs" a run for her money with this recipe from the real experts, courtesy of the new Cooking at Home with The Culinary Institute of America cookbook.
After all, what brings people together better than a home-cooked meal?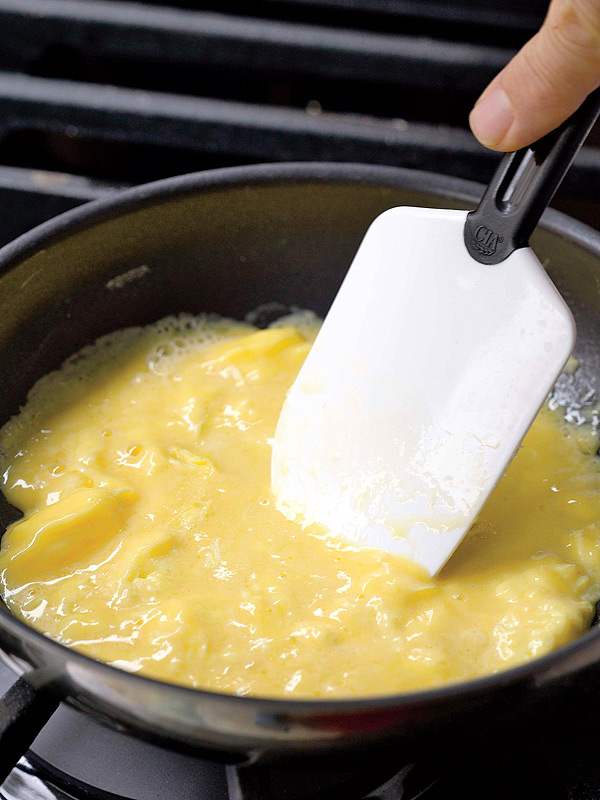 Ben Fink
How to Make the Perfect Scrambled Eggs
Properly prepared scrambled eggs have a moist texture, creamy consistency, and delicate fl avor. Moisture weeping from the eggs indicates that they were overcooked.
1. Crack the eggs and stir them with a fork or whisk until the yolks and whites are combined into a smooth, homogenous mixture. Add liquid, if using, and seasonings.
2. Heat the pan and the cooking fat over medium heat.
3. Pour the eggs into the pan; they should begin to coagulate almost immediately. Reduce the heat to low. Using the back of a wooden spoon or heatproof rubber spatula, stir the eggs as they cook. Keep both the pan and the spoon in motion to produce small, softly set curds. The lower the heat and the more constant the agitation, the creamier the finished scrambled eggs will be. In fact, they may be prepared by stirring them constantly over a water bath to prevent browning altogether.
4. Once the eggs are almost completely set, add garnishes, cheeses, or flavoring ingredients. Fold these ingredients in over low heat, just until incorporated. Remove the eggs from the heat when slightly underdone; they will continue to cook slightly from the heat they retain.
—Kiran Hefa
Excerpted from COOKING AT HOME WITH THE CULINARY INSTITUTE OF AMERICA, © 2013 by The Culinary Institute of America. Reproduced by permission of Houghton Mifflin Harcourt. All rights reserved.