Remembering Charlie Trotter: Make the Iconic Chef's Peppered Tuna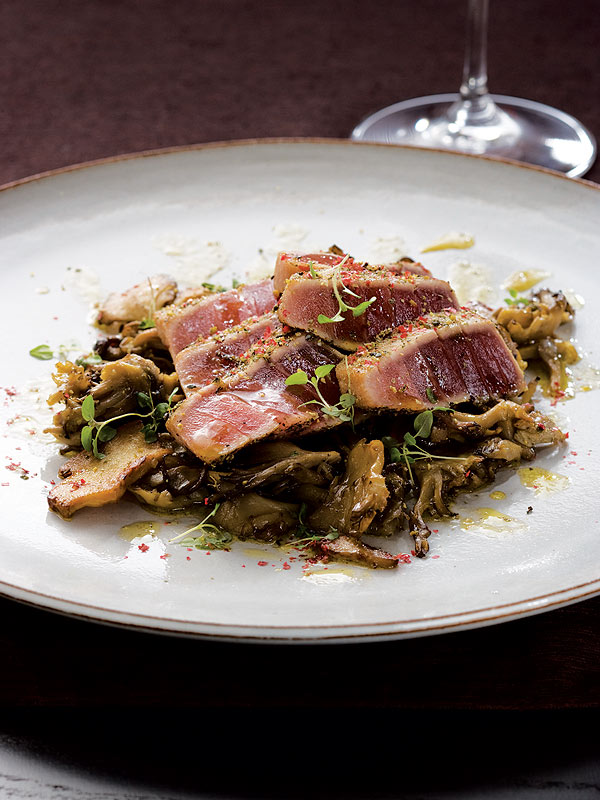 Courtesy Ten Speed Press
There are thousands of ways to remember Charlie Trotter, the celebrated Chicago chef who passed away suddenly at the age of 54.

Guests of his charity dinners may remember how he raised more than $1,000,000 for scholarships for young aspiring chefs. Guests of his restaurant may remember how he hired a blind chef and helped her learn to work the line in a commercial kitchen. Guests of his 2010 wedding may remember Trotter, a former gymnast, walking on his hands throughout the entire song "Crazy" by Gnarls Barkley.
But even those who never had the chance to meet Trotter or dine at his restaurant can remember the chef through his food, thanks to recipes like this peppered tuna from one of his many cookbooks, Home Cooking With Charlie Trotter.
Trotter loved seafood; despite being far from either coast, diners who sat through his hours-long tasting menus were guaranteed some of the finest tuna, salmon, scallops and mussels they'd ever eaten. The chef even ran a seafood restaurant in Los Cabos, Mexico, from 2004-2008.
This meaty tuna is rubbed in olive oil and served with garlicky roasted mushrooms and a sprinkling of red and green peppercorns. If the right kind of tuna isn't at your market, Trotter suggested making this dish with salmon. Either way, it's a perfect taste of true cooking talent.
Peppered Tuna with Wild Mushroom Ragout
Serves 4
1 large shallot, finely diced
1 tbsp. unsalted butter
3 cups mixed roasted mushrooms, with the cooking liquid reserved (recipe below)
Salt and pepper, to taste
1 pound sashimi-grade tuna loin (Chef's note: It is essential to use sashimi-grade tuna whenever tuna is left even partially raw. If you cannot find sashimi-grade tuna in a reputable fish market, prepare this recipe with salmon instead.)
2 tbsp. extra virgin olive oil, divided
2 tsp. black pepper, coarsely ground
½ cup meat stock reduction (recipe below) 
1 tbsp. fresh tiny thyme shoots (soft thyme)
½ tsp. green peppercorns, coarsely ground
½ tsp. red peppercorns, coarsely ground
1. In a large sauté pan over medium heat, cook the shallot in the butter until translucent but not brown, 3-4 minutes. Add the mushrooms and cook for 3 minutes, or until warm. Season to taste with salt and pepper, then reserve for plating.
2. Cut the tuna lengthwise into 2 pieces. Rub the pieces with 1 tbsp. of the olive oil, then coat with the pepper. In a medium sauté pan over medium-high heat, heat the remaining 1 tbsp. olive oil and sauté the tuna on all sides for 3-5 minutes total. The tuna should still be quite raw in the center. Remove the tuna from the pan and cut crosswise into ¼-inch-thick slices.
3. In a small saucepan over medium heat, heat the meat stock reduction and ¼ cup of the roasted mushroom cooking liquid until warm, about 5 minutes.
4. Spoon some of the mushroom mixture in the center of each plate. Layer the tuna slices in an overlapping pattern on top of the mushrooms, and spoon the sauce over the tuna and around the plate. Sprinkle the thyme and red and green peppercorns around the plates.
Roasted Mushrooms 
Makes about 2 cups
2½ cups stemmed mushrooms, such as button, cremini, shiitake or portobello
½ cup chopped yellow onion
1 clove garlic
2 sprigs thyme
1 tbsp. olive oil
½ cup water
Salt and pepper, to taste
1. Preheat oven to 325 degrees. In a small roasting pan, combine the mushrooms, onion, garlic, thyme, olive oil and water. Cover and bake until mushrooms are tender, 30-40 minutes.
2. Let mushrooms cool in the cooking juices, then season to taste with salt and pepper. Use immediately or refrigerate for up to 3 days.
Meat Stock Reduction
Makes 2 cups
1 cups chopped yellow onions
1 cup chopped carrots
1 cup chopped celery
2 tbsp. canola oil
1 cup red wine
2 quarts meat stock (Ed. note: Trotter makes his own meat stock for this recipe; we purchased ours)
4 springs thyme
1. In a large saucepan over medium-high heat, cook the onions, carrots and celery with the canola oil until vegetables are golden brown, about 10 minutes.
2. Add the red wine and cook until most of the wine has cooked out, about 10 additional minutes. Add the stock and simmer over low heat for 1 hour.
3. Strain stock and return it to the saucepan. Add thyme and simmer over low heat for 5 minutes. Remove thyme and simmer over low heat until reduced to 2 cups, about 30 minutes. Strain through a fine-mesh sieve.
—Marissa Conrad