Throw a Slow-Cooker Potluck Party!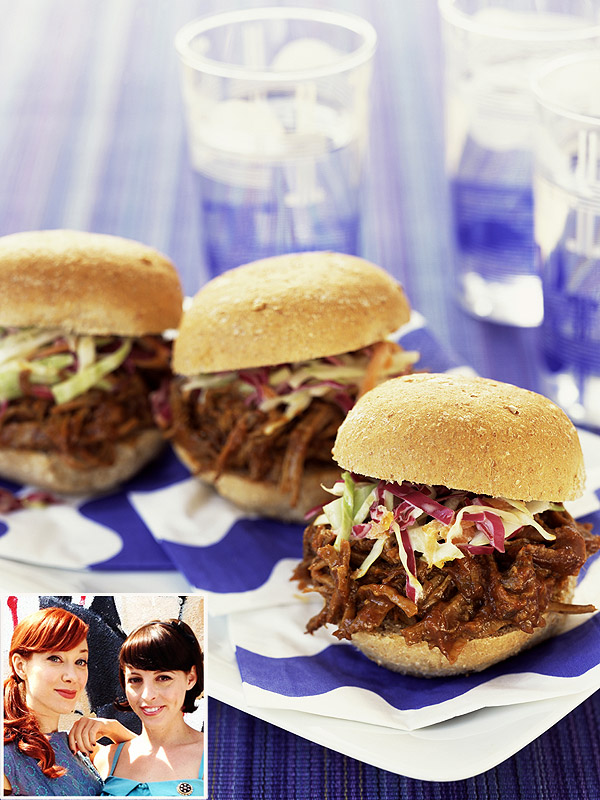 Rita Maas/Getty
Alie Ward and Georgia Hardstark, a.k.a. Alie & Georgia, host Cooking Channel food-travel series Tripping Out with Alie & Georgia. Visit PEOPLE.com every Thursday for their playful spins on celebrity recipes, cocktails, entertaining ideas—and, of course, lots of laughs!

Now that party season is in full swing, we're dusting off our tried and true autumnal/winter recipes that are great for bringing along to a potluck and showing off our cooking skillz to a crowd.
While we, as party throwers ourselves, always appreciate a guest that brings along the oh-so-necessary extra bottle of wine or dessert from a gourmet bakery, we get even more giddy when a friend presents a dish she can proudly add to the overflowing table.
It's with this in mind that we present you with our absolute favorite potluck foods that can—and here's the awesome part, are you ready?—all be made in a slow cooker.
Yup, all you need is a slow cooker and a few minutes the morning of the party to throw a bunch of stuff into it and turn it on. We know a lot of you still think of slow cookers as something of your mother's generation—those marigold contraptions that look like they're about to start an electrical fire and have years of crusted-on cheese baked into the edges. Well, we've got news for you. Slow cookers now come in all sorts of cool colors and designs (check out this one, this one, and this one), and are the perfect thing to bring to a potluck.
Plug it into an outlet, grab a glass of that fancy wine someone else brought, and sit back as everyone else rushes around to make sure their dish is at the right temp. You've got this covered. Literally.
If you want to bring a…cocktail
Cocktails in a crockpot? Yep! The best part? Set it up in the main party area and it'll keep the guests from having to come in and out of the kitchen to get a ladleful of warm punch from the stove, effectively keeping people out of the crowded kitchen and from spilling punch all over the stove. Win/win. You can make pretty much any heated cocktail in a crockpot, including mulled wine (just toss in as much red as will fit, with some cinnamon sticks and cloves) or hot chocolate spiked with peppermint liqueur, but one of our favorites is this Spiced and Spiked Slow Cooker Apple Cider from blog Rubies & Radishes.
If you want to bring…an appetizer
Three words: pulled pork sliders. Snag your favorite pulled pork recipe, make it in a slow cooker and pile it onto mini buns or mini Hawaiian sweet rolls, which we swear should be illegal, or at least not so easily accessible lest the purchaser (*cough*Georgia*cough*) eats an entire bag of the sweet, doughy rolls in one sitting. Ahem. Anyway, we love these Mini BBQ Pork Sliders from blog Table for Two, or if you're looking for something lighter to compensate for all of those Hawaiian rolls you ate, try making fellow PEOPLE.com contributor Hungry Girl's pulled pork in a slow cooker and putting it on teeny-tiny buns.
If you want to bring…a  main dish
We just took a poll and it turns out that 2 out of 2 Alies & Georgias agree: chicken pot pie is the quintessential winter dinner. It's basically a thick, rich stew with a bonus of puff pastry. What's not to love? And also what's not to devour two bowls of it before you even bring it to the party? Don't judge us. We are weak to the powers of CPP. We also didn't realize you could make it in a slow cooker until we discovered this lovely recipe from One Lovely Life. Just spreadin' the CPP love, y'all.
If you want to bring…a side dish
One of our favorite things about fall and winter is the plethora of pumpkin and yam items available to stick in our mouthholes. Basically, put yam in something and we'll eat it. For example, put yam in your slow cooker and then bring it over, okay? Specifically, these Candied Crockpot Yams from A Bountiful Kitchen.
If you want to bring…a dessert
Slow cooking a dessert, especially chocolate, is a great way to impart crazy delicious flavor without the mess and labor of a baked dessert. Serve Sandra Lee's Hot Cocoa Cake in cute little teacups, top with whipped cream and crushed candies, and boom: You've won the potluck. Okay, so maybe most people don't look at potlucks as a competition or way to show off, but for those of us who do, these crockpot recipes we've given you will for sure go further than a bottle of wine in a paper bag or an expensive box of chocolates that you picked up on the way. You can dedicate the Best Potluck Dish trophy you inevitably win to us.