The 6 Hottest Ways to Use Sriracha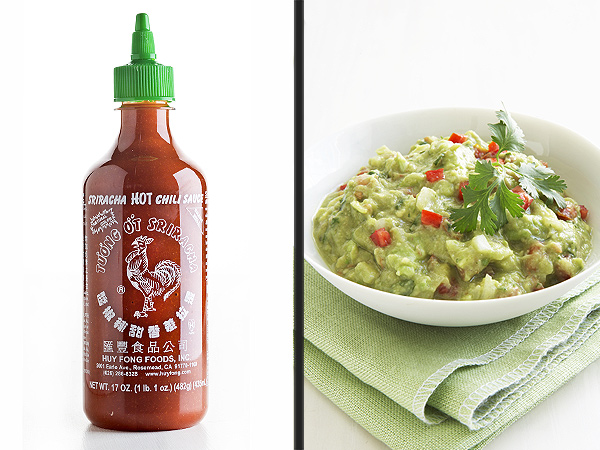 Bill Hogan/Mct/Zuma; Joseph De Leo
Looks like Sriracha is hotter than ever.

The spicy sauce has already popped up on sandwiches at Subway, on potato chips from Lay's and on the tables at some of the country's hottest restaurants, including Momofuku Noodle Bar in NYC. There's a Sriracha cookbook, a Sriracha movie and even Sriracha high heels. And now, as the Irwindale, Calif. plant that makes the sauce faces a legal battle with neighbors who want to shut it down, the sauce is on everyone's lips.
"If we did lose Sriracha, it would be a bigger crisis than having an oil shortage," chef Edward Lee of 610 Magnolia in Louisville, Kentucky, quipped to the AP. "People would riot in the streets." (Wipe that sweat off your brow: A judge has deemed the plant can remain open until a Nov. 22 hearing to decide its ultimate fate. The residents who've challenged the factory say the fumes are burning their eyes and throats.)
How did a $5 condiment come to have the biggest fan base since One Direction? "Rooster" sauce (nicknamed for the logo; the actual name comes from Si Racha, Thailand, where the sauce originated) is made from a blend of chili peppers, distilled vinegar, sugar, garlic and salt, giving it a more complex sweet/sour taste than most hot sauces, and chefs like Lee love its versatility: "What can't you put Sriracha on? I use it everywhere," he tells PEOPLE.
We made him prove it: Here are his six favorite ways to use the sauce in his kitchen. Better grab a bottle—or 10—for your pantry!
Do the chicken. "Get a bucket of your favorite fried chicken and squirt it with Sriracha and fresh lime juice," Lee says. "It's good cold the next day—maybe even better."
Heat up happy hour. Lee adds lime juice and a squirt of Sriracha to his beer "for a hot and cooling sensation that is like a party in your mouth."
Make a spicy slice. "Sriracha on pizza is the best, especially pepperoni and mushroom pizza," Lee says.
Ride the gravy train. Lee squirts Sriracha into sausage gravy and pours it over eggs and biscuits in the morning. Don't be afraid to pull the trigger: "I add quite a bit," he says.
Rock your guac. "I squirt Sriracha into my guacamole and eat it with nacho chips," he says. "The creamy and spicy are a match made in heaven."
Dress up dressing. To make a "killer spicy vinaigrette, especially for a blue cheese salad," mix Sriracha with olive oil, a touch of honey, and a generous amount of lemon juice. Says Lee: "It sounds funky but it really goes well together."
—Marissa Conrad