'Knife Fight' Host Ilan Hall Shows His Best Side (Sweet Potatoes!)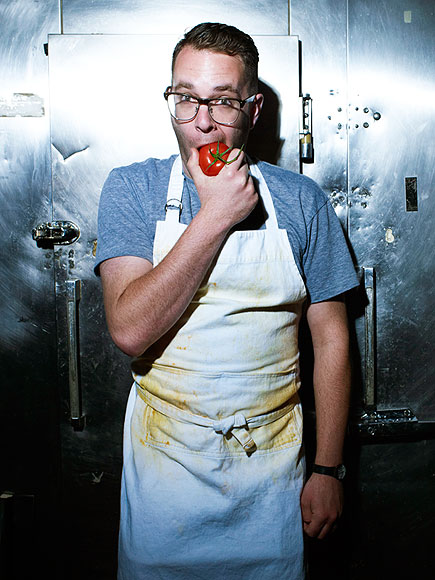 Top Chef alum Ilan Hall wraps up his gritty food competition show Knife Fight on November 12, but the real battle—Thanksgiving dinner—is just beginning.

Luckily, the TV host is armed and ready with a simple dish sure to wow his guests: the sweet potatoes with sage butter that he makes at his L.A. restaurant The Gorbals, as well as home on Turkey Day. And he's sharing the recipe!
"It's really simple to put together and you can get it ready in advance," says Hall. "It has familiar flavors done in a slightly more contemporary way. And it will warm you from the inside out."
Before the Knife Fight season finale, Hall also shares a few lessons he learned from the show:
It's never too late to try new flavor combinations. Despite years of experience in professional kitchens—and earning the championship title in season 2 of Top Chef—Hall, 31, says he learned amazing new skills while hosting a show where seasoned chefs battle it out in underground after-hours cook-offs (inspired by what actually goes on at Hall's restaurant). For instance? "Goat cheese and foie gras would never be something I would process as a great natural combination, but it blew my mind."
Erika Christensen is the celebrity he'd want to join him in a kitchen competition. Although he raves about her fellow Knife Fight judges Elijah Wood and Eric Wareheim, saying they all have "amazing palates and great insight," Hall would bet on the Parenthood star to stand out during a culinary fight. "She can definitely stand the competition," he says. "She's super tough and a badass in every regard."
There's nothing quite as fun as watching chefs break down an animal together. "The most exciting drama on the set was the competition between Christian Page and James Trees," recalls Hall. "I gave them a whole goat and they broke it down together in about 6 minutes, which is unheard of. It was primal and beautiful to see such intensity."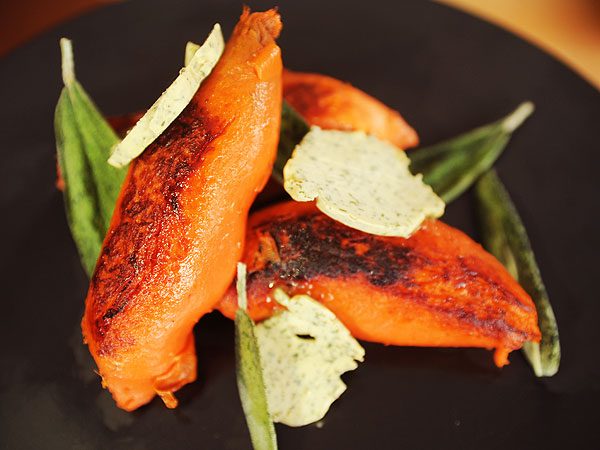 Sweet Potatoes with Sage Butter
Serves 6
1 pound baby sweet potatoes
½ cup (1 stick) butter
½ bunch fresh sage leaves
2 tbsp. extra virgin olive oil
1 clove garlic
2 tsp. salt
2 tbsp. Bragg cider vinegar
1. Preheat oven to 375 degrees. On a baking sheet, bake baby potatoes until tender, about 35 minutes.
2. While potatoes are baking, pulse all other ingredients in a food processor until liquified. Pour the liquid into ice cube
trays and freeze until solid.
3. When potatoes are soft, remove from oven, let cool and then peel. Fry the potatoes with your chosen method: Either deep-fry them in a large saucepan of oil heated to 350 degrees, pan-fry them in a shallow pan over high heat or brown them under the broiler. If you've fried the potatoes in oil, remove and drain on parchment paper. Optional: Toss any extra sage leaves into the hot oil to use as a garnish.
4. When the liquid butter is completely frozen, remove from ice cube trays. Shave with a fine grater or microplane over the hot fried potatoes. Sprinkle with salt and, if desired, crispy sage leaves. Eat immediately.
—Liza Hamm