Oh, Thanksgivukkah! Recipes That Mix Turkey Day and Hanukkah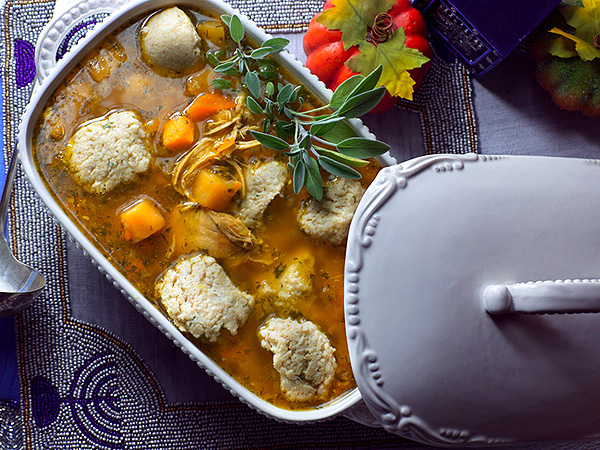 Courtesy Marjorie Druker
On November 28, worlds will collide.
But for food lovers, Thanksgivukkah—when Turkey Day and the first day of Hanukkah happen together—is cause to cheer, not stage a meltdown worthy of George Costanza.
Since the folks who study calendars tell us that these holidays won't overlap again for, oh, another several thousand years, you should plan to make the most of this once-in-a-lifetime event. (But no pressure or anything.)
In the spirit of multitasking, we're sharing our favorite four recipes that mix ingredients from both holidays into fun new creations. They're so good you might even add them to your permanent Thanksgiving repertoire.
For a first course, Marjorie Druker of Massachusetts' New England Soup Factory suggests sage-scented matzoh ball soup made with turkey and root vegetables. The bird soaks up the flavor of the carrots, parsnips and sweet potatoes boiled in the broth, but the real stars are the intensely flavorful matzoh balls.
Michael Leviton of Lumiere in Newton, Massachusetts teams stuffing and challah with his stuffing tots, which he developed just for Thanksgivukkah. Just dip small patties of challah stuffing in breadcrumbs and deep-fry them into deliciousness. (Seriously, where have these been all our lives?) And the FoodNetwork.com's crispy two-potato cake marries the top spud of each holiday into a cake that can be made ahead and rewarmed—a bonus for any busy host.
For the final course, we have three words for you: Pie, meet rugelach. Steven Capodicasa, a contributing chef from the high-end market Balducci's, has shared a surprisingly simple recipe for individual apple-cranberry rugelach pies. If you can slice, stir and turn on your oven, you're good to go.
And—bonus!—you can find more holiday-perfect recipes from Rachael Ray, Kristin Chenoweth and your other favorite stars in PEOPLE's Feast On Fall Flavors feature.
So hunt down a menurkey, fill your cornucopia with gelt and grab your comfiest pants. Gobble tov!
Turkey and Root Vegetable Soup
Serves 12 to 14
2 tbsp. olive oil
2 cloves garlic, minced
1 large Spanish onion, diced
1 fennel bulb, diced
4 carrots, peeled and sliced
2 parsnips, peeled and sliced
2 sweet potatoes, peeled and diced
1 pound butternut squash, peeled and diced
4 quarts poultry stock
3 cups diced roasted roasted turkey
3 tbsp. chopped parsley
3 tbsp. chopped dill
Salt and pepper, to taste
12-15 sage-scented matzoh balls (recipe below)
1. In a large, heavy lined stock pot over medium-high heat, add the olive oil, garlic and all of the vegetables. Sauté for 5-7 minutes. Add the poultry stock and bring to a boil.
2. Reduce heat to a simmer and cook for 20 minutes. Add the turkey meat, fresh herbs and seasoning and cook an additional 5 minutes. Add the matzo balls, ladle into soup bowls and serve.
Sage-Scented Matzoh Balls
Makes 12-15
7 eggs, separated
1 tbsp. salt, plus a pinch
¼ cup chicken fat
2 cups matzo meal
3 tbsp. club soda or seltzer water
2 tsp. onion powder
2 tsp. sage, chopped and rubbed
1 tbsp. parsley, chopped
1. Fill an 8-quart pot ¾ of the way with salted water and bring to a boil.
2. In a mixing bowl, combine egg whites with a pinch of salt. Whip egg whites until they form stiff peaks. Set aside.
3. In a separate bowl, mix egg yolks, salt, chicken fat, matzo meal, club soda, onion powder and herbs. Gently fold in the egg whites. Refrigerate mixture for 15 minutes.
4. Using your hands, roll the mixture into walnut-size pieces and drop into boiling water.
5. Reduce heat to a simmer and cook, covered, for 35 minutes. Remove with a slotted spoon.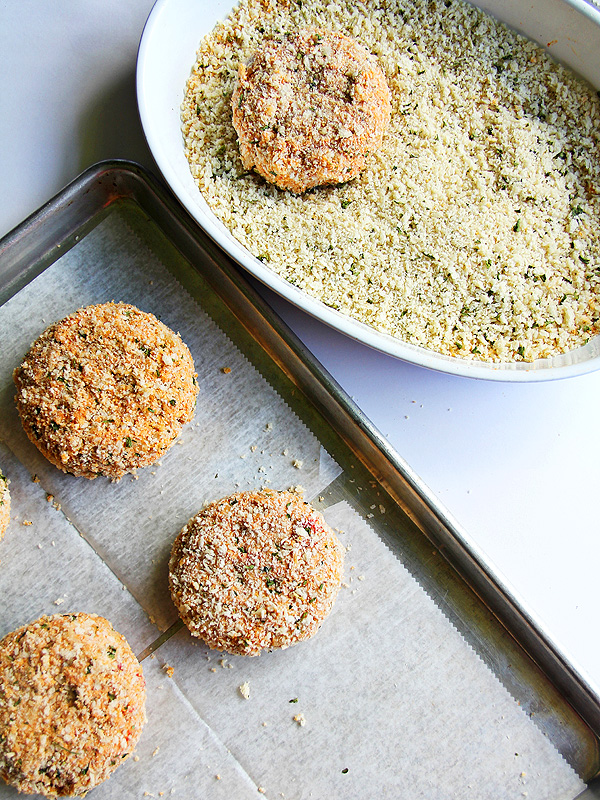 Courtesy Michael Leviton
Stuffing Tots
Makes about 24
3 lbs. wild mushrooms
2 tbsp. olive oil
2 lbs. red onion, finely diced
3 oz. butter
2 eggs
½ cup heavy cream
4 cups mushroom stock or chicken stock
6 cups challah bread, toasted and torn into small pieces
1 cup gremolata (recipe below)
1 tsp. salt (divided into two equal portions)
1 tsp. pepper (divided into two equal portions)
1 cup flour
1 egg, beaten
1 cup panko bread crumbs
1 qt. vegetable, corn or peanut oil
1. Preheat oven to 500 degrees. In a baking dish, toss the mushrooms with olive oil and half the salt and pepper. Roast at 500 degrees until golden brown, about 8 minutes. Set aside to cool and lower the oven to 350 degrees.
2. In a large saucepan over medium heat, cook red onion in the butter until soft and transparent.
3. Using a food processor, pulse cooled mushrooms until coarse. Add mushrooms to onions and cook for an additional 5 minutes .
4. In a separate bowl, beat the eggs with heavy cream and stock. Fold in the egg mixture, challah and gremolata. Add the remaining salt and pepper.
5. Pour into a casserole dish and bake for 20 minutes. After baking, remove stuffing and roll into 1-inch-thick patties using a rolling pin. Place on a cookie sheet under plastic wrap and freeze for ten minutes.
6. Dredge patties first in flour, then beaten egg, then panko bread crumbs.
7. In a wok or deep fryer, heat oil until almost smoking (approximately 375 degrees). Add 5 patties at a time and fry until crisp and golden brown, turning as necessary, approximately 2 minutes.
Gremolata
1 oz. Italian parsley, finely chopped
⅓ oz. garlic, finely chopped
⅓ oz. lemon zest, grated on a microplane
Mix ingredients together until evenly combined. Set aside.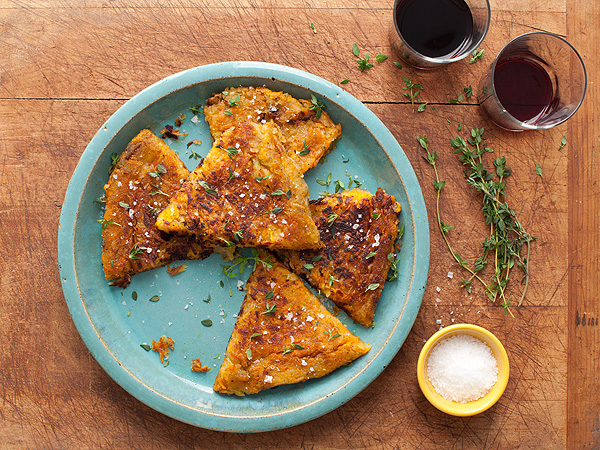 Courtesy FoodNetwork.com
Crispy Two-Potato Cake
Serves 6
1 lb. russet potatoes (about 2 medium)
8 oz. sweet potatoes (about 1 small)
1½ tsp. freshly chopped thyme leaves, plus whole leaves for garnish
1 tsp. salt, plus extra for garnish
¼ tsp. pepper
1 pinch chipotle chile powder
3 tbsp. canola oil, divided
1. Peel potatoes and grate on the large holes of a box grater. Transfer to a clean dish towel and squeeze out as much liquid as possible.
2. In a medium bowl, mix squeezed potatoes with chopped thyme, 1 tsp. salt, pepper and chipotle. Toss well to combine.
3. In a medium nonstick skillet over medium heat, heat 2 tsbp. oil until very hot but not smoking. Add potato mixture and press down firmly using a spatula. Cook until browned and crispy on the bottom, 8-9 minutes, shaking pan occasionally so cake does not stick. Cake should move around as one piece when skillet is shaken.
4. Slide cake out of skillet onto a plate and add remaining oil to the skillet. Flip cake onto a second plate and slide back into the skillet, crispy side up. Continue to cook until bottom side of cake is browned and crispy and cake is cooked through, another 8-9 minutes, lowering the heat if cake is browning too quickly.
5. Slide cake onto a wire rack and cool until still warm but not hot. Cut into 6 wedges, lightly season with salt and fresh thyme leaves and serve.
Chef's note: To make ahead, prepare the cake and cut into wedges. When ready to serve, place the wedges on a baking sheet and reheat in a 400-degree oven until crispy and warm, about 15 minutes.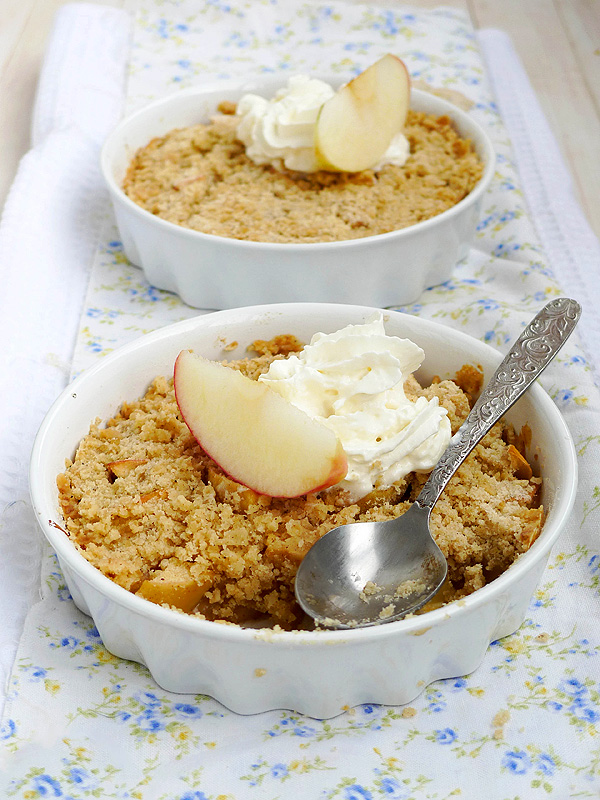 Courtesy Balducci's Markets
Individual Cranberry-Apple Rugelach Pies
Serves 12
For crumb topping:
2 cups all purpose flour
1 cup (packed) brown sugar
1 cup crumbled cinnamon rugelach
1 ½ tsp. ground cinnamon
1 stick chilled unsalted butter, cut into small pieces
For filling:
12 large Granny Smith apples, peeled, cored, cut into 3/4-inch pieces (about 5 cups)
2 lbs fresh cranberries
Juice of 1 lemon and its zest
1 ½ cups sugar
2 tsp. cornstarch
1. Preheat oven to 350 degrees.
2. For topping, in a medium bowl, mix first 4 ingredients. Add butter; rub in with fingertips until mixture resembles coarse meal. Set aside.
3. For filling, in a large bowl, toss all ingredients until well blended.
4. Transfer apple-cranberry filling to small pie tins, mounding in center. Sprinkle topping over pies. Set pies on baking pans.
5. Bake until apples are tender, juices bubble thickly and crust is golden, about 70 minutes.
6. Transfer to rack. Cool 15 minutes. Serve warm with vanilla ice cream.
—Lexi Dwyer