VIDEO: Watch Jon Stewart Call Chicago Pizza 'Tomato Soup in a Bread Bowl'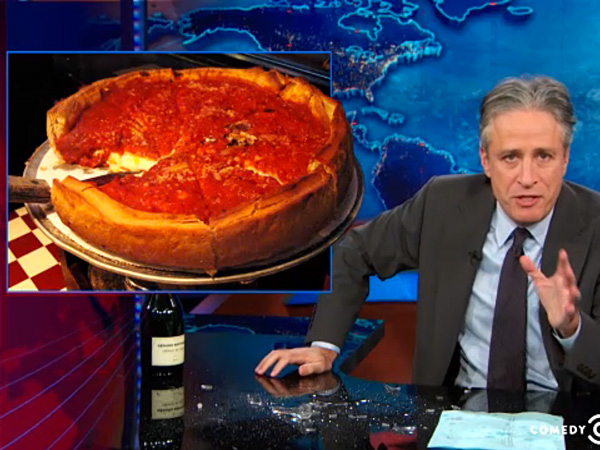 Any way you slice it, Jon Stewart is one crusty comedian.

On Wednesday's The Daily Show, the late-night host dissed Chicago's world-famous deep-dish pizza, claiming it's "not only not better than New York pizza—it's not pizza! It's a f—–n' casserole!"
The Comedy Central star railed against everything from the Chicago pie's uncooked layer of marinara sauce to the fact that the pizza is cooked in an iron skillet rather than an oven, like New York's.
"This is tomato soup in a bread bowl," he sneered. "This is an aboveground marinara swimming pool for rats."
"I don't know whether to eat it or throw a coin in it and make a wish," he continued. "And if I made a wish, it would be that I'd wish for some real f—-n' pizza." 


This wasn't the first late-night pizza fight. In October, Jimmy Kimmel got into a saucy skirmish with Jon Hamm after calling St. Louis-style pies "terrible" compared to his homemade creation. He challenged Hamm, who's from the Midwestern city, to an on-air taste-test.
What's next—Jimmy Fallon in a pizza bake-off with Domino's?
—Nancy Mattia