Taste Florida's Newest Food Festival: Donatella Arpaia's Bacon Burger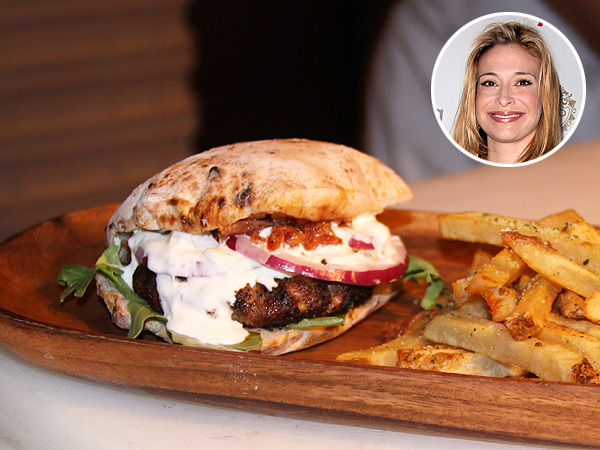 Inset: D Dipasupil/FilmMagic
Celeb chefs including Duff Goldman and Curtis Stone will be hitting the beach Friday through Sunday at the first Enjoy Arts & Tastes St. Pete festival in St. Petersburg, Florida.

And if taking in a one-of-a-kind menu from Todd English or seeing Morimoto roll sushi in the flesh isn't enough of a treat, all proceeds from the weekend events benefit ProStart, a 2-year program that provides high school students with hands-on experience and education about the culinary industry.
Even if you can't jet down to sunny Florida for the festival, you can still whip up a treat from Iron Chef judge Donatella Arpaia: a burger topped with a savory bacon jam. She'll be making the dish at Sunday's poolside Battle of the 'Burg, and will be critiquing local Tampa Bay-area top chefs on their meaty creations.
The recipe makes more bacon jam than you need, but you'll be happy to have it in your fridge—it tastes great on toast in the morning!
Donatella Arpaia's D Burger
Makes 1
6 oz. ground beef
1 bun
1 tbsp. bacon jam (recipe below)
12 pieces arugula
1½ oz. Stracciatella cheese
1 slice red onion, ¼-inch thick
1. On a grill or in an oiled skillet over high heat, cook burger to desired doneness (3-4 minutes per side for medium-rare).
2. Open the bun and spread the bacon jam on the top half. Place the arugula on the bottom half. Place the burger on top of the arugula, then top with cheese and thin slice of red onion.
Bacon Jam
Makes 2 cups
1 lb. thick bacon, cut into ½-inch pieces
4 small onions, thinly sliced
½ cup water
½ cup maple syrup
¼ cup balsamic vinegar
2 tbsp. dijon mustard
1 tbsp. Worcestershire sauce
Kosher salt, to taste
Black pepper, to taste
1. Preheat oven to 350 degrees.
2. In a skillet or medium saucepan over medium-high heat, cook bacon until it begins to brown and crisp. Do not drain off or discard any bacon fat.
3. Lower heat to medium. Add onions and cook until translucent. Add remaining ingredients and bring to a simmer. Cover pan with aluminum foil and place in the oven.
4. Cook jam for 30-45 minutes, stirring every 15 minutes, until thickened and glossy.
5. Allow to cool slightly, then pulse in the food processor for a few seconds. When completely cool, store in an airtight container and refrigerate.
—Catherine Kast