Hungry Girl's Fast Food Survival Guide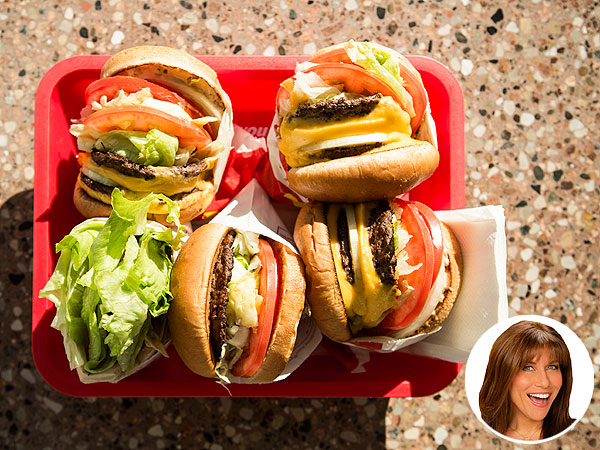 Getty; Inset: Courtesy Hungry Girl
Lisa Lillien is the author of the popular Hungry Girl website and email newsletter, featuring smart, funny advice on guilt-free eating.

She is also the author of eight Hungry Girl cookbooks, five of which debuted at number one on the New York Times Best Sellers list. Read her PEOPLE.com blog every Monday for slimmed-down celebrity recipes and more.
Photos are always popping up of celebrities enjoying fast food. Jennifer Love Hewitt's been spotted at In-N-Out Burger, while Kim Kardashian and Kanye West hit up McDonald's on a Hawaiian vacation. Olympic sprinter Usain Bolt reportedly ate 100 Chicken McNuggets a day during the Olympics in Beijing. Crazy!
We all associate fast food with excess fat and calories, but here's some good news: You don't have to avoid the drive-through to stay in star shape. Use a few of my favorite fast food tips and tricks to indulge the smart way. (Psst: Unless you are an Olympian burning umpteen-thousand calories a day, lay off the McNuggets!)
1. If you're making a breakfast run, your best bet is an English muffin sandwich with an egg (better yet, an egg-white patty) and Canadian bacon or ham, which have less fat than sausage or traditional bacon. Avoid breakfast sandwiches made with doughy biscuits and buttery croissants, though.
2. Just because a fast-food meal is cheap doesn't mean it's worth the calorie price tag. However, items on value menus are frequently smaller than the oversized monstrosities elsewhere on the menu—which means they'll likely pack fewer calories and fat grams. I'm a big fan of "junior" hamburgers topped with lettuce and tomatoes. And value menus are where you'll often find the smallest (read: least fattening) order of fries!
3. Salads are not always your best bet. A plate of greens with fried chicken, crunchy toppings, cheese and full-fat dressing can get out of control fast. Stick with grilled chicken, and ditch croutons and fried toppers. Then choose a light dressing, and use it sparingly. If your salad comes with a packet of nuts, save 'em as a snack for later!
4. Much like salads, chicken and fish at fast-food joints can be unexpectedly fattening. I steer clear of anything with "crispy" in the name, since those dishes are pretty much always fried. And even watch out for grilled fish sandwiches, since they're probably loaded with goopy (and fatty!) tartar sauce. My pick? A grilled chicken sandwich, hold the mayo.
5. Sometimes you've got to have a burger. If that's the case, keep it simple (one patty) and skip the cheese and creamy sauces. Bonus points if you ditch the bun and ask for your patty wrapped in lettuce leaves instead.
'Til next time… Chew the right thing!