Skinny Dipping for the Holidays! (No, Not that Kind!)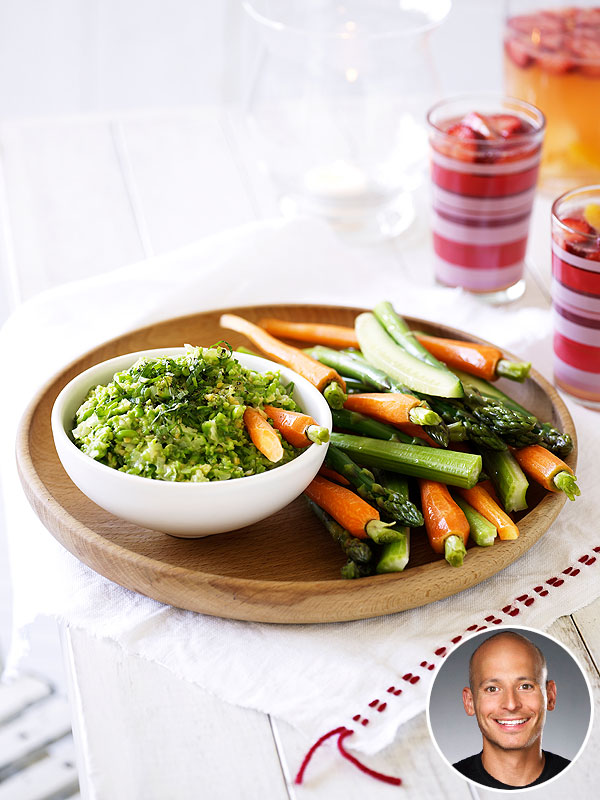 Getty
Harley Pasternak is a celebrity trainer and nutrition expert who has worked with stars from Halle Berry and Lady Gaga to Robert Pattinson and Robert Downey Jr. He's also a New York Times best-selling author, with titles including The Body Reset Diet and The 5-Factor Diet. Tweet him @harleypasternak.

Let me guess: Sometime between now and the new year, you're hosting a holiday dinner party.
Now let me lay out a likely scenario. As people arrive and mingle and you're scrambling to put the final touches on your giant roasted turkey or brisket, you realize your guests are getting hungry. Uh oh!
Not to worry—in just a couple of minutes, you can whip up a delicious dip. Your guests will be content (and distracted), and you can go back to plating and garnishing the main course for the night.
The following three dips are über simple to make, are low cal, and are loaded with protein. Serve them with either cut veggies (celery, carrots, broccoli, cauliflower, zucchini) or high-fiber Scandinavian crackers like Wasa, Finn Crisp or Ryvita.
Have leftovers? Dips make for an ideal healthy snack between meals. In fact, I snack on these creamy spreads all year round!
Mexicali Avocado Dip
¾ cup plain fat-free Greek yogurt
½ cup chopped red onion
3-4 tbsp. chopped cilantro (plus a sprig or two for garnish)
½ medium jalapeño pepper, chopped and seeded
Juice from one lime
1 tbsp. ground cumin (plus a dash for garnish)
½ teaspoon salt
3 Hass avocados, peeled, seeded and chopped
1 garlic clove, minced
1. In a food processor or blender, mix all ingredients until almost smooth.
2. Garnish with the sprigs of cilantro and a dash of ground cumin. Serve with crudités.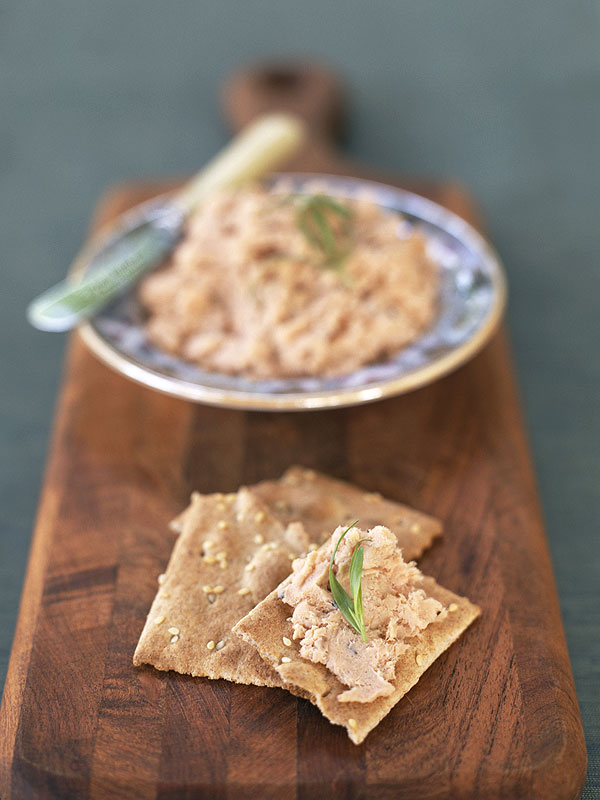 Getty
Smoked Salmon Cracker Spread
8 oz. plain fat-free Greek yogurt
2 tbsp. chopped dill (plus a sprig or two for garnish)
Juice from ½ small lemon (about 1 tbsp.)
4 oz. smoked salmon, finely chopped and divided
1. In a food processor or blender, combine yogurt, dill, lemon and half of the salmon.  Process until smooth.
2. Mix in remaining half of salmon by hand. Garnish with dill sprigs and serve with high-fiber crackers.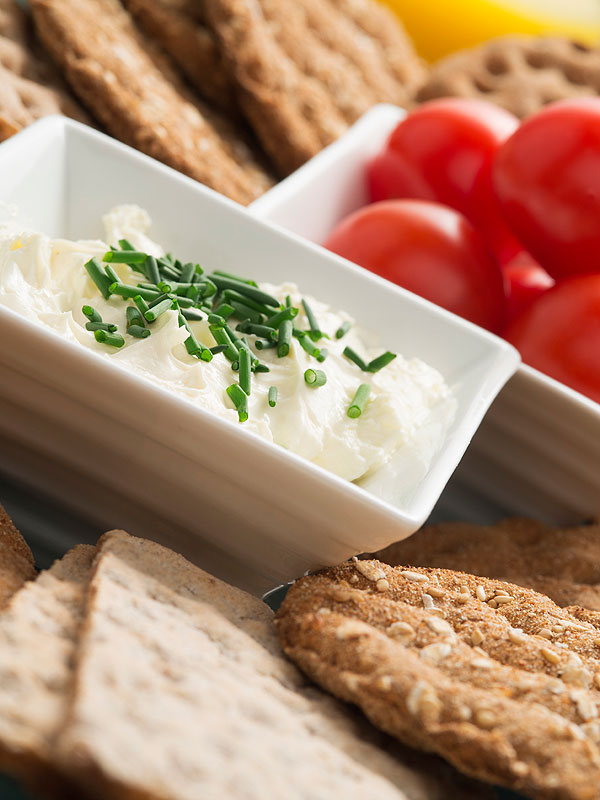 Getty
Creamy Herb Spread
½ cup chopped flat-leaf parsley
¼ cup chopped basil
2 tbsp. chopped chives (plus a handful for garnish)
Juice from 1 small lemon (about 2 tbsp.)
1½ oz reduced-fat cream cheese (at room temperature)
⅓ cup plain fat-free Greek yogurt
½ cup oil-packed sun-dried tomatoes, drained, chopped and divided
Salt and pepper, to taste
1. In a food processor or blender, mix first 5 ingredients until smooth. Add the yogurt and half the tomatoes, and blend until combined.
2. Season with salt and pepper. Top with remaining sun-dried tomatoes and/or chives and serve with crudités or high-fiber crackers.