Tiffani Thiessen's Kid-Friendly (and Healthy!) Pizza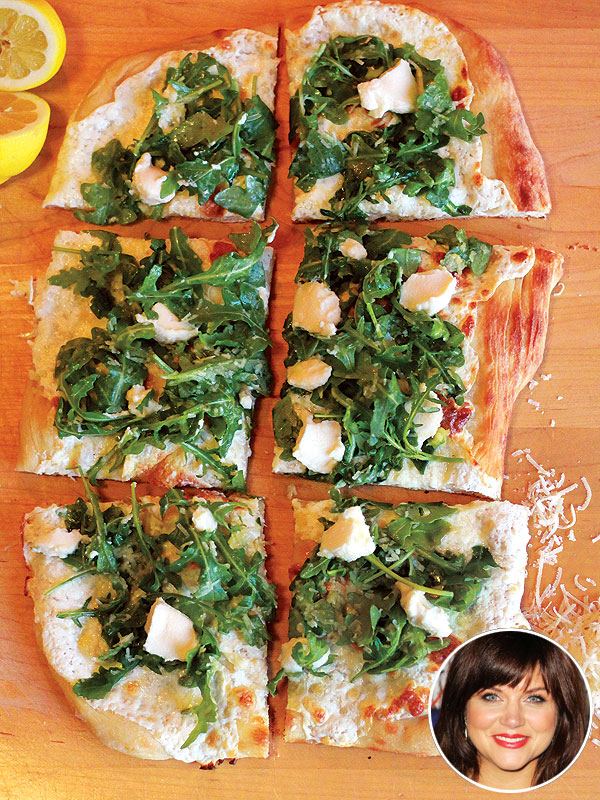 Courtesy Tiffani Thiessen
We know how hard it is to get our kids to eat enough fruits and vegetables every day. (Shoot, it's down-right impossible to get some adults to eat them, too.)
Tiffani Thiessen's sneaky solution: Pack them on a pizza.
"Who doesn't love pizza?" says Thiessen, who finishes her homemade pie with mounds of spicy arugula dressed in olive oil and fresh lemon juice. It has all the benefits of a healthy salad and all the satisfaction of a cheesy pizza in one bite.
"I love making my own dough," says the actress, who is featured on the November/December cover of Women's Running magazine. "But I have also gone to my local Italian grocer and picked up pre-made dough as well."
We don't blame her for taking shortcuts or tweaking the recipe to suit finicky eaters—in particular, her 3-year-old daughter, Harper. "[She] loves strawberries," says Thiessen, who often swaps arugula for berries when preparing it for her daughter. And to make every bite even sweeter, she replaces the lemon juice the original recipe calls for with agave nectar.
The result is a pizza that any kid will love to eat—without the sugary tomato sauce and layers of cheese found on your average slice. And though Thiessen says she is "addicted to arugula," even she likes digging into the kiddie version of this pie.
Arugula White Pizza
Serves 6
3 tbsp. olive oil, divided
16 oz. pizza dough (your favorite recipe, or store-bought)
8 oz. fresh mozzarella, thinly sliced
Handful of arugula
½ cup grated Parmesan
2 tbsp. lemon juice
Salt and pepper, to taste
½ cup part-skim ricotta
1. Preheat oven to 500 degrees.
2. Grease 17″x12″ rimmed baking sheet with 1 tbsp. olive oil. Place pizza dough on center of baking sheet and, using fingers, press out and flatten dough so it spreads as close as possible to all four corners.
3. Cover dough with mozzarella and brush exposed edge of crust with 1 tbsp. olive oil.
4. Bake until crust is crispy, about 15 minutes. If cheese starts to bubble before crust looks done, cover center of pizza with foil.
5. While pizza bakes, toss together several handfuls of arugula, Parmesan, remaining olive oil, lemon juice, salt and pepper. After pizza has cooled for about two minutes, top with the salad, then ricotta and a sprinkle of pepper.