Alie & Georgia: Exactly How Much Booze to Buy For Your Holiday Party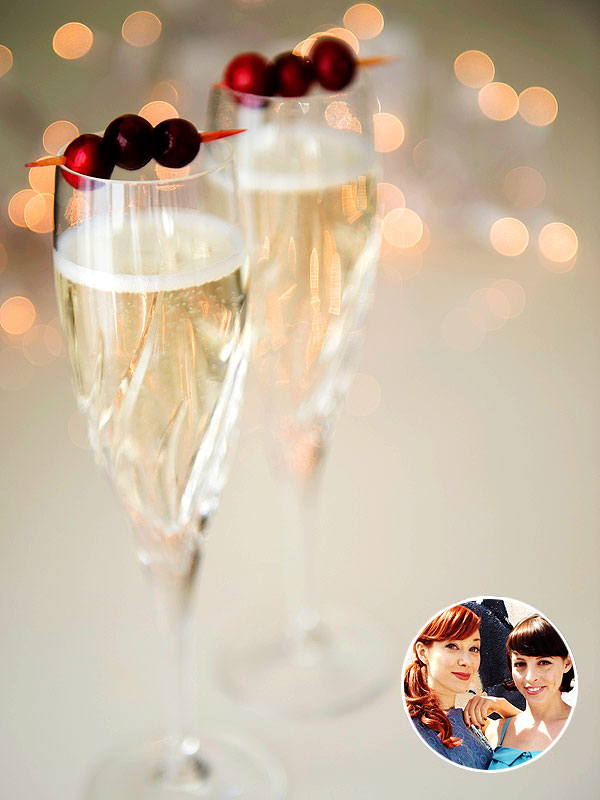 Inset: Courtesy Alie & Georgia
Alie Ward and Georgia Hardstark, a.k.a. Alie & Georgia, host Cooking Channel food-travel series Tripping Out with Alie & Georgia. Visit PEOPLE.com every Thursday for their playful spins on celebrity recipes, cocktails, entertaining ideas—and, of course, lots of laughs!

Thanksgiving feast: You're nailing it. You've created a menu of your family's favorite traditional dishes, plus some fancy new ones you've tested. It's a cornucopia of perfection.
But wait: beverages. D'oh!
The drinks at a party always seem to be an afterthought: They don't require too much fuss, so why put thought into them? Because the day of your party, when you have nothing but tap water and flat diet soda in the fridge, you'll be wishing you added "stuff to drink!!!" to your pre-party shopping list.
When it comes down to it, our bodies are mostly water. So let's fill up the ol' hydration tank! Maybe with booze. Or apple cider. Or more water. Here are our tips to cover your beverage bases.
Wine and Bubbly
A glass of wine before dinner gets the chatter started, and a good red with a rich meal can be one of life's greatest pleasures. There are about four glasses per 750 ml bottle of wine or bubbly, and we think it's always good to plan on one to two glasses per guest, since some people won't have any, and no one should be having more than four. Unless you have a lot of pull-out couches on which to crash. We always say it's better to buy a little more white and/or sparkling wine than red because often party guests will bring red wine—which doesn't need to be chilled before serving—along as a gift. Crack those open if you run low! And if you're on a budget, are feeling open-minded or are eco-conscious, opt for boxed wine! Boxed wine is actually getting a great reputation these days: You get way more bang for your buck, and the vacuum-sealed bag means the wine stays good for weeks. You might need those vino leftovers when family's in town—or after they leave.
Beer
Everyone likes a beer. (Georgia)  Unless they don't. (Alie.) Like wine, a good rule of thumb is to buy about two beers per guest, since not everyone will be drinking it. Adjust this a little if you know your crowd leans more toward beer than wine. And if they do, it's never a bad idea to have an extra backup 12-pack of something easy to drink, like a light beer, in the fridge in case the party gets wild or goes late.
Hard Liquor
People always ask us how much hard liquor they should buy for a party and our advice might surprise you. You don't need much. If you don't already have a huge home bar, don't bother stocking up on a dozen bottles of bourbons and gins and vodkas and tequilas just for one event. Honestly: You're hosting a dinner party, not a kegger. What we suggest is making a signature cocktail or having one or two hard alcohols—a flavored vodka and a bourbon are good basics—and the option to spike a non-alcoholic beverage. For example have a bottle of orange or berry vodka next to a non-alcoholic cranberry juice punch. We like 2 parts cranberry juice to 1 part lemonade and 1 part sparkling water. A great touch is one big ice cube to chill the punch. Just freeze water overnight in a loaf pan, and add some whole cranberries and lemon slices for color. Boom. Classy. Easy. We're into it.
Soda
For all the teetotalers, underagers and designated drivers, have some sodas on hand. Buy about 3 per guest, since even the booze drinkers will be switching to soda here and there. We also are obsessed with fizzy La Croix waters, which have no calories or artificial sweeteners but taste awesome. We're not paid to endorse them; we're just huge fans. If your fridge is full of wine and beer and pies and food, it's a great idea to have a cooler with ice or a big ol' bucket filled with drinks and ice on the porch or patio.
Coffee
A big meal. A long day. A happy gathering. When the wine buzz is fading, the belts are loosened and the drive home awaits, that magical post-dinner round of fresh coffee is the perfect way to wind the night down. Brew a pot or pour a French press and have some cream and sugar as well as a sweetener on hand. It's also a great idea to have a non-dairy creamer option.
Water
Something was glaringly missing from this list, right? Water! And that happens a lot at parties. Harried hosts are running around buying booze and sodas and forget that a lot of thirsty people just want water. And it's as easy as keeping a big pitcher filled with water and ice and, for bonus points, some lemon or cucumber slices thrown in for color. You'd be surprised how wildly impressed people are with a little lemon-cucumber water. And it'll probably be the cheapest, easiest thing you prepare.
So with that, happy entertaining! Oh, and invite us over, will ya?
There with bells on,
Alie & Georgia