Turkey Day at Martha Stewart's House: Pass the Pomegranate Tart!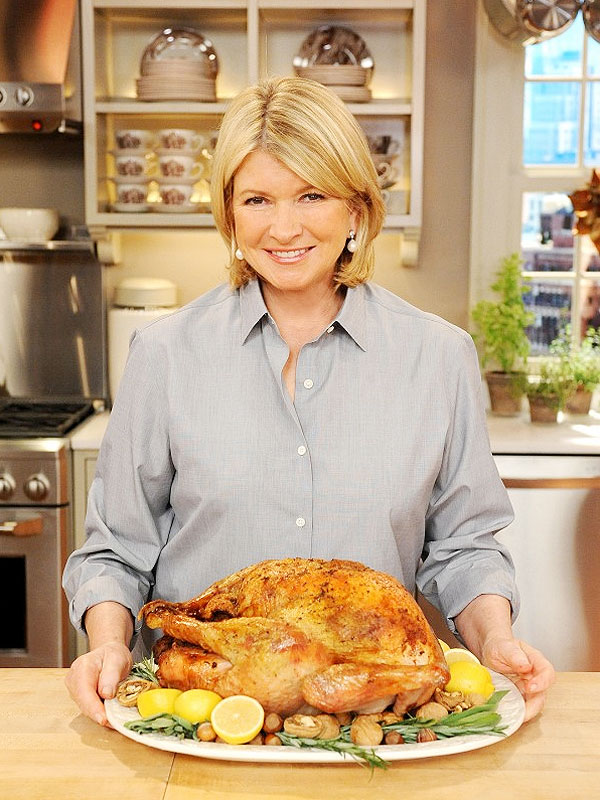 .
Imagine getting the ultimate invitation: Thanksgiving dinner at the home of America's domestic doyenne. But in case your invite got lost in the mail (ha!) or you've already made plans, we offer the next-best thing—Martha Stewart's menu.

At the James Beard Foundation's "Women in Whites" fundraiser at the Four Seasons Restaurant, Stewart dished with PEOPLE about all things turkey and what she's preparing for guests at her Bedford, N.Y., farm this year. (Watch the video below.)
But first she set the record straight: The feast will take place midday.
"I have a large group coming to my house for Thanksgiving lunch," she explained. "I like having turkey in the early afternoon because it's a big meal, and it's great to then, after lunch, have a great big hike."
After starting off the food fest with celeriac soup, made from celery root grown in Stewart's own garden, guests will dig into a 35-pound, fresh-killed turkey. ("He's still walking around," she marveled to us.)
"This year I'm doing a parchment-wrapped turkey—it will be a succulent delicious bird," she said, before urging the rest of us to try her trick. (We will, Martha, we will!)
In consideration of the vegetarians at her table, Stewart is preparing a nonmeat stuffing rather than a traditional dressing containing bacon or poultry. (We assume she'll have a separate stash that's not stuffed in the big bird for the vegetarians.)
After gobbling traditional side dishes, guests will dive into dessert, Stewart style. Apple and pumpkin pies may be the nation's favorites but at the entertaining expert's table, a pomegranate tart and ice cream will be the sugar stars, as well as a lemon meringue pie because "everyone loves lemon in my family."
Maybe we should check our mailbox for that invitation again.
—Nancy Mattia
WATCH THE VIDEO: