'Catching Fire' Cocktails that Would Make Haymitch Proud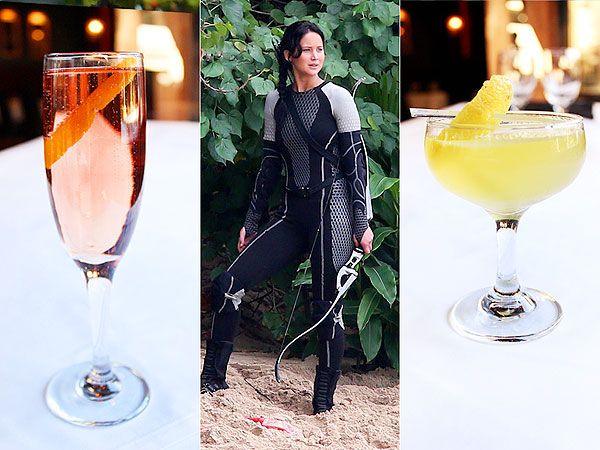 Courtesy The Whisper
There are drinks inspired by The Hunger Games: Real or not real?

Real!
If you're pre-gaming before heading out to watch The Hunger Games: Catching Fire, which opens across the country Friday, mixologist Lawrence Long has two cocktails to get you in a rebellious mood.
Long runs the bar at The Whisper Restaurant & Lounge at The Grove in Los Angeles, where Rihanna, Halle Berry and Jennifer Lopez have been spotted recently. He tells PEOPLE that he "totally geeked out" when developing the recipes for his  Tracker Jacker and Quarter Quell drinks, even testing them out on his friends who love the series.
"Since the Tracker Jacker is a bee, I used honey syrup and Hendricks Gin, which is made with heather flowers. The lemon represents its sting, and the Pernod Absinthe represents the powerful hallucinations."
For the Quarter Quell he got more conceptual, and like Katniss, he chose to speak out against the government. "The Quarter Quell was my take on the Capitol's societal effect. Chambord stands for the raspberries at the banquet, and because you build it in a glass and the drink gets tinted pink, it symbolizes their constant need to add layers and beautify. The orange twist garnish represents a bittersweet finish."
Quarter Quell
Makes 1
½ oz raspberry liqueur
½ oz elderflower liqueur
Prosecco (for filling)
Orange twist
Pour raspberry liqueur and elderflower liqueur into a champagne flute. Fill flute with Prosecco, and garnish with a twist of orange.
Tracker Jacker
Makes 1
1½ oz. gin
¼ oz. absinthe
Juice of half a lemon
½ oz. honey syrup (equal parts honey and water)
Lemon twist
Combine all ingredients in a cocktail shaker with ice. Shake and strain into a glass, and garnish with a twist of lemon.
—Lexi Dwyer