WATCH: Deep Fry a Turkey with 'The Millers' Star JB Smoove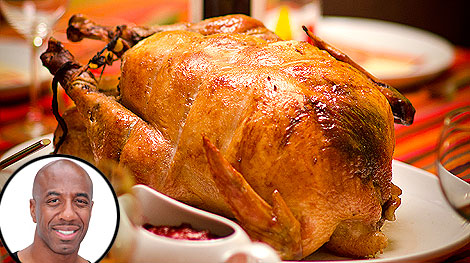 For JB Smoove, star of CBS sitcom The Millers, a roasted turkey just won't do.

"We like to make our turkey proud to be part of the family for Thanksgiving," the former Curb Your Enthusiasm star says in a video as he reveals his eight-step recipe for a crispy, juicy deep-fried bird.
The comedian, whose real name is Jerry Brooks, says he begins by treating the turkey "like an infant" and giving it a thorough wash before taking it outside, where he has his deep fryer set up "as far as possible from the house."
The 46-year-old explains how to avoid starting a fire and how to tell when the meat is cooked ("I hold the turkey up to my arm and make sure we're the same complexion"). He also reveals the finer points of presentation: "I prop him up nice, so he's part of the family, you understand?" he says. "If you lay him down, it's like going to see someone sick in the hospital. He's not sick, he's part of your family now—he's your turkey."
Check out the video below for more of Smoove's sage advice. But vegetarian readers can move along, because there's nothing to see here.
—K.C. Blumm