Kevin Bacon and Kyra Sedgwick Prepare 1,000 'Thanksgiving To-Go Meals'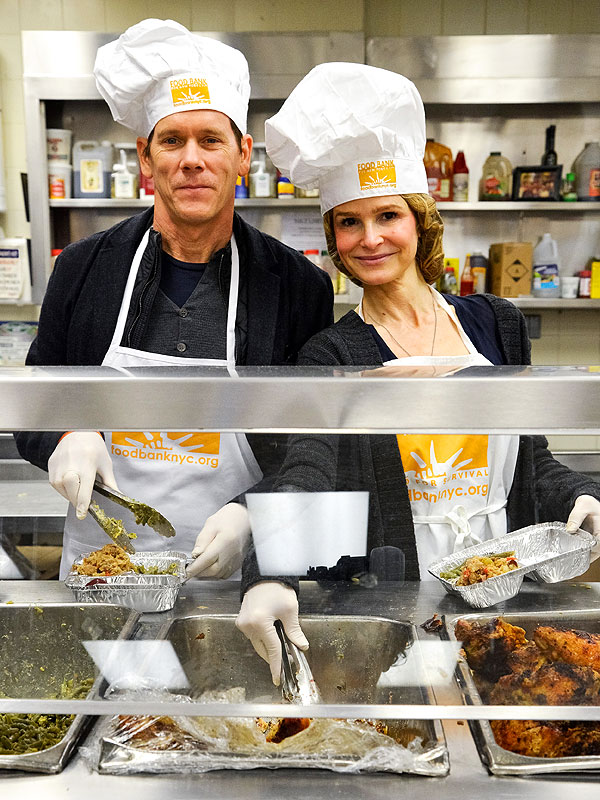 Laura Thompson/Retna
You could say that Kevin Bacon and Kyra Sedgwick are giving back before giving thanks.

On Nov. 24, the celebrity couple joined other volunteers (including chefs David Burke, Sunny Anderson, and Mario Batali) at the Food Bank For New York City in Harlem to prepare 1,000 Thanksgiving meals for high-need communities in the area.
Sedgwick and Bacon, who are actively involved in the food bank, say the cause is close to their hearts—and home. "We only live a few blocks from here and the idea that we have so much and there's 1 out of 5 people in New York using food bank services is kind of staggering," Bacon told PEOPLE.
With new challenges following government funding cuts that cost the city the equivalent of 76 million meals, Sedgwick says that Thanksgiving won't be the same for many. "I remember coming here last year and things were rough and they were really struggling to feed the amount of people that were coming in," she said. "I can only imagine this year, it must be a devastating loss."
Before strapping on their chef's hats and aprons, the couple also talked about their own Thanksgiving plans: They will once again be hosting both of their families, which has become an annual tradition.
"We have a great Bacon family Thanksgiving, we've been doing it forever," said Sedgwick.
As for the meal, she admitted that she's partial to dark turkey meat and gushed about her love of vegetables. "I heard that you don't start enjoying Brussels sprouts until you're an adult and let me say that's one of the good things about getting older," she said.
Sedgwick, who sliced off the tip of finger chopping kale this summer, said she will likely stay out of the kitchen, but that daughter Sosie, who was just named Miss Golden Globe, and Bacon's sisters will be handling the cooking and pie-baking. "I'm more of a cheerleader because everyone comes to our house to cook," she said.
Said Bacon: "It makes us realize how thankful we are and that point gets driven home even stronger on a day like Thanksgiving."
—Mabel Martinez and Lexi Dwyer