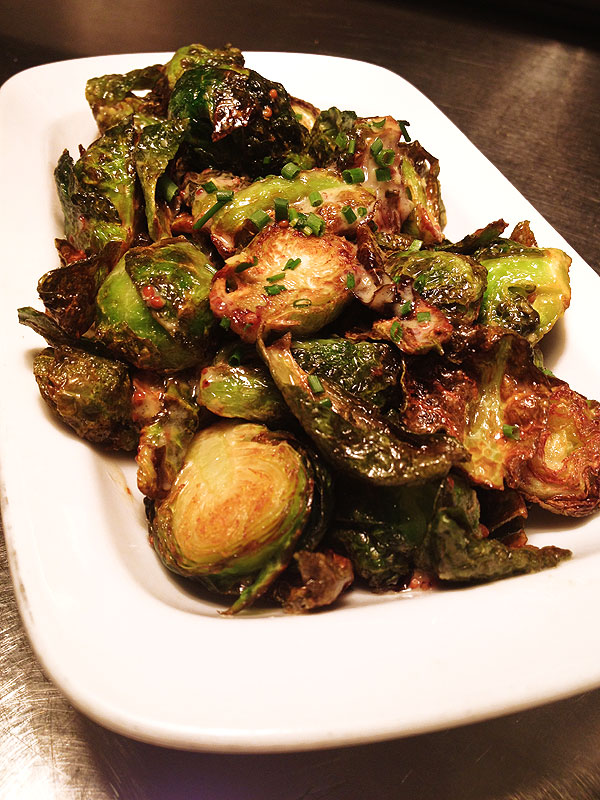 Courtesy Geoffrey Zakarian
Forget about love.

When it comes to Thanksgiving sides, Geoffrey Zakarian and Marc Murphy think that all you need is a little pork. For Zakarian, that means Brussels sprouts with prosciutto, while Murphy is partial to turkey stuffing with bacon.
We've been fans of these two celeb chefs since watching their lively banter as Chopped judges. And even though they've got seven innovative restaurants between the two of them, they still believe in classic preparations for the Turkey Day table.
Former Iron Chef Zakarian has shared the brussels sprouts recipe comes from The National, his Modern-American bistro in New York. He first blanches and roasts the sprouts, then adds a mustard and crème fraîche vinaigrette that's delightfully creamy and tangy. He finishes with a handful of chopped prosciutto that gives the dish even more depth of flavor.
At his French-Italian Landmarc outposts in New York, Murphy likes to put turkey into his stuffing, rather than the other way around, along with some diced bacon for extra oomph. He leaves the bread sitting out overnight so it's dry enough to soak up all the flavors. The recipe calls for turkey legs, but since you're probably planning to cook an entire turkey, Murphy suggests buying extra legs separately: That way you'll still get that gorgeous finished bird worthy of an Instabrag.
This stuffing is so addictive you might not have leftovers, but if you do, Murphy suggests either using it as a Shepherd's Pie filling or working it into your breakfast the next morning. "I love to dice up potatoes, fold them into the stuffing, and throw two fried eggs and fontina cheese on top for a hearty stuffing hash," he tells PEOPLE.
Cider-Glazed Brussels Sprouts
Serves 6 to 8
2 cups Brussels sprouts
2 tbsp. olive oil
Salt and pepper to taste
½ cup prosciutto, chopped
¼ cup chives, chopped
1. Blanch Brussels sprouts in boiling water for 90 seconds; remove and plunge them into a mixing bowl filled with ice water.
2. Slice the sprouts in half. Heat olive oil in a sauté pan over medium-high heat, and cook the sprouts until browned and tender, about 8 minutes.
3. Season with salt and pepper and toss with chopped prosciutto, chives and mustard crème fraiche vinaigrette (recipe below).
Whole-Grain Mustard Crème Fraîche Vinaigrette
Makes 1 cup
⅓ cup creme fraiche
⅓ cup whole grain mustard
⅓ cup defrosted apple juice concentrate
Combine all ingredients in a mixing bowl and whisk until all ingredients are fully combined.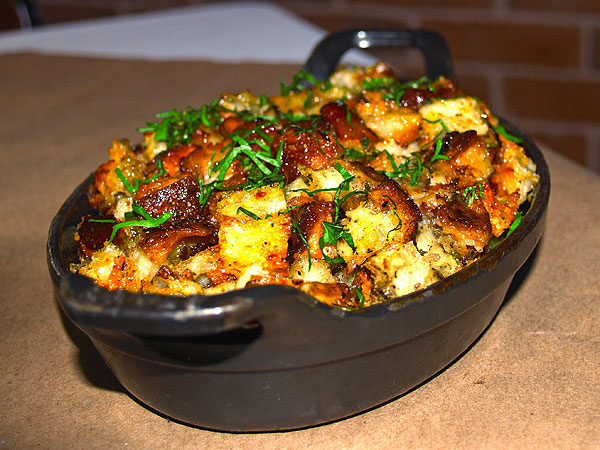 Courtesy Marc Murphy
Bacon and Braised Turkey Stuffing
Serves 6 to 8
For braised turkey:
2 tbsp. extra-virgin olive oil
1 medium onion, coarsely chopped
1 carrot, coarsely chopped
1 celery stalk, coarsely chopped
2 turkey legs
6 cups chicken stock
1 bay leaf
4 sprigs fresh thyme
kosher salt and black pepper
For stuffing:
½ pound bacon, diced
1 large onion, diced
3 celery stalks, diced
1 loaf Italian bread, cubed and left out overnight
¼ cup parsley, chopped
¼ cup sage, chopped
Pulled turkey meat from braised legs
Kosher salt and black pepper
2 cups chicken stock
1. Preheat oven to 300° F.
2. Heat olive oil in a dutch oven over medium heat until hot but not smoking. Place onions, carrots and celery in the pot and cook until softened, about 8 to 10 minutes.
3. Place turkey legs in the pot and cook until legs are browned, about 10 minutes. Add chicken stock, bay leaf, thyme, salt and pepper and bring to a boil.
4. Cover and place pot in middle of oven and cook until meat is falling off the bone, about 90 minutes. Remove legs from pot.
5. When cool enough to handle, shred the meat and set aside.
6. To make stuffing, increase oven temperature to 400° F. Heat a large 12-inch pan over medium heat and add bacon and cook until crispy. Add onions and celery, cook until soft, about 8 to 10 minutes.
7. Transfer vegetables to a large bowl and add bread, parsley, sage, pulled turkey meat and mix until combined well. Season with salt and pepper.
8. Place mixture into a 13 x 9 pan and pour chicken stock over. Bake, loosely covered, with a buttered sheet of foil for 30 minutes, then remove foil and bake until top is browned, about 15 minutes.
—Lexi Dwyer