Can You Cook a Turkey in the Dishwasher? Yes, If You're Chef David Burke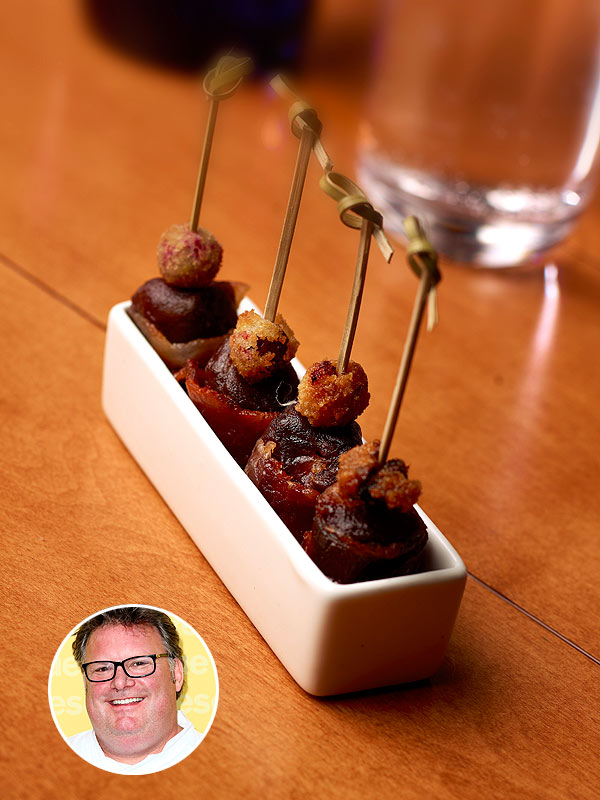 Courtesy David Burke
If you're looking for a last-minute appetizer to serve while your guests are sipping wine and waiting for the turkey to be done, chef David Burke has got you covered. Meet his gooey, peanut butter-y, bacon-wrapped dates.

When the Top Chef Masters vet gave us a sneak peek of the opening menu for Aspen's David Burke Kitchen (hitting the ski town in February), we were psyched to see that these dates, a longtime Burke favorite, made the cut. You may have had bacon-wrapped dates before, but not like these: He ups the salty-sweet factor by adding caramelized peanuts and fried grapes.
After spotting Burke packaging Thanksgiving meals alongside Kevin Bacon and Kyra Sedgwick at the Food Bank for New York City, we got him to share the recipe—and the scoop on what Thanksgiving at a chef's house is like.
Rather than roast, grill or even deep-fry, he's going to cook his bird in the dishwasher. Yes, we said dishwasher. Four cycles in the top rack, in case you were wondering.
"I steam my turkey in the dishwasher and then broil it, so it's moist," Burke tells PEOPLE. This also frees his oven up for stuffing and pie, two of his favorite things to cook. "Sometimes we make a funky pie like a butterscotch-maple combo, because you have to [use] maple syrup on Thanksgiving," he said.
As for those peanut butter dates, Burke says they're a treat for anyone looking to warm up all winter long, whether they've been skiing or just shoveling snow. "They're the perfect combination of sweet, savory and salty, and the warm grape is a nice surprise. Imagine peanut butter and jelly on a stick."
We love that this recipe is easy enough for a novice hostess to master, but sophisticated enough to impress your party guests. Pigging out has never been better.
Peanut Butter Maple Bacon Dates
Makes 20 
¼ pound peanuts
5 tablespoons honey
1 tsp. cayenne pepper or ½ jalapeño, minced
20 medjool dates, halved
10 strips smoked bacon, par-cooked (cooked to about halfway done)
20 seedless grapes
1 egg
Flour, for dredging
Breadcrumbs, for dredging
20 bamboo skewers or toothpicks
1. In a nonstick skillet, heat peanuts, honey and cayenne pepper until caramelized; cool and puree in a blender or food processor.
2. Cut dates in half and remove seeds. Stuff puree into each date half and place back together. Wrap with half piece of bacon. Broil dates until bacon is crisp, about 2 minutes.
3. In a small bowl, lightly beat egg. Run grapes under water, dredge in flour, dip in egg wash and dredge in breadcrumbs. Place into a deep fryer filled with hot oil and fry until crispy. (Alternately, bake on a baking sheet in a 350-degree oven for about 5 minutes.)
4. Using a bamboo skewer or toothpick, skewer a single grape, then a bacon-wrapped date. Repeat until all grapes and dates are used. Serve with maple syrup on the side for dipping.
—Lexi Dwyer, additional reporting by Mabel Martinez