Fall in Love with Loveless Cafe's Southern Sides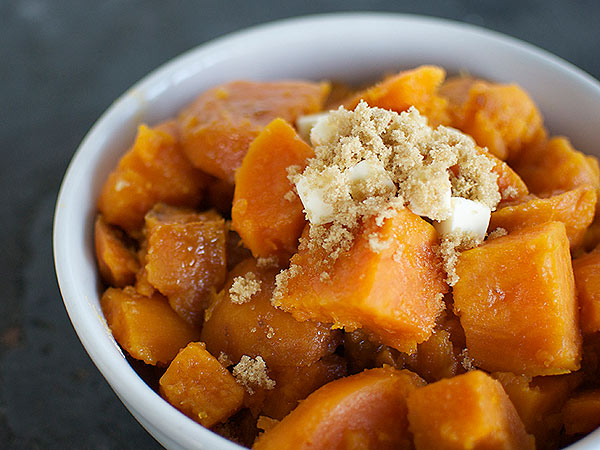 Courtesy Loveless Cafe
Drive up to Nashville's Loveless Cafe and you'll probably see a long line of hungry patrons snaking around the entrance. (Look closely, you may actually get some good country star sightings in at the same time!)

That's because the folks who come to this Nashville landmark, which opened in 1951 by Lon and Annie Loveless, know that it's one of the best places in the area to get a delicious country meal bursting with Southern charm. In fact, many of the dishes served today are the same ones that were on Annie's original menu—including their famous biscuits. (Don't ask for the recipe—it's a closely guarded secret.)
But they were happy to share details of four other popular dishes—baked sweet potatoes, hashbrown casserole, creamed corn and braised turnip greens—which would all be perfect for a casual, Southern Sunday supper or a formal Thanksgiving table.
We vote for Thanksgiving—it's a lot closer to, oh, right now!
Sweet Potatoes
6-8 medium sweet potatoes, peeled
1.5 cups brown sugar, lightly packed
1 cup orange juice concentrate
1 tsp. ground cinnamon
1 stick butter
1. Preheat the oven to 350F.
2. Chop sweet potatoes into large cubes.
3. In a bowl, whisk together the brown sugar and thawed orange juice concentrate. Once combined, pour the mixture over the sweet potatoes and place in an oven-safe dish.
4. Dot the top with pats of butter and cinnamon and bake for about 1.5 to 2 hours, or hours until potatoes are very soft.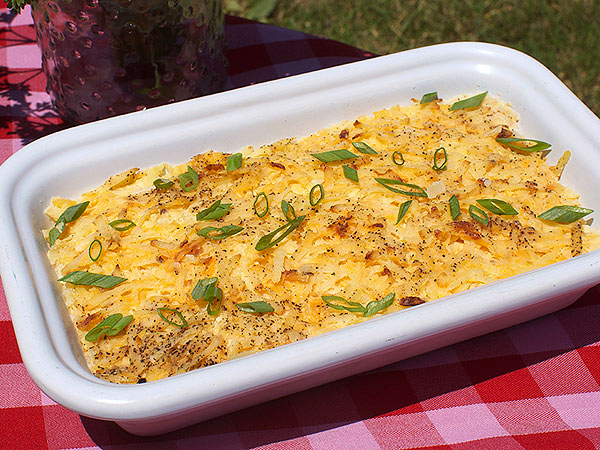 Courtesy Loveless Cafe
Hashbrown Casserole
Serves 6-8
1 (30-oz.) bag shredded hash brown potatoes
1 yellow onion, chopped
1 (8-oz.) bag shredded cheddar cheese
1 (10 ¾-oz.) can cream of chicken soup
1 (16-oz.) container sour cream
Salt and pepper to taste
1. Preheat the oven to 350F.
2. Mix all ingredients together in a large bowl, and pour the mixture into a well-greased, oven-safe casserole dish.
3. Bake covered (with lid or foil) for 30 minutes. Remove cover and return to oven for another 30 minutes until browned on top.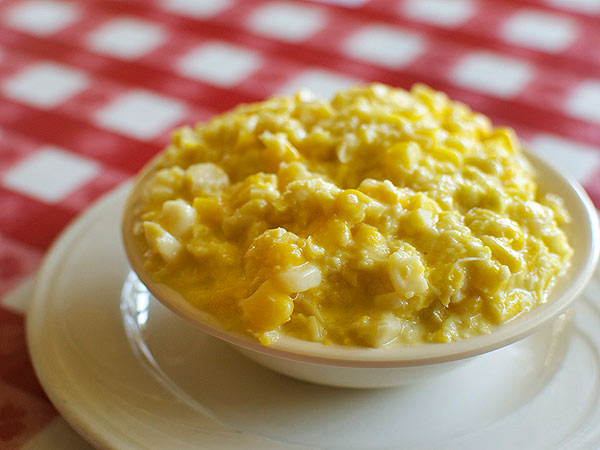 Courtesy Loveless Cafe
Creamed Corn
6 cups corn kernels (fresh or frozen—but not canned corn)
½ cup (plus two tbsp. sugar)
2 tsp. kosher salt, divided
6 cups water
1 cup heavy cream
1 stick butter
Pinch of white pepper
1. Place corn in a large pot and cover with water. Add ½ cup sugar and one tsp. of salt.  Bring to a boil and simmer for 2-3 minutes.
2. Drain well and remove approx. 2 cups of the corn. Place those two cups of corn in a food processor with heavy cream and ½ stick of butter.  Pulse until the corn is pureed.
3. Add the pureed corn back into the pot with remaining corn, butter, 2 tbsp. sugar, 1 tsp. of kosher salt and pinch of white pepper. Simmer on low, stirring constantly until the corn thickens slightly.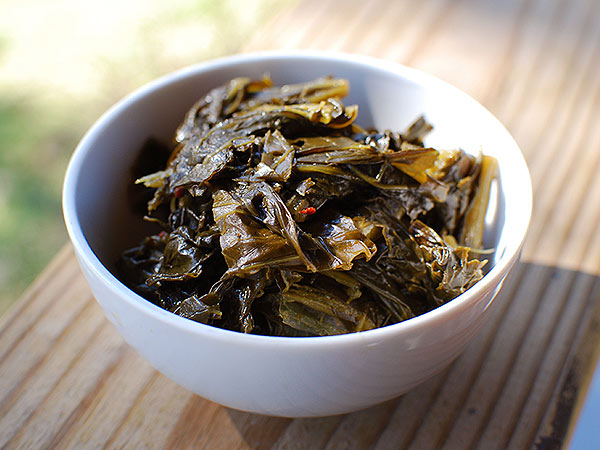 Courtesy Loveless Cafe
Southern Turnip Greens
⅔ lb. sliced bacon, chopped
1 small onion, chopped
1 tbsp. crushed red pepper (or, to taste)
⅔ cup dark brown sugar
⅓ cup sorghum syrup
 (or molasses or honey)
2 cups apple cider vinegar
1 gallon water, as needed
4 lb. turnip greens, washed and chopped
Salt, to taste
1. In a large stockpot over low heat, cook the bacon for about 5 minutes until the fat has been rendered, and then add the chopped onion. Increase heat to medium high and cook until onions are translucent, about 2-3 minutes.
2. Add crushed red pepper, brown sugar, sorghum syrup, vinegar and water and bring to a boil. Add the chopped turnip greens and simmer for approximately 4 hours, stirring occasionally and adding extra water if needed. Once greens are fully cooked and tender, taste for seasoning and add salt if desired.
—Katie Kauss