Celeb Trainer Harley Pasternak: The One Fruit You Should Be Eating Right Now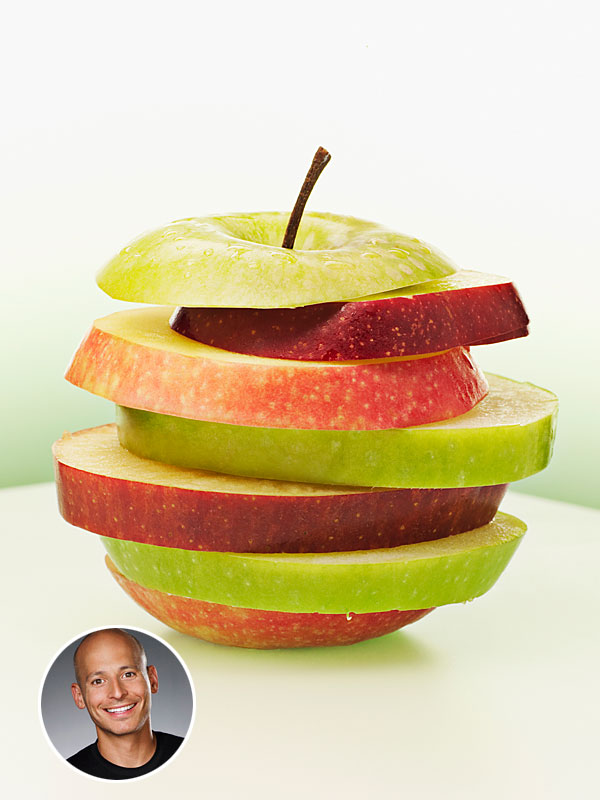 Getty; Inset: Courtesy Harley Pasternak
Harley Pasternak is a celebrity trainer and nutrition expert who has worked with stars from Halle Berry and Lady Gaga to Robert Pattinson and Robert Downey Jr. He's also a New York Times best-selling author, with titles including The Body Reset Diet and The 5-Factor Diet. Tweet him @harleypasternak.

As the old saying goes, "an apple a day keeps the doctor away." And it looks like our country is certainly taking that advice to heart—the average American consumes nearly 51 pounds of apples per year (!), according to the USDA's Economic Research Service.
That figure may seem startling, but it turns out that only 37% (or 18.6 pounds) of that is from eating fresh, whole apples. The other 63% is attributed to consuming processed apples like those found in apple juice, apple cider and applesauce.
When eaten whole, apples are incredibly good for you. They're packed with vitamins, minerals, antioxidants and fiber, and make a delicious, portable, low-calorie snack. Unfortunately, drinking apple juice isn't so hot.
Yes, fruit juice is delicious, but when you juice an apple (including cold press), you're stripping it of the most nutritious and disease-fighting parts—which are contained in the skin of the apple—and are left with just water and a ton of sugar. As one of my old professors used to say, you're better off throwing out the juice and just eating the skin and pulp!
If you're looking for an amazing apple drink, throw a couple of cored, skin-on apples in the blender, add a pinch of cinnamon and some ice, and blend. Voila: delicious "whole" apple juice.
Here are some of the top health benefits of apples:
—Apples have tons of vitamin C, which can boost immunity and keep our skin healthy
—Apple peels are loaded with ursolic acid, which can help fight obesity
—Studies show that eating apples may reduce your risk of colon cancer, prostate cancer and lung cancer
—Apples are high in polyphenols, natural antioxidants that have been shown to prevent and reduce all kinds of diseases
—Pectin, the soluble fiber found in abundance in apples, has been shown to help lower cholesterol levels and to stave off blood sugar spikes and crashes by slowing the absorption of the natural sugar that apples contain
I'll leave you with some of my favorite apple recipes. All are easy to make and great for you. Enjoy!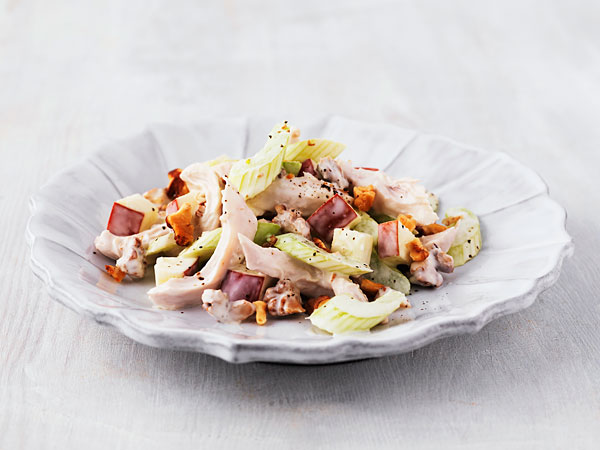 Getty; Inset: Courtesy Harley Pasternak
Healthy Waldorf Chicken Salad
Serves 1-2
¼ cup chopped walnuts
¼ cup non-fat plain Greek yogurt (more if you like a creamier salad)
1 tbsp. lemon juice
½ cup celery, sliced
½ cup red seedless grapes, sliced
1 cup chicken breast, cooked, cooled and chopped
1 large apple, unpeeled, cored and chopped (I like Gala for this recipe)
Salt and pepper, to taste
1. Preheat oven to 350 degrees.
2. Arrange chopped walnuts evenly on a cooking sheet and bake for about 5 minutes, checking often (remove from oven early if nuts begin to look too toasted). Leave to cool.
3. In a medium bowl, whisk together the Greek yogurt and and lemon juice. Mix in the walnuts, celery, grapes, chicken and apple. Add salt and pepper to taste, then serve on a bed of lettuce or scoop into half of a whole-wheat pita.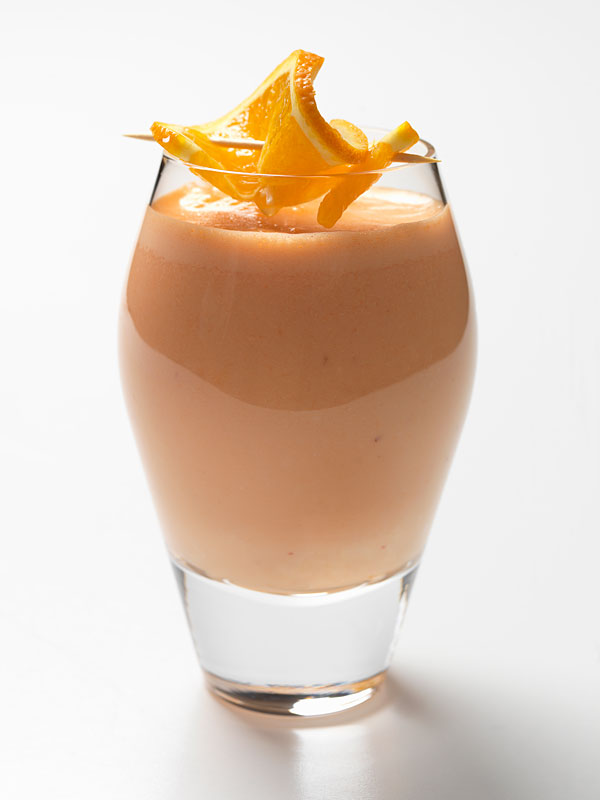 Getty; Inset: Courtesy Harley Pasternak
Apple Pie Smoothie
Serves 1
5 raw almonds, whole or chopped
1 red apple, unpeeled, cored and chopped
1 small banana, frozen and cut into chunks
¾ cup non-fat plain Greek yogurt
½ cup non-fat milk
½ tsp. ground cinnamon or apple pie spice (mixture of cinnamon, nutmeg and allspice, to taste)
1. In a blender or food processer, blend the almonds until finely ground. (If your blender isn't powerful enough to grind almonds, you can use chopped almonds or even almond meal instead.)
2. Add the apple, banana, yogurt, milk and spice. Blend until smoothie reaches desired consistency.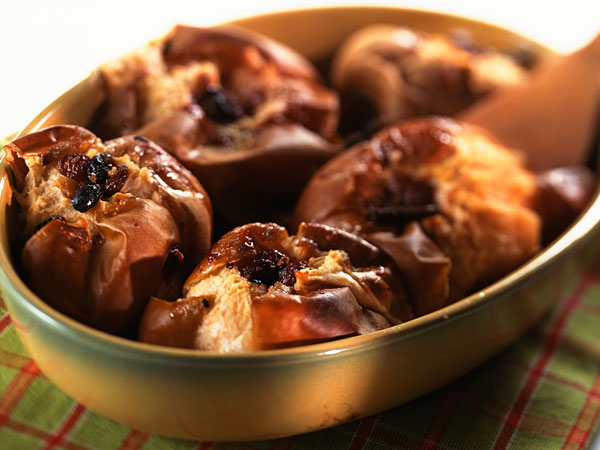 Getty; Inset: Courtesy Harley Pasternak
Baked Apples with Greek Yogurt
Serves 4
4 medium to large apples
3 tbsp. cinnamon
2 tbsp. agave nectar (optional)
4 cups non-fat plain Greek yogurt
8 tbsp. bran cereal
1. Preheat oven to 375 degrees.
2. Fill a glass baking dish with water until liquid reaches uniform heigh of 1″. Core apples and place in baking dish, then cover fruit with cinnamon.
3. Bake for 30 minutes, then reduce heat to 200 degrees and bake until apples are desired softness, an additional 10-20 minutes.
4. When ready to serve, mix agave nectar (optional) with yogurt and divide yogurt into 4 bowls. Place an apple in each bowl and drizzle 2-3 tbsp. of the warm cinnamon apple water over each apple. Top each apple with 2 tbsp. bran cereal.