Kabocha Pumpkin Pie is a Sweet Surprise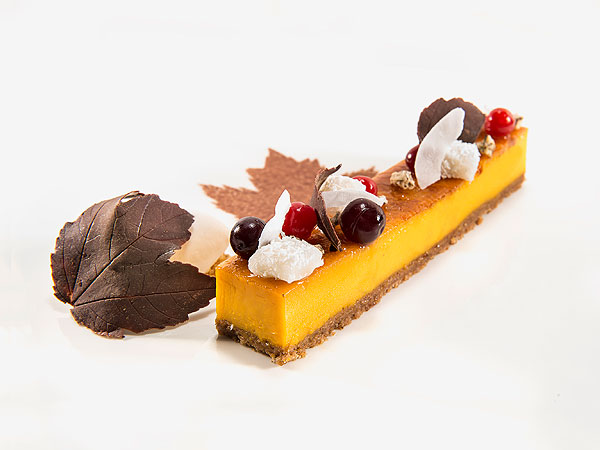 Jason Taylor
If you're like us, your favorite part of the Thanksgiving meal comes at the end.

And that has everything to do with the pies.
From fruity apple and pumpkin pies to rich pecan pie and chocolate pies, the only hard part is choosing which one to sample first. But rest assured, if chef Rory Macdonald's kabocha pumpkin pie is one of the choices, we'll dive in fork first.
At Hakkasan New York, Macdonald uses kabocha winter squash, also called Japanese pumpkin, in his holiday recipe. "It has a much sweeter flavor than traditional pumpkins," he says. "Canned options [are] often already sweetened, and spices have been added which can mask the pumpkin flavor."
So this year, save your canned pumpkin puree for after-dinner pumpkin spice lattes, and try this new spin on the Thanksgiving classic. Says Macdonald: "[It's] definitely worth the effort."
Kabocha Pumpkin Pie
Makes 1 9-inch pie
1 9-inch prepared (store-bought) graham cracker pie crust
4 egg yolks, divided
1 cup brown sugar
2 cans evaporated milk
1 1/2 cups sugar
2-3 small/medium size Kabocha squash
1 tsp. salt
4 eggs
Coconut flakes, dried cranberries for garnish (optional)
1. Preheat the oven to 350F.
2. Beat two egg yolks in a bowl, and lightly brush over the graham cracker crust. Place the crust in oven for 5 minutes. (This will create a seal between the pie and the crust and stop the crust getting soft.) Remove, and raise the oven temperature to 400F.
3. Cut the squash in half, and remove the seeds. (Save and bake the seeds to use as garnish, optional.) Sprinkle the inside with the brown sugar, and wrap with aluminum foil. Bake for 30-40 minutes, or until completely softened.
4. Remove from oven, discard the foil and, when cool enough to handle, scoop out the flesh with a spoon, discarding the skin.
5. Puree the squash in a blender until smooth. (If you have a fine mesh sieve, pass the squash through the sieve to create an even creamier finish.)
6. In a large bowl, combine the squash and the remaining ingredients, and pour the mixture into the pie crust.
7. Reduce the temperature of the oven to 225F, and bake for 40–50 minutes until the pie is just set. Remove, and allow to cool.
8. Once cool, slice and top with coconut flakes, dried cranberries, baked kobucha seeds or your favorite toppings.