Meatless Monday: Make Anderson Cooper's Favorite Veggie Burger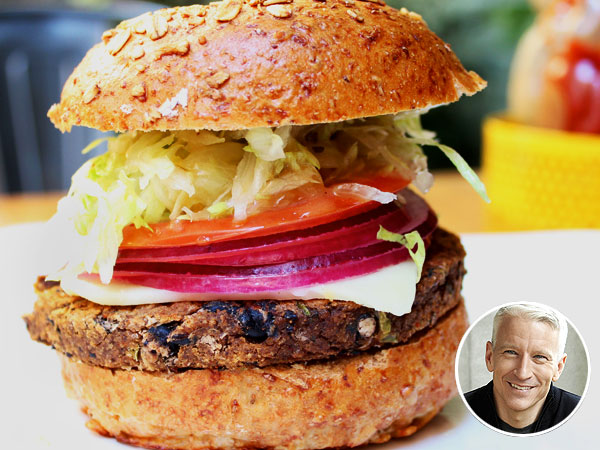 Courtesy Bareburger
It's no secret Anderson Cooper has a thing for fast food.

In March, the Anderson Cooper 360° anchor called himself a "total McDonald's person" on former talk show Anderson Live—while wearing a shirt screen-printed with French fries. He also once told USA Today that his guilty pleasure is Boston Market, and has tweeted about his love of Big Macs.
Is it wrong that I am going to treat myself to a big mac and fries?

— Anderson Cooper (@andersoncooper) September 21, 2012
But the trim star also knows to mix in healthier fare: He is frequently spotted at New York City's Bareburger ordering the black bean burger, a vegetarian patty cooked in good-for-you grape seed oil (it's rich with healthy fats) and tucked between a multigrain bun.
With cheese, onions, corn, peppers, cumin, garlic and chili powder mixed into the patty, this burger is a lot more flavorful than anything you'll get in a drive-through.
Black Bean Veggie Burger 
Makes 6
1 bag (16 oz.) dried black beans
8 oz. vegan cheddar cheese, cut in 1-inch cubes
1 medium Spanish onion, diced finely
½ cup corn kernels
1 red bell pepper, diced finely
1 green bell pepper, diced finely
1 jalapeño pepper, minced
1 tsp. ground cumin
½ tsp. chili powder
½ cup fresh cilantro, finely chopped
½ tsp. garlic powder
½ cup oat bran
¼ cup rice flour
¼ cup water
1 tbsp. sea salt
Grape seed oil
6 multigrain buns, toasted
1 cup iceberg lettuce, shredded
1 small red onion, sliced thinly
1 small tomato, sliced thinly
6 slices soy cheese (or regular cheese)
1. In a large bowl, soak beans in water overnight. Drain and rinse.
2. In a large pot, place beans in just enough water to cover 1-inch above the surface of the beans. Boil over high heat until tender. Cool beans and chop roughly.
3. In a large mixing bowl, combine next 14 ingredients (vegan cheese through sea salt), mixing until all ingredients are evenly distributed. (You can also use a food processor.) Form mixture into 6 patties.
4. In a large skillet coated with grape seed oil, fry the patties over medium-high heat until crisp on both sides, about 2 minutes per side.
5. Serve burgers on multigrain buns topped with lettuce, onions, tomato and cheese, if desired.