The Guacamole the Stars Are Dipping Into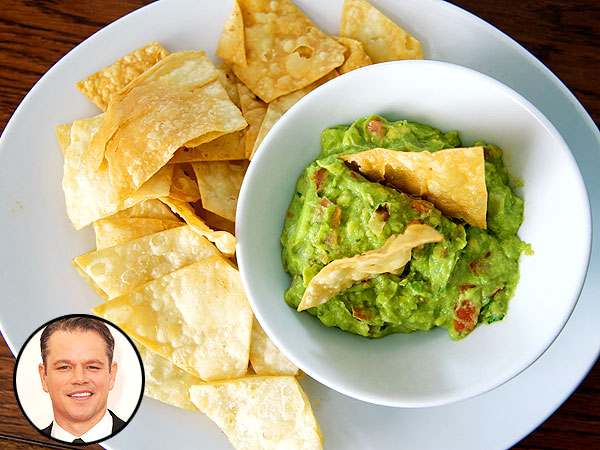 Courtesy Casa Vega
There must be something in the avocados.

In the last week alone, four celebrities have popped into L.A. restaurant Casa Vega to chow down on the restaurant's signature guacamole fresco served with crispy housemade tortilla chips.
Matt Damon ordered a round with lunch on Sunday, while Kris Jenner snacked on the guacamole when she hit the Ventura Boulevard hotspot on Black Friday. Just days before that, a pregnant Megan Fox and her husband Brian Austin Green showed off photos of their 14-month-old son Noah while sipping Perriers and sharing a bowl of guac— plus cheese enchiladas and burritos. (That baby is going to love Mexican food!)
We had to get a taste of this appetizer for ourselves, so we asked chef Christy Vega to spill the recipe. With a spicy kick from jalapeño and just the right ratio of onion, tomatoes and lime juice, we can see why the stars are dipping into this dish.
Scoop it up with crunchy tortilla chips, either from a bag or made right on your stovetop. Homemade chips are easier than you think—just see Vega's simple two-ingredient, two-step recipe.
Time to guac 'n' roll!
Casa Vega Guacamole 
3 avocados, peeled and pitted
½ tsp. salt
½ cup white onion
½ cup diced tomatoes
1 jalapeño, diced
Squeeze of lime juice
Cilantro, to taste
In a large bowl, mash avocados. Add salt and mash until desired consistency. Mix in onion, tomato, jalapeño, lime juice and cilantro.
Homemade Tortilla Chips
Canola oil
12 corn tortillas, cut into fours
1. In a large frying pan, pour oil to ½-inch height. Heat over medium heat until oil reaches 300 degrees, being careful oil doesn't splatter (lower heat if necessary). If you don't have a candy thermometer, sprinkle a little water in the pot—if it bubbles, the oil is hot enough.
2. Place tortillas in oil and fry until lightly golden. Drain on paper towels.