Recipe Redo: Blake Lively's Chicken & Leek Pie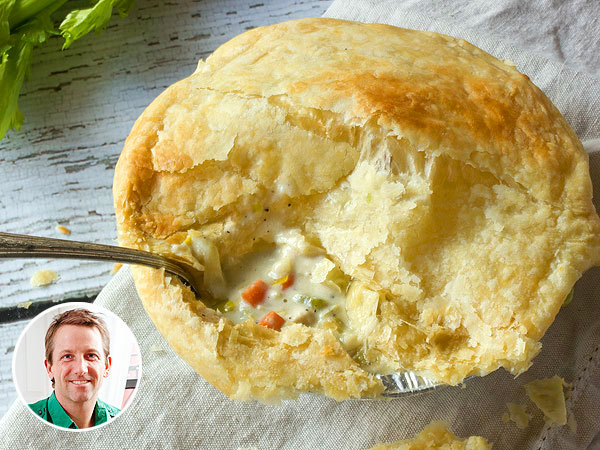 Nealey Dozier
Maxwell Ryan is the founder of Apartment Therapy and The Kitchn, a web magazine about home cooking and kitchen design. Visit PEOPLE.com weekly for his spins on celebrity recipes and more.

In a perfect world, I'd cook every night. It's calming, warms the house and fills it with the comforting scent of homemade food.
That said, sometimes there's just no time on a weeknight to whip up a full meal. That's why it's great to be able to cook something delicious ahead of time and just heat it up on a busy night.
Blake Lively's Chicken & Leek Pie is a recipe that's great fresh out of the oven but also perfect for freezing. I played with the ratios to make single-serving pot pies so that if you're home alone and in a rush, you'll have dinner at the ready. Each serving can be frozen for up to three months.
Trust me—this will beat getting take-out any day!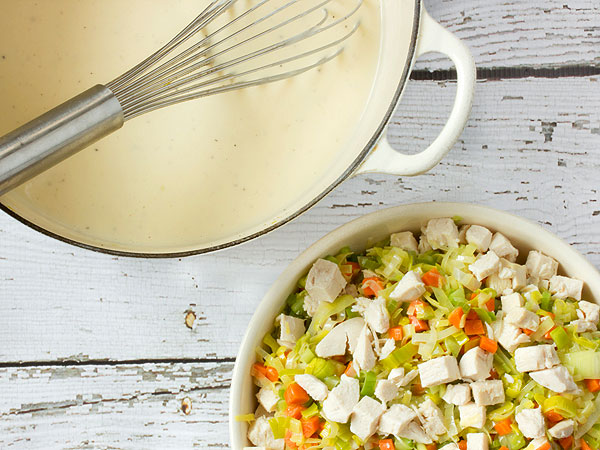 Nealey Dozier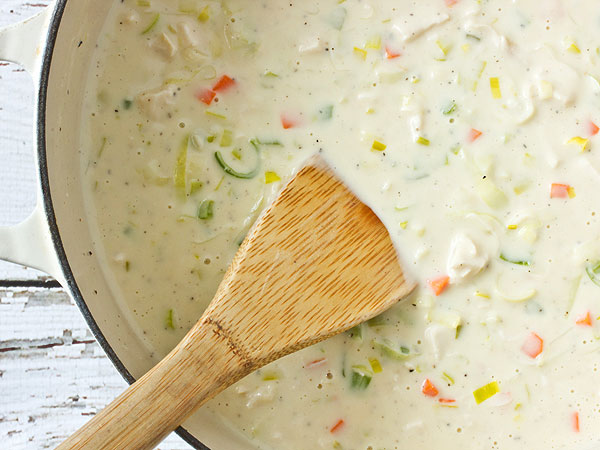 Nealey Dozier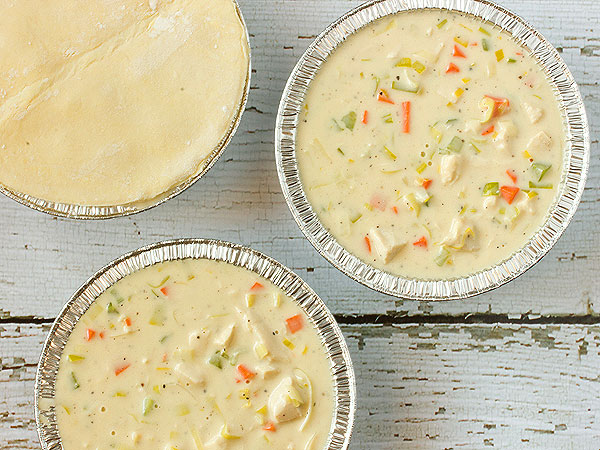 Nealey Dozier
Individual Chicken & Leek Freezer Pies
Makes 5-6 (depending on size of pan used)
4 sheets store-bought puff pastry
4 boneless skinless chicken breast halves
2 bay leaves
6 whole peppercorns
1 cup (2 sticks) unsalted butter, divided
4 large leeks, trimmed, cleaned and chopped
2 large carrots, diced
2 stalks celery, diced
2 tsp. kosher salt
¾ cup all-purpose flour
2½ cups chicken stock
1¼ cups whole milk
1¼ cups heavy cream
Pepper, to taste
1 large egg, lightly beaten
5-6 aluminum foil mini pie pans (or other individual freezer- and oven-safe containers)
1. Thaw puff pastry in the fridge overnight, or on the counter for 30 minutes.
2. In a large saucepan, combine the chicken, bay leaves and peppercorns and cover with 2 inches of water. Bring to a boil over high heat, then reduce heat and cover the pot. Simmer until chicken is cooked through, 10-14 minutes depending on the thickness of the breasts.
3. Transfer chicken to a cutting board and let cool enough to handle. Chop into bite-sized pieces and transfer to a mixing bowl. You should have about 4 cups.
4. In a large Dutch oven or saucepan over medium heat, melt 4 tbsp. butter (½ stick). Add the leeks, carrots, celery and ½ tsp. salt. Cook until the leeks are very soft and tender, about 10 minutes. Transfer the leek mixture to the bowl with the chicken.
5. In the same Dutch oven or saucepan over medium heat, melt the remaining 12 tbsp. of butter (1½ sticks). Add flour and cook, stirring gently, until thickened. Whisk in the stock, followed by the milk and cream. Stir until the sauce is smooth and thickened, 10-12 minutes. Season with the remaining 1½ tsp. salt and the pepper (about 5 grinds from a pepper grinder).
6. Add the chicken and vegetables to the sauce and stir to combine. Taste and add more salt or pepper if desired.
7. Divide the filling evenly between mini pie pans. Cut circles of puff pastry slightly larger than your pie pans. Cover each pan with puff pastry and tuck the excess pastry over the edges. Cut a few slits into the top of the pastry.
8. Wrap the containers tightly in foil and freeze for up to 3 months. Thaw pot pies in fridge overnight before baking or cook straight from freezer.
9. When ready to eat, heat oven to 375 degrees. Place the pie (or pies) on a sheet pan lined with parchment paper to contain drips. Brush the top of the pie (or pies) with beaten egg and bake until the crust is browned and the filling is bubbling, 35-40 minutes if pies are thawed, 55-65 minutes if frozen. If the crust starts to burn around the edges before the filling is bubbly, tent the pie loosely with foil.