Turn Up the Heat: This Sriracha Burger is on Fire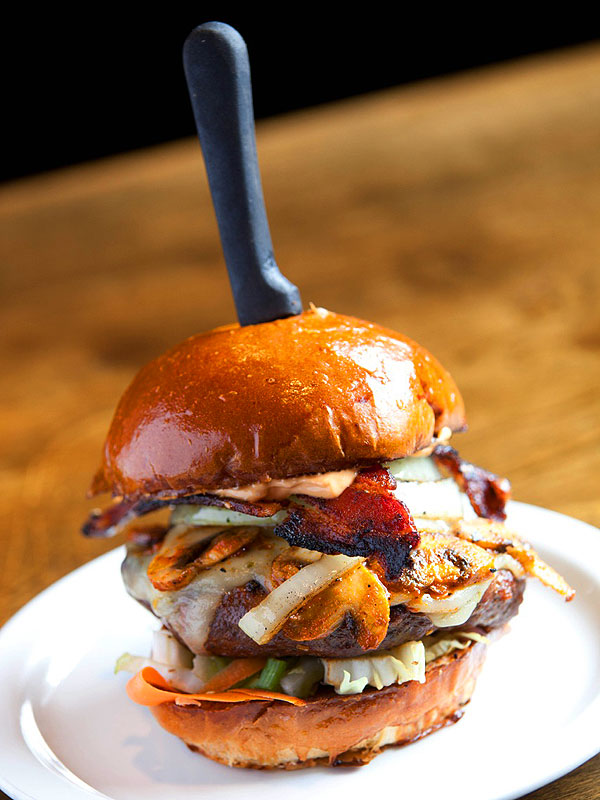 Slater's 50/50
A judge may have ordered the partial shutdown of the Huy Fong Foods Sriracha hot sauce plant in California because of complaints about the chile odors—and, yeah, spice-heads around the country may be worried about impending shortages of the spicy Thai condiment.

But that's all the more reason to eat as much of the good stuff as we can right now! And, clearly, the folks at Slater's 50/50 are on the same wavelength.
Starting Dec. 9th, the southern California restaurant chain will begin serving a multi-layer Sriracha Burger. Be warned: Hot sauce isn't just a topping here—it's the main event. The spicy patty (a half-and-half blend of ground bacon and ground beef) has Sriracha mixed right into the meat. Once cooked, it's placed on a bed of Sriracha-spiked coleslaw and topped with mushrooms sautéed in Sriracha, pepper jack cheese, Sriracha-glazed bacon strips, Sriracha mayonnaise and, of course, a final squirt of pure Sriracha sauce itself.
Hopefully there's a giant glass of milk nearby, just in case your face feels like it will explode.
Is the team worried about using up so much of the hot sauce so quickly? "As long as our guests are loving it and we are able to keep our supply of Sriracha to meet the demand, we will serve it," says founder Scott Slater.
If you can't experience the full heat-stroke burger for yourself, you can get a mini-taste at home with their spicy Sriracha cole slaw. If you have time, "make [the] dressing a few hours in advance and keep in the refrigerator until you're ready to serve in order to blend flavors," suggests executive chef Brad Lyons.
Because last thing you're looking for here is subtlety.
Sriracha Coleslaw
Makes 6-8 servings
Coleslaw Dressing
3 tbsp. red onion
1 tbsp. garlic chili paste
1 tbsp. sriracha
1 lime, peeled and chopped
¼ cup olive oil
2 tsp. honey
Salt & pepper to taste
Coleslaw Mixture
½ head napa cabbage, shredded
1 cup carrot, shredded or peeled into ribbons
½ cup scallions, chopped
½ cup red onion, chopped
1. For the dressing, puree the red onion, garlic chili paste and lime chunks in a food processor. Add the honey and blend thoroughly. With food processor on, slowly drizzle in the olive oil until the ingredients are combined. Add salt and pepper to taste.
2. In a medium bowl, combine the shredded napa cabbage and carrots, and chopped scallions and red onion.
3. Pour the dressing over the cabbage mixture, and toss until completely coated. Serve immediately as a spicy side or on top of your favorite burger or sandwich.
—Sonal Dutt