Put Together the Perfect Cheese Platter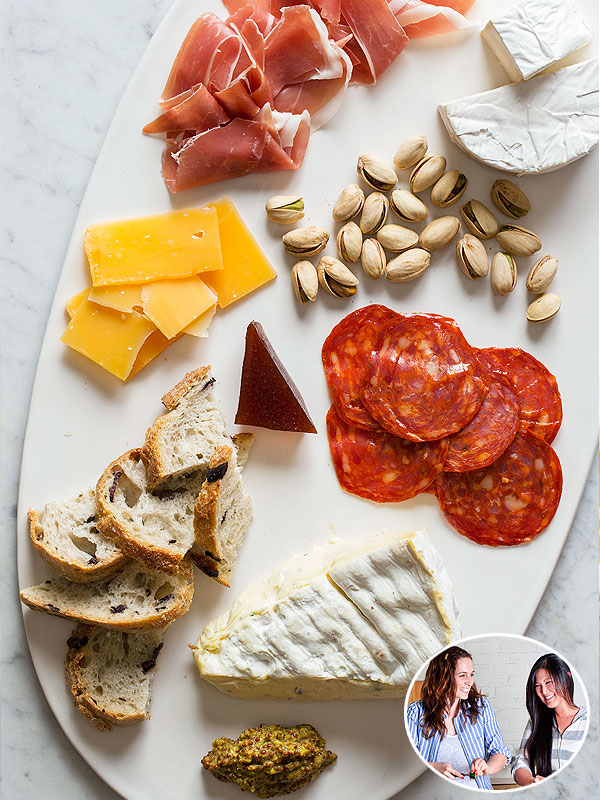 Courtesy Spoon Fork Bacon
Jenny Park and Teri Lyn Fisher are the food stylist/recipe development/photography duo behind the blog Spoon Fork Bacon. Visit PEOPLE.com every Friday for their take on celebrity recipes, plus tips on cooking, entertaining, food photography and more.

The cheese plate is truly the holiday host's best friend—it's easy, self-serve and always a crowd-pleaser. But with so many cheeses at the grocery store—how do you choose the right ones?
It's actually a pretty good problem to have. Supermarkets, once home to cheese brands that only came packaged in cans or plastic-wrapped slices, now have gigantic cheese sections that rival many gourmet markets—and sell them for a lot less money, too.
With all the options in front of you, it's easy to go overboard when shopping, but remember this rule: All you really need is three cheeses:
1. A hard (or firm) cheese with a sharp flavor. Manchego and Parmesan are popular options, but Beemster's Dutch sharp cheddar is our favorite.
2. A creamy cheese, like a chevre or brie. If you want to go extra-indulgent, pick a triple-cream brie, which is made with extra cream and has a butterfat content of 75% or more. (Hey, it's the holidays!)
3. A blue cheese to round out the plate, like gorgonzola or stilton. We know blue cheeses aren't for everyone, so you can swap it out for a soft goat's milk cheese—we used a hybrid brie and goat cheese because we like the semi-soft texture and creamy, tangy flavor.
Now for the big question everyone has: How much cheese should you buy? If your platter is the main event, plan on buying 3 pounds for 8 people, 6 pounds for 16, etc. If cheese is just one element of the menu, plan on buying 3 to 4 ounces per person. Simple, right?
Once the cheese stuff is out the way, it's time to dress our your plate with accompaniments. Sliced baguettes, bread sticks and crackers are classic for a reason—they go great with cheese. (Hello, grilled cheese sandwich!) To complete the plate, we recommend putting out your favorite jam or quince paste for something sweet, nuts for crunch, grainy mustard to balance the sharp cheddar, and—a must!—some delicious cured meats. We went with mild prosciutto and spicy Spanish chorizo, which contrast perfectly.
We love how simple yet impressive a cheese and charcuterie plate can be, especially during the busy holiday season. The best part? There's no cooking involved—just unwrap, plate and serve!