Watch: The Muppets' Swedish Chef Battles Gordon Ramsay in an Epic Food Fight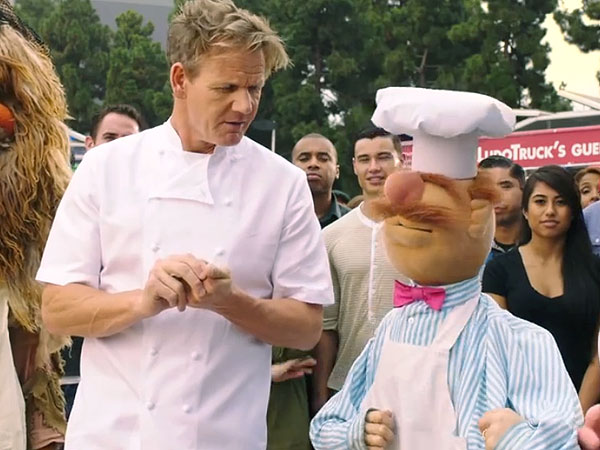 First it was Lady Gaga singing 'Applause' with Kermit and Miss Piggy—and now it's Gordon Ramsay going head to head with the Swedish Chef.

To whet our appetites for the Muppets Most Wanted movie opening in March, the hot-tempered Hell's Kitchen star takes on the lovable, unintelligible Muppet in an adorable new "Muppisode" web video.
Scene: While the Gonzo, Fozzie and the rest of the Muppet gang are enjoying an outdoor festival, Ramsay roars up in an imposing food truck and challenges the Swedish Chef—who's running his own, small food truck called Børk Børk Førk—to a cook-off, Top Chef-style.
Watch Sweetums, the 9-foot brown shaggy Muppet monster, bumble his way around Ramsay's mobile kitchen, enduring the chef's notorious wrath for dropping pans and messing up a skillet of sautéed onions. "I did my best," he says; "Not good enough," Ramsay retorts. Meanwhile, Beaker frantically chops carrots for the chef's Swedish meatball dish.
Most of our favorite Muppet characters make a cameo, casting some playful jabs at foodie culture along the way. "It's still a cupcake though, right?" Miss Piggy (who's been known to throw her dessert at paparazzi) asks about a cupcake described as "sea salt infused with a beet juice emulsion" before taking a seat at the judges' table along with Dr. Bunsen and ornery old-man critics Statler and Waldorf.
But we're not spilling who wins this food fight—you'll have to watch to find out.
—Marissa Conrad