Paul Rudd's Hometown Dish: Chicken Parmesan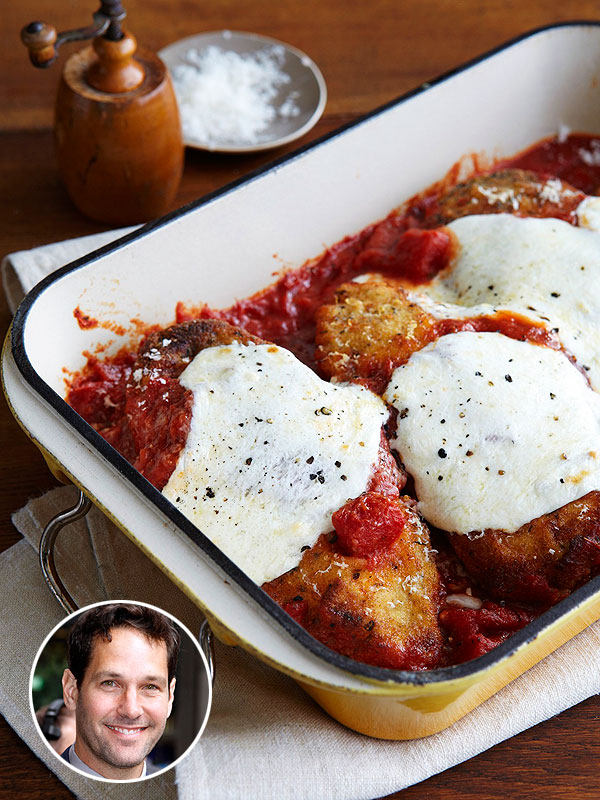 Joseph De Leo. Inset: Donna Ward/Getty
Paul Rudd is back in a '70s shag and handlebar mustache in Anchorman 2: The Legend Continues—and even with the goofy hair, it's tough not to have a giant crush on the actor. Well, get ready to fall even harder…

…because the guy still takes his mom out to the same restaurant they've been visiting since he was little! (Say it with us: Aww!)
"I had dinner at a place called Jasper's in Kansas City," Rudd tells PEOPLE of a recent visit home to Kansas. "I've been going [there] most of my life. It was delicious and I was with my mom and my sister and brother-in-law."
The recent SNL host isn't the only star who has a soft spot for Jasper's, an Italian restaurant on the Missouri side of Kansas City that dates back to 1954. Modern Family star Eric Stonestreet has made it a holiday tradition to Tweet his praise for the family-owned eatery, calling it "some of the best Italian food I have ever eaten."
Said it last year and I will say it again. Jasper's in Kansas City is some of the best Italian food I have ever eaten.

— Eric Stonestreet (@ericstonestreet) December 27, 2012
Said it before. I'll say it again. @jasperskc is some fine ass Italian food. #KansasCity

— Eric Stonestreet (@ericstonestreet) November 26, 2013
So what's the best dish on the menu? We got chef-owner Jasper Mirabile Jr. to spill the beans on one of Rudd's favorites: chicken parmesan.
Make this classic parm for dinner before seeing the Anchorman sequel, out December 18. It's not Scotch, but it'll still happily go down, down into your belly.
Chicken Parmigiano
Serves 4
2 cups dry, fine breadcrumbs
4 cloves garlic, minced
1½ cups parmesan, finely grated
3 eggs, beaten
2 lb. boneless skinless chicken breasts
¾ cup olive oil
4 slices mozzarella
2 cups Sunday Sauce (recipe below)
1. In a shallow bowl, combine the breadcrumbs, garlic and parmesan. Place the beaten eggs in another shallow bowl.
2. Cut chicken breast into 4 pieces, and pound out each piece between two sheets of wax paper. Dip each flattened breast in the eggs first, and then in the breadcrumb mixture.
3. In a large nonstick skillet, heat the olive oil over medium-high heat. Add the chicken and cook, turning once, until golden brown on each side, 3-4 minutes per side. Drain the oil.
4. Top each piece of chicken with a mozzarella slice and ½ cup Sunday Sauce. Place the lid on the pan and let the cheese melt, about 2 minutes. Serve immediately.
Sunday Sauce
4 tbsp. extra-virgin olive oil
2 onions, chopped
1 head garlic cloves, puréed
1 can (28 oz.) tomato purée
4 cups water
1 tsp. salt
½ tsp. hot red pepper flakes
2 tbsp. fennel seeds
2 tbsp. sugar
10-12 fresh basil leaves
1. In a small pot over medium heat, heat the oil. Add onions and sauté until soft, about 15 minutes. Add the garlic and remove pot from stove.
2. Add the tomato purée and water; mix thoroughly. (Note: If you do not like canned purée, omit the water and substitute whole tomatoes pureed in a food processor or by hand.)
3. Stir in salt, red pepper flakes and fennel seeds. Cook for 1½ hours over medium heat, stirring continuously.
4. Add the sugar and basil leaves. Continue stirring over medium heat for 30 minutes.
—Marissa Conrad, additional reporting by Susannah Guthrie
VIDEO: Paul Rudd's Changing Looks