22 Days Vegan: Make Beyoncé's Kale Salad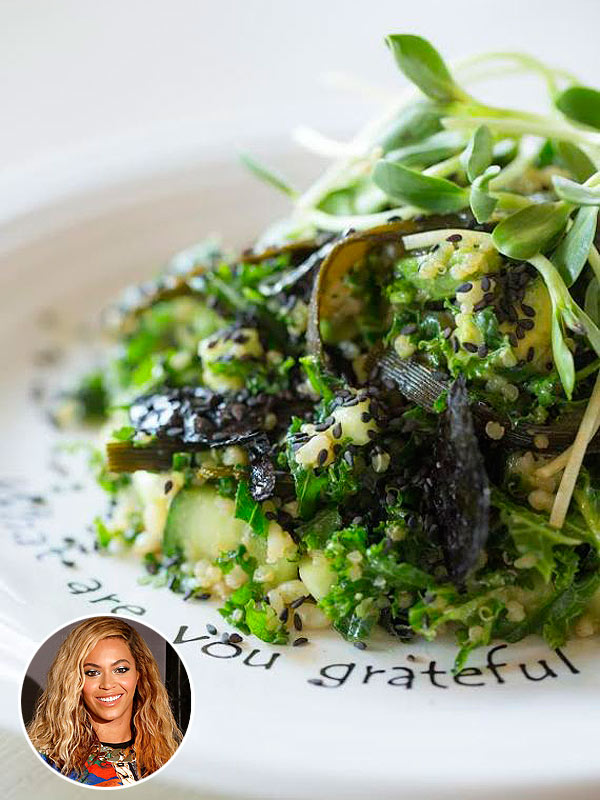 Courtesy Café Gratitude
Jay Z and Beyoncé are certainly enjoying their salad these days.

After the couple recently announced their 22-day vegan cleanse, Beyoncé's Instagram has been a virtual cookbook of delicious plant-based dishes—we've spotted yummy-looking soups, pasta, and even dairy-less mac-and-cheese that make giving up steak seem easy as (vegan) pie.
Last week as part of their three-week veggiepalooza, Bey and Jay lunched at organic, vegan L.A. restaurant Café Gratitude, where Beyoncé started with the "I Am Pure" kale and seaweed salad.
Ready for a little holiday cleanse? Below, executive chef Dreux Ellis shares the recipe that sounds too good to be so healthy.
Kale and Seaweed Salad
Serves 4-6
For the dressing:
½ cup sesame tahini
¾ cup sunflower seeds, soaked 4-8 hours and rinsed
½ cup lemon juice
½ cup water
1 cup olive oil
2 tsp salt
3-5 garlic cloves (to taste)
½ bunch parsley
1 tbsp. toasted sesame oil
For the salad:
6 cups shredded kale
1 cup diced cucumber
1 cup shredded carrots
½ cup soaked and rinsed sea vegetable (sea palm, wakame or hijiki or a combination of all 3)
4 nori sheets (cut up or torn into 1 inch squares)
½ cup chopped mixed herbs: cilantro, basil, scallions
½ cup garlic tahini dressing
½ cup toasted almonds
1. To make the garlic tahini dressing: Combine all ingredients except the parsley and sesame oil in a blender and blend until smooth. When the dressing is smooth, add the parsley and re-blend. (Note: Do not over-blend. Make sure that flecks of parsley are still visible in the dressing.)
2. To make the toasted almonds: Toss 1 cup of almonds in 1 tbsp of olive oil and a sprinkle of salt, and toast in a 350-degree oven for 5 to 7 minutes. Keep a close eye on them so they don't burn.
3. To assemble the salad: Toss together the shredded kale, diced cucumber, shredded carrots, the chopped, mixed herbs and the soaked and drained sea vegetables. Dress the salad with ½ to 1 cup of garlic tahini dressing. Garnish the salad with 1-inch squares of nori sheets, the toasted almonds and a light drizzle of the toasted sesame oil. Sunflower sprouts make a great addition, both in the salad or as a garnish.
—Brooke Showell