Molly Sims's Go-To Holiday Side: Carrot Quinoa Salad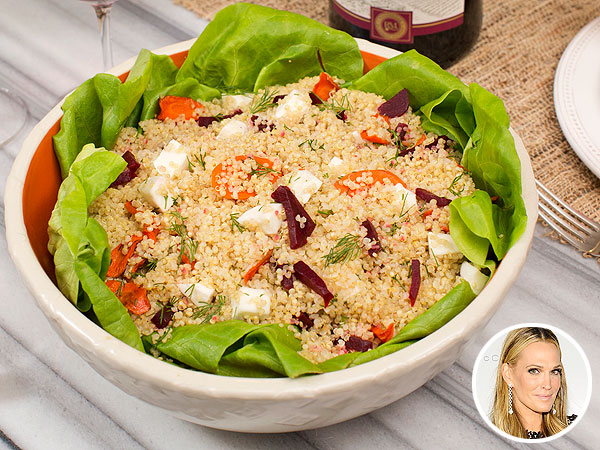 sterlingtyler.com; Inset: Michael Kovac/WireImag
Thank you, Molly Sims, for showing the world that being a model and being passionate about food don't have to be mutually exclusive.

The busy mom to a toddler also writes a cooking and entertaining blog, develops recipes for Woodbridge wines and fills up her Pinterest account with cool food finds (well, there might be a Zac Posen dress or two on there as well). Her hometown board on Kentucky, which has recommendations for bourbon, burgers, ice cream, and sushi, will make you want to fly south for your next vacation.
Sims, who recently shared some of her favorite tips from her upcoming book, The Everyday Supermodel, suggests setting a festive atmosphere for a winter party by simmering a deliciously scented drink like mulled wine before people arrive. She also plans kid-friendly activities for her son and his buddies, like a group scavenger hunt to find the items that will make up the centerpiece. And to honor her Southern roots, she'll set up a mashed potato buffet and let guests add their own bacon, veggies, and cheese.
When it comes to selecting the menu, Sims lets her friends be her inspiration. "My good friend Kishani is a vegetarian, and when she comes for the holidays I always make sure there are veggie options she can enjoy, like my honey-roasted carrot quinoa salad," she says.
Sims has shared the recipe for this tasty, simple side. It's a versatile dish that can either be served family-style or individually plated over greens and topped with cubed mozzarella.
Frankly, we're impressed that Sims can plan such fun and creative parties given how busy she is juggling work, family and travel. Maybe she can blog about her time-management strategies next?
Honey-Roasted Carrot and Quinoa Salad
Serves 4-6
1 cup quinoa, rinsed well in a fine-mesh sieve
2 tsbp. apple cider
2 tsbp. honey
Salt and freshly ground black pepper
3 medium carrots (about ½ lb.) peeled, thinly sliced on a diagonal
1 tsbp. apple cider vinegar
2 tsp. finely grated lemon zest
1 tsbp. fresh lemon juice
¼ cup olive oil plus more for baking sheet
½ cup pickled beets, cut into matchsticks
2 tsbp. coarsely chopped fresh dill
1 head butter lettuce, leaves torn, or a few handfuls of fresh arugula, optional
4 oz. fresh mozzarella, cut into cubes, optional
1. Preheat oven to 400F.
2. Cook quinoa according to package directions, until tender. Fluff with a fork and transfer to a large bowl; let cool.
3. Lightly coat a large rimmed baking sheet with oil. Whisk cider and honey in a large bowl to blend; season with salt and pepper. Add carrots and toss to coat.
4. Transfer to prepared baking sheet, spreading into a single layer, and roast until tender, about 15 minutes. Let cool.
5. Whisk vinegar, lemon zest, and lemon juice in a small bowl. Gradually whisk in ¼ cup oil until blended. Season to taste with salt and pepper. Add beets, dill, carrots, and half of vinaigrette to quinoa mixture, toss to coat, and serve.
Optional serving idea: Arrange lettuce among serving bowls, top with quinoa mixture and drizzle with remaining vinaigrette. Top with mozzarella cubes, if desired.
—Lexi Dwyer