Beyoncé's Album Release Dessert: Chocolate Vegan Cupcakes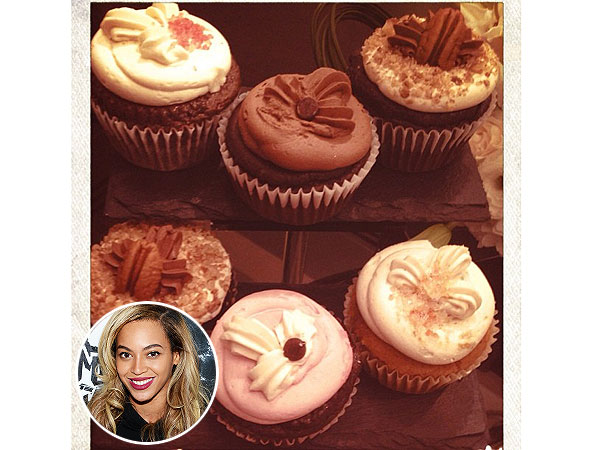 Courtesy Beyoncé; Inset: Dimitrios Kambouris/Getty
How did Beyoncé celebrate the release of her new surprise album on Thursday night? According to Instagram, with six delicious-looking cupcakes.

"Vegan cupcakes 😉" she posted at around 2 a.m. EST, with the photo above.
Yum! But, c'mon, Bey: We're sure the 291,000 fans who have already liked the photo just want to know where they can get some of that cupcake goodness. Maybe a more descriptive caption next time? Luckily, we recognized the signature Italian buttercream icing of Swirlz Cupcakes in Chicago, the city where the pop star will perform tonight.
The mini cakes—pumpkin maple, chocolate peppermint, vanilla on chocolate, double chocolate and two chocolate peanut butter—did come from Swirlz, confirms co-owner Pam Rose.
The bakery didn't know they were packing cupcakes for Beyoncé until the star posted the photo; her Chicago hotel placed the order without any name-dropping, Rose tells PEOPLE. "It made everyone's day at the store" when the staff found out, she says, adding that one of her employees is going to tonight's concert. "She's going to hold up a big sign: I packed your order at Swirlz Cupcakes."
Besides fitting into Beyoncé's 22-day vegan diet, the cupcakes are also gluten-free. Maybe they'll inspire her and husband Jay-Z's next clean-eating regime?
Are you inspired to bake a batch of vegan, gluten-free cupcakes of your own? If so, Rose and business partner Brandon Mayberry suggest swapping out traditional butter and milk for Earth Balance products, like vegan butter and soymilk. The company is one of the best sources they've found for their bakery treats.
For gluten-free cupcakes, no single G-free flour will take the place of all-purpose flour, so play around with a combination—Rose and Mayberry use sweet rice, brown rice and tapioca flours. The flours must be mixed thoroughly in order to get the cupcake to rise: "It helps if you blend your flour combination in a food processor," Rose says.
We noticed the six-cupcake order doesn't jive with Beyoncé's fixation on the number four, but we won't question it. After all, when it comes to cupcakes, when is four ever enough?
—Marissa Conrad
VIDEO: The Reaction to Beyoncé's Secret Album Release