On the Menu: Gwyneth Paltrow Chooses a Flavorful Fish Taco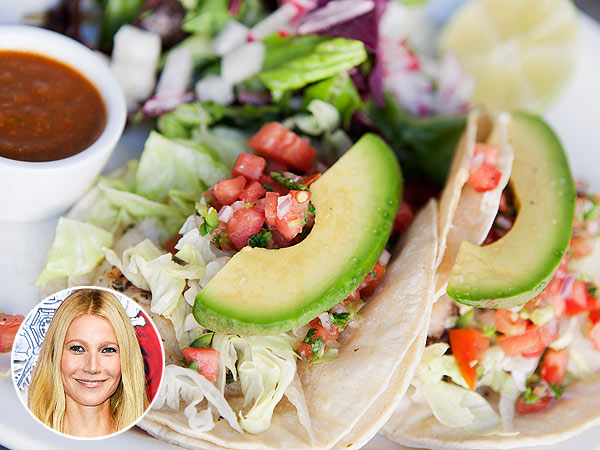 Courtesy Bedford & Burns; Inset: Pascal Le Segreta
Sure, you can dabble in macrobiotic diets and juice cleanses to keep your body bangin'—but sometimes a girl just wants a taco.

And that's just what Gwyneth Paltrow craved when she sat down for lunch at Bedford & Burns restaurant in Beverly Hills on Dec. 11. The fish taco, which is topped with a Greek yogurt-based "spicy crema" and fresh lettuce mixture, was prepared with halibut for two but can easily multiply for four or six hungry mouths. And if the white flatfish is not your thing, mahi mahi and red snapper make a delicious substitute.
Perfect for the avocado-lover, the dish pairs nicely with the restaurant's seasonal tortilla soup, which the actress also ordered.
So bust out that chopping board and grab your favorite herbs (parsley! chives! thyme!)—you're guaranteed to impress your next dinner guest when you say, "Gwyneth Paltrow taste-tested this."
Bedford & Burns Fish Tacos
Makes 4 tacos
3 tbs. olive oil
¼ cup chopped fresh herbs (like flat-leaf parsley, chives, thyme)
Red pepper flakes, to taste
Salt and pepper, to taste
¾ lb. halibut filet
2 tbsp. mayonnaise
2 tbsp. non-fat Greek yogurt
Siracha or other hot sauce, to taste
8 corn tortillas
1 cup iceberg lettuce, shredded
1 cup green cabbage, shredded
½ cup pico de gallo (or salsa)
½ ripe avocado, sliced
¼ cup cilantro, chopped
¼ cup scallions, chopped
4 lime wedges
1. In a shallow dish, combine the olive oil, chopped herbs, red pepper flakes, salt and pepper. Add the halibut and coat completely in the marinade.
2. In a medium skillet on medium heat, add the fish and marinade and cook fish until it is just opaque, about 3-5 minutes per side. Remove from heat, place the fish on a cutting board and slice.
3. In a small bowl, combine the mayonnaise, Greek yogurt and hot sauce. Set aside.
4. Warm 8 tortillas in a non-stick skillet on medium-high heat.
5. Smear the spicy mayonnaise mixture on the warm tortillas, add the sliced fish, and top with lettuce, cabbage, pico de gallo, sliced avocado, cilantro and scallions. Serve with a lime wedge.
—Amy Jamieson
WATCH: Gwyneth Paltrow's Red Carpet Lookbook