Cha-Ching! 9 Outrageously Expensive Foods You Have to See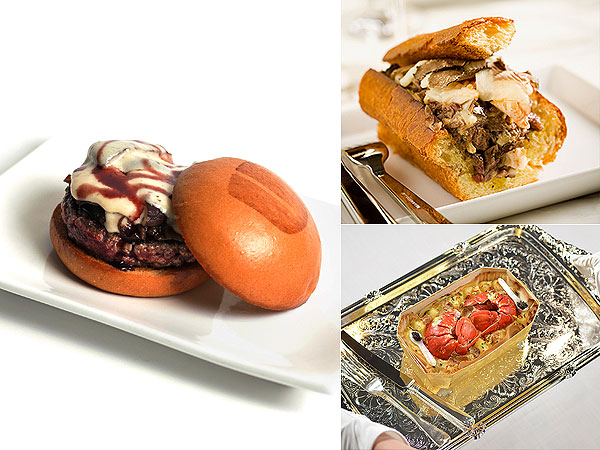 Courtesy Umami Burger, Barclay Prime, Charlie Bigham's
IF WE HAD A MILLION DOLLARS...
We don't know what's more bonkers: Paying $500 for a gourmet TV dinner or shelling out $2,075 for a Starbucks gift card that only gets you $400 worth of coffee (yup, that actually happened on eBay this week).

It almost makes the new $65 hamburger from burger chain Umami seem like a steal, huh? Click through for the latest and greatest (in the numerical sense of the term, at least) in pricey food items across the globe.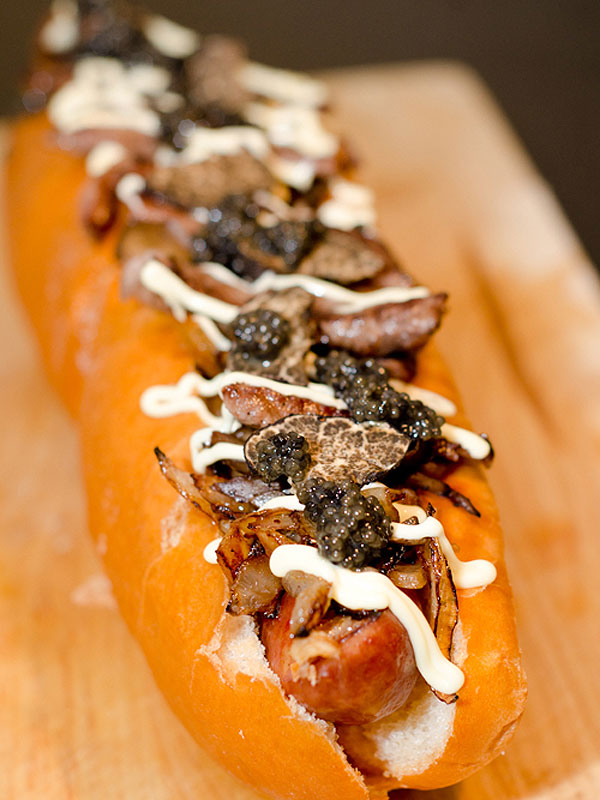 Guinness Book of World Records
THE $169 HOT DOG
While it might seem like a bargain compared to other dishes on this list, this fancy frank is made with Wagu beef, foie gras, caviar and shaved black truffles among other things. Made by Tokyo Dog in Seattle, it was officially declared the most expensive hot dog by Guinness World Records. In order to win that title, Tokyo Dog had to sell at least one of the hot dogs, which they've named Juuni Ban. Turns out on the first day they sold six, and donated the more than $1,000 in profits to the American Red Cross.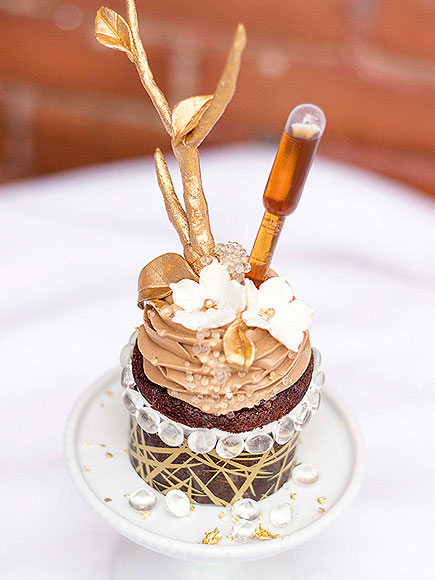 Jeeval Tailor
THE $900 CUPCAKE
A cupcake that costs more than an iPad? Yes, it's real. The $900 confection was ordered by a Toronto man for his wife's birthday, and made by pastry chef Devonne Sitzer and the team at Le Dolci bakery. The chocolate cupcake with chocolate-coffee buttercream frosting was dusted with gold flakes, adorned with gold-tipped fondant foliage, crested with sugar diamonds, and sprinkled with champagne "caviar" bubbles. If that wasn't enough, it was drizzled with 21-year old Courvoisier cognac before being served. Talk about a mouthful!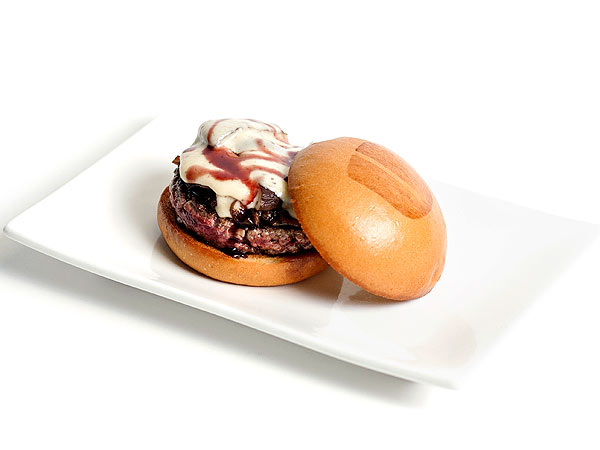 Courtesy Umami Burger
THE $65 HAMBURGER
The new Money's No Object burger from chain Umami Burger starts (that's right, starts!) at $65. What you get with the "basic" model: a Wagyu beef patty topped with shaved white truffles and a vintage port reduction. Add add foie gras and the cost goes up by $10. Because of California's ban on foie gras, you can only get the upgrade at their N.Y.C. location, but the original is surely decadent enough on its own. Get it on Thursdays, Fridays and Saturdays, only through December 31.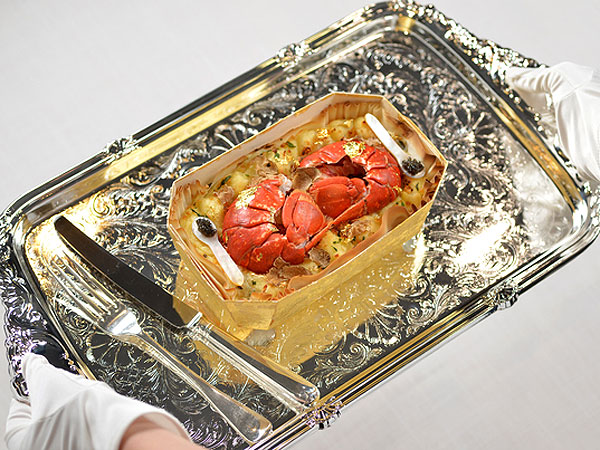 Courtesy Charlie Bigham's
THE $513 TV DINNER
This £314.16 British TV dinner from chef Charlie Bigham comes to roughly $512.87, or more than an iPad Air. For a fish pie. But the so-called Swish Pie has a layer of white Alba truffle, a crumb crust made with edible 24-carat gold leaves and a seafood medley of lobster, salmon fished from the shores of Russia and Finland, wild turbot, scallops and oysters, all poached in vintage Dom Perignon. Plus, you're eating off of a 24-carat gold leaf tray that's also embellished with two mother-of-pearl spoons filled with Beluga caviar.
And, because we can't make this stuff up, we're just going to copy and paste this from the Charlie Bigham's website: "To guarantee the safe arrival of the Swish Pie, each dish will be delivered in a bespoke aluminium case by a professional security guard—who will be handcuffed to the ready meal until it's been delivered to its buyer." Sounds a lot more intense than heating up a tray of frozen Swansons.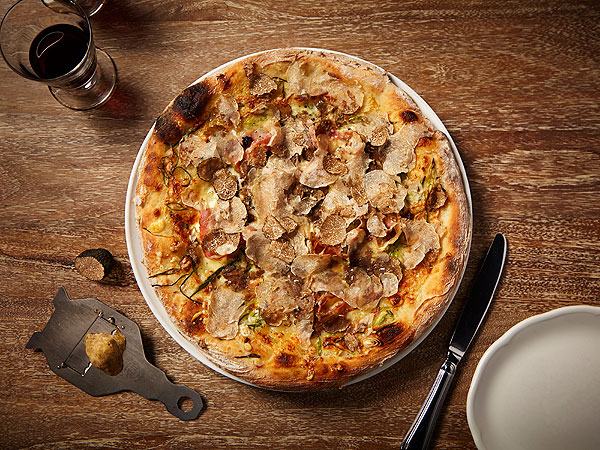 Courtesy Balena
THE $99 PIZZA
Truffles are the common denominator between most of these high-ticket dishes, and this new pizza from Chicago restaurant Balena has two varieties: Perigord black truffles, used to make the truffled mortadella on top of the pie, and Alba white truffles, shaved onto the pizza tableside. For your Benjamin minus $1, you're also getting a layer of Cinco Jotas jamón Ibérico, a rare cured meat that comes from purebred, free-range, acorn-fed pigs. The pizza is available until truffles run out for the season, probably around late December or early January.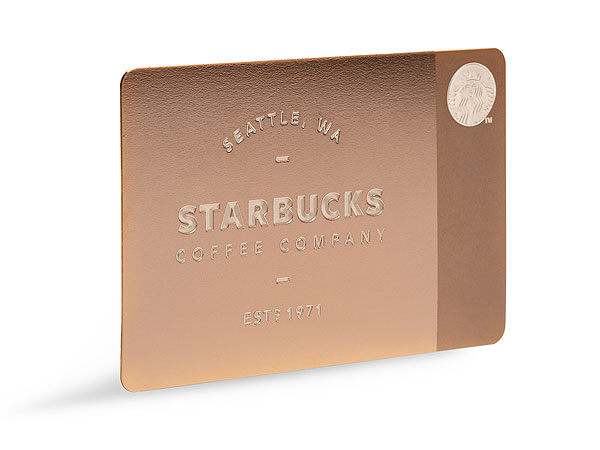 Courtesy Starbucks
THE $2,075 STARBUCKS GIFT CARD
Starbucks' new metal gift cards were already marked up: A $450 card gets you $400 in store cash and $50 in … coffee addict street cred? But when the cards sold out in a heartbeat, some smart buyers took to eBay, where a single card just sold for $2,075. Don't worry, you can still get this one for $2,000.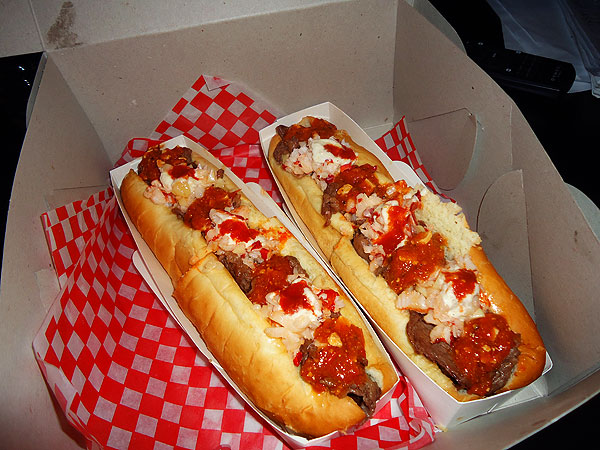 Courtesy dougieDOG
THE $100 BRATWURST
Visit one of dougieDOG's two food trucks in Vancouver for the $100 Dragon Dog, a bratwurst infused with 100-year-old Louis XIII cognac and topped with lobster and Kobe beef seared in truffle oil. The cognac alone runs more than $2,000 a bottle; the ultimate in obscene decadence, of course, would be to pair a snifter with this very, very haute dog.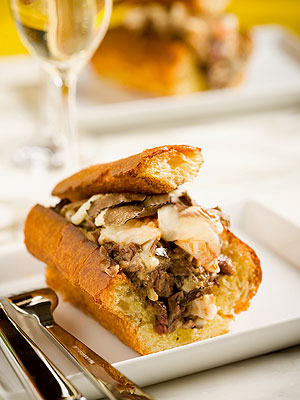 Courtesy Barclay Prime
THE $100 CHEESESTEAK
Restaurateur Stephen Starr may have gone all haute couture on the cheesesteak, but he knew he couldn't get rid of a Philly tradition: Cheez Whiz. For the $100 cheesesteak at Starr spot Barclay Prime, chefs make a truffled version of the cheese sauce, which goes on a sesame roll with Wagyu ribeye and foie gras. Wash it down with a half bottle of Perrier-Jouet Grand Brut Champagne, also included in the price tag.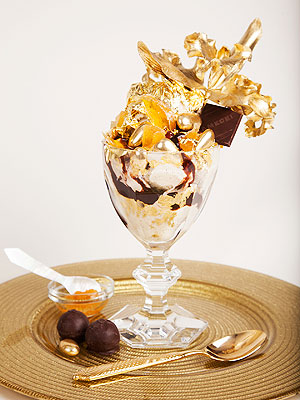 Courtesy Serendipity 
THE $1,000 SUNDAE
When 30 Rock's Jack Donaghy went to a restaurant to eat a sundae served in a pool of cognac, truffles and the world's most expensive chocolate, the writers were making a jab at NYC's Serendipity 3, where the Golden Opulence Sundae is indeed drizzled with chocolate that'll run you $50 for less than a ¼ pound. And that's only the beginning. The vanilla bean ice cream—served in a Baccarat crystal goblet—is also covered in 23-carat edible gold leaf, chunks of Chuao chocolate (a rare Venezuelan variety) and candied fruits from Paris. On the side: a tiny glass bowl of caviar infused with Armagnac, a type of brandy. And forget being born with a silver spoon in your mouth—this one is 18-carat gold.
—Marissa Conrad