Get Juiced: The Stars' Favorite Healthy Smoothie Recipes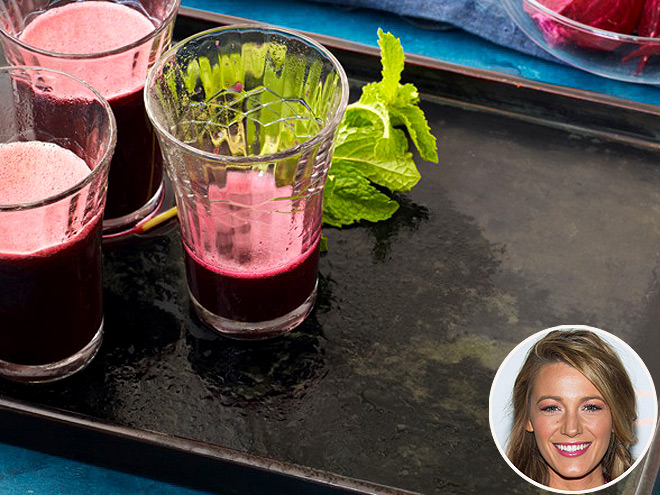 William Brinson
SMOOTH(IE) OPERATORS
After a Birkin bag or a giant pair of sunglasses, a designer veggie drink may be the most sought-after Hollywood accessory.

Fanatics swear that these concoctions make skin glow, boost energy levels, and aid weight loss, making them the perfect antidote to any holiday overindulging. But no need to fret if you don't live near a fancy juice bar: You can still get your fix at home with these easy recipes.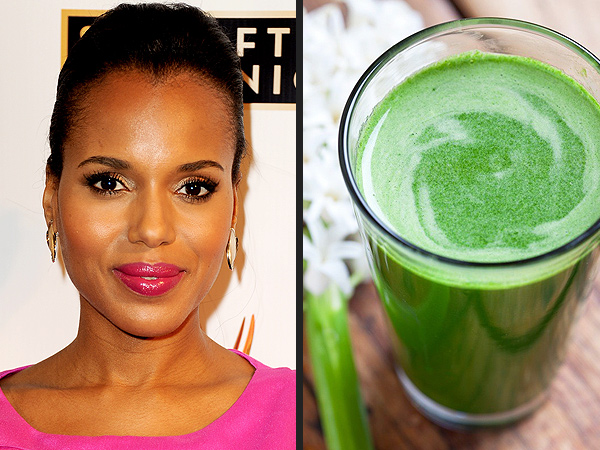 Courtesy Glow Bio
KERRY WASHINGTON
Some pregnant women crave chips, bagels, and ice cream. Not the health-conscious Scandal star, who pops by nutritionist-to-the-stars Kimberly Snyder's Glow Bio juice bar in Los Angeles to sip on this nutrient-packed smoothie. The spinach is packed with folate, which is a key nutrient for pregnant moms and their babies-to-be. But it's sweetened with enough apple, pear and banana to feel like a tasty indulgence.
Get the Recipe: Glowing Green Smoothie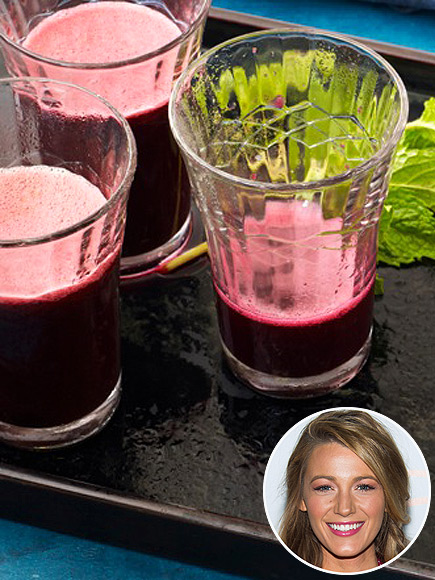 William Brinson
BLAKE LIVELY
Blake Lively recently contributed her favorite recipe to the new book The Juice Generation: 100 Recipes for Fresh Juices and Superfood Smoothies. She says that she's a food-loving Southern girl at heart, but this drink has helped her find balance in her diet. "The veggies in their purest form are refreshing and intoxicating, while the sweet notes of the fruit and mint make it both quenching and intoxicating. Now I can get my dose of veggies in the purest way and feel proud doing it. And boy, does it counter the guilt I feel when pulling out the ice cream," she explains in the book.
Get the Recipe: Blake's Intoxicating Detoxification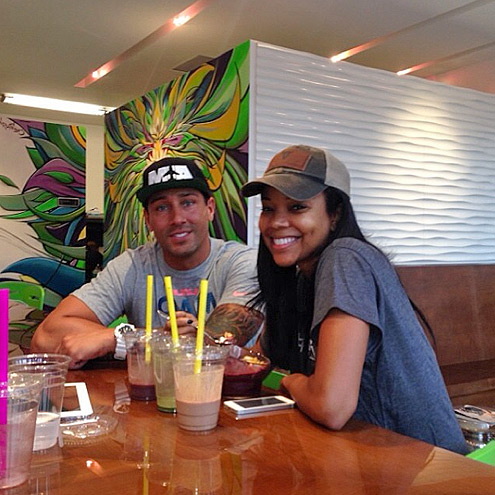 Courtesy Gabrielle Union
GABRIELLE UNION
Given that the newly opened Juice Spot in Miami is owned by Lebron James's wife, Savannah, it's not surprising that the actress (and longtime girlfriend of the Heat's Dwayne Wade) was one of the first customers. Union stopped by for a post-workout snack with her trainer, David Alexander, and Instagrammed a shot of them sampling the acai bowl and a few different juices. Her favorite smoothie is the Get Zen, which is made with hearty ingredients like vanilla whey, almond milk, and almond butter. It's the ideal treat after a tough gym session or, in Wade's case, an intense game.
Get the Recipe: Get Zen Smoothie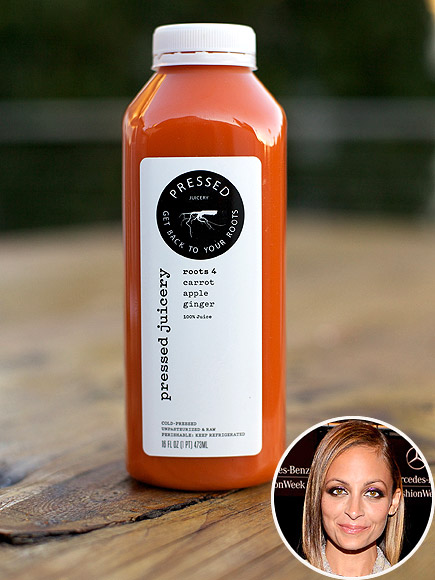 Pressed Juicery
NICOLE RICHIE
"LOVE THEIR JUICE!" is just one of Nicole Richie's many Twitter raves about Pressed Juicery, a California juice bar known for tasty seasonal blends like persimmon-apple-cinnamon juice. Richie especially loves their root-vegetable options, like this simple, not-too-sweet drink made with beet, carrot, and apple. When she needs a nutrition reboot she turns to their customizable cleanse packages, which can be shipped nationwide. "My LAST day of the @PressedJuicery cleanse and I'm feeling better than ever!" she gushed to the Twitterverse as she wrapped up a three-day regimen.
Get the Recipe: Carrot-Beet Juice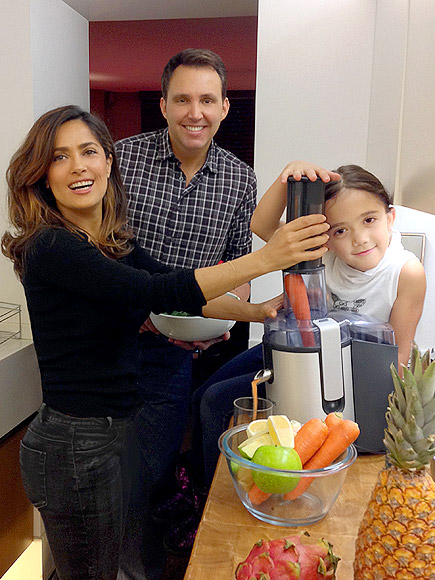 COURTESY Eric Helms
SALMA HAYEK
When it comes to her 6-year-old daughter, Valentina, Salma Hayek recognizes the importance of starting healthy eating habits early. They're pictured here vegging out with Juice Generation's Eric Helms at Hayek's home in Paris. The actress, who's also a founder of the Cooler Cleanse juice delivery service, shared her favorite easy drink recipe, which will please both kids and adults. She told PEOPLE, "Carrots and apples give you a super boost of vitamin A and antioxidants. My daughter loves this juice!"
Get the Recipe: Essential Red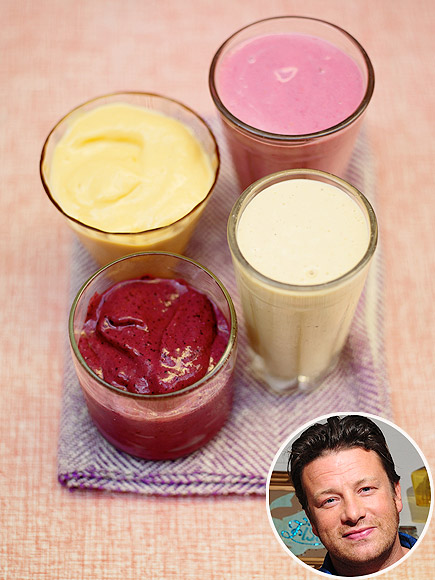 David Loftus
JAMIE OLIVER
Unlike some purists who live by the fresh-pressed-or-nothing mantra, the Naked Chef is a fan of using frozen fruit in his smoothies. (This recipe is from his book Jamie's Ministry of Food.) "It's been picked at its best, at the right time, and hasn't been forced to grow out of season," he says. And let's be honest, if you've got bags of berries stashed in your freezer, you're more likely to whip up a healthy drink on the spot. Oliver also adds oats and nuts, which he says help "slow down the absorption of the sugar from the fruit into your bloodstream, which gives you more energy for longer."
Get the Recipe: Frozen Fruit Smoothie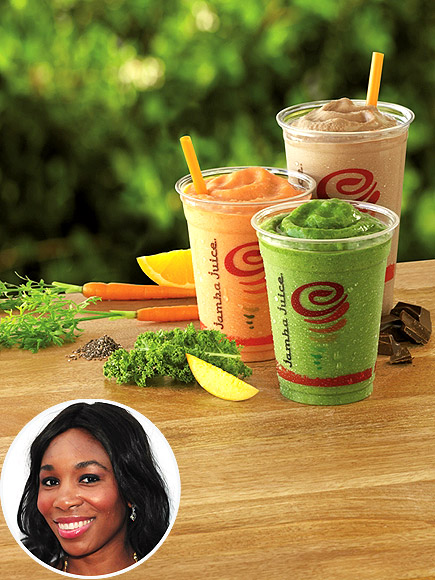 Courtesy Jamba Juice
VENUS WILLIAMS
The tennis star, who's Tweeted that she starts each day with some type of green drink, is so committed to juicing that she decided to open a few Jamba Juice locations in the Washington, D.C. area. The orange juice in this kale-based drink makes it sweeter and more approachable than other green varieties, and the ingredient amounts can be easily tweaked to suit your taste buds. "If I could live off green juice and smoothies I'd be extremely happy—well, and candy, too," Williams told reporters at a fitness conference in Santa Monica last spring.
Get the Recipe: Kale Orange Power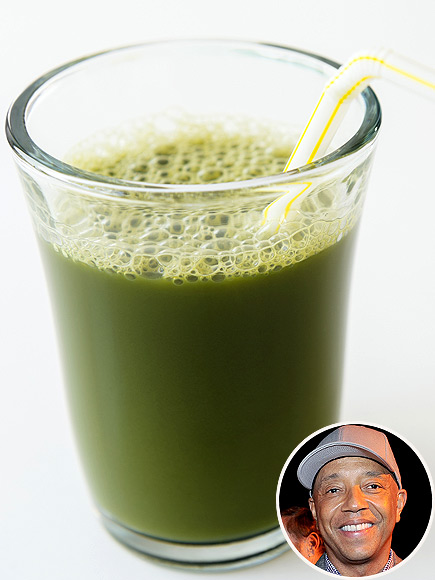 Getty
RUSSELL SIMMONS
Hip hop mogul Simmons isn't shy about touting the virtues of his über-healthy vegan lifestyle, and he's been a longtime fan of New York City juicemaster Melvin Major, Jr. After working at various Manhattan juice bars, Major recently opened Melvin's Juice Box, with one outpost in Soho's Miss Lily's Bakery and one in Chelsea's Dream Downtown Hotel. We're betting Simmons will be bellying up to the bar for his fix of this sweet, tangy concoction that gets a kick from fresh ginger root. After all, Simmons has Tweeted that green juice "promotes clarity & gives you energy" and calls it a simple thing that makes him "ecstatic."
Get the Recipe: Body Good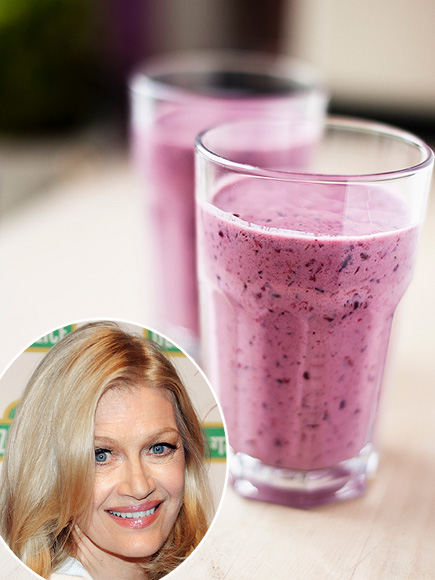 Getty
DIANE SAWYER
Longtime ABC anchor Diane Sawyer discovered this smoothie after a case of acid reflux sent her to New York ENT Dr. Jonathan Aviv. The drink — from Aviv's new book, Killing Me Softly From Inside — can "help heal acid reflux," the doctor tells PEOPLE. Bonus: Most patients on his acid-free diet lose 6-10 pounds and an inch off their waist in the first two weeks, he says.
Get the Recipe: Summer Smoothie
—Lexi Dwyer