Surprise Santa With Mini Milk and Cookie Cups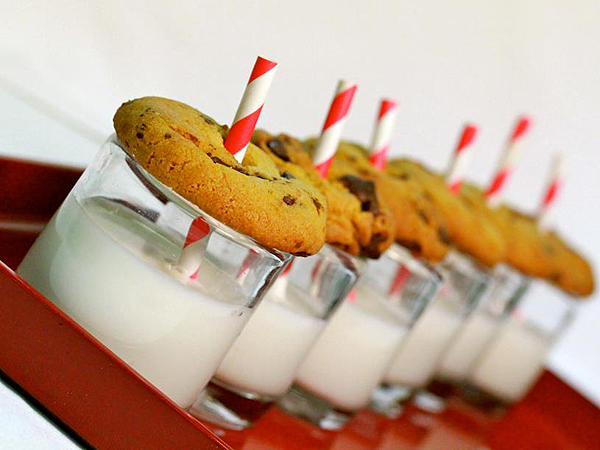 Courtesy Andrea Correale
The problem with leaving these milk and cookies out for Santa: By the time he gets his plump, red butt down the chimney, there may not be any left!

Surprise St. Nick—or guests at your holiday party—with this cute spin on the Christmas Eve classic by celebrity caterer Andrea Correale, who served the passable sweets at an NBC holiday event to the likes of Jimmy Fallon and Tracy Morgan.
The trick: While the cookies are still warm from the oven, poke straw-size holes in their centers. Then, just before you're ready to serve, fill several shot glasses or small tumblers with ice-cold milk, top each with a cookie and pop in a straw.
"There isn't a human alive, not even a celeb, who wouldn't love [this]," says Correale, who works with celebrations.com and owns catering biz Elegant Affairs.
Use your favorite cookie recipe, store-bought dough or Correale's recipe, which includes peppermint extract for a little extra holiday cheer. Bonus: This recipe is easy enough for little hands to help make. When the batch is just out of the oven, let your kiddos enjoy one or two while still warm, then leave the rest by the tree on Christmas Eve.
Peppermint Chocolate Chunk Cookies with Milk
Makes 2 dozen
2 cups all-purpose flour
½ tsp. baking soda
½ tsp.  salt
¾ cup unsalted butter, melted
1 cup granulated sugar
½ cup light brown sugar, packed
1 tsp. pure peppermint extract
1 egg, room temperature
1 egg yolk
1½ cups semisweet chocolate chunks
1. Preheat oven to 325F. Grease cookie sheets or line with parchment paper.
2. In a medium bowl, whisk together flour, baking soda, and salt; set aside.
3. Using an electric or stand mixer, mix melted butter, sugar and brown sugar until well combined. Beat in the peppermint extract, egg and egg yolk. Continue mixing until light and creamy.
4. Combine the dry ingredients into the wet mixture until just combined, then stir in the chocolate chunks.
5. Using your hands, roll about 2 tbsp of dough into a ball and place on a baking sheet. Continue rolling until you have approximately 24 cookies. Bake 10-13 minutes, or until golden.
6. Using a straw, poke a hole into the center of each cookie. Transfer to a wire rack and let cool.
WATCH: Ho Ho Ho! What The Celebs Leave Out For Santa