Just Add Milk: Bouchon Bakery's Gingerbread People Cookies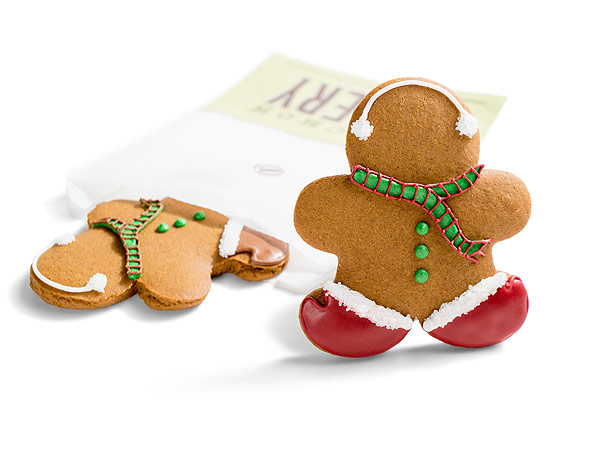 Courtesy Bouchon Bakery
Are you on the hook to make cookies for Santa tonight?

Here's a last-minute gingerbread recipe from Thomas Keller's critically-acclaimed Bouchon Bakery, which has outposts in Manhattan, Las Vegas, Beverly Hills and the Napa Valley.
Depending on the day and who's baking, Bouchon's playful gingerbread people might be wearing hats, scarves or even iPod earbuds. Consider yourself more of a traditional sugar cookie type? This recipe might convert you to the darker side. The texture is both cakey and delicate, and the subtle yet distinctive flavor comes from spices like clove, cinnamon, and ginger.
Since we've had our share of lackluster gingerbread treats before (they're often either too dense or too dry), we decided to ask executive pastry chef Sebastien Rouxel to spill his secrets for baking the perfect cookie. Here are his five must-dos:
Don't Overmix. Many people run their mixer on a high speed to quickly incorporate the flour, but this can result in (literally!) tough cookies. When you add the flour, leave the mixer on the lowest setting and shut it off as soon as you can't see any more white lumps.
Rest The Dough. Rouxel puts the dough in the refrigerator twice during the baking process: After he first brings it together in a block and after he cuts out the cookies. Refrigerating the block relaxes the gluten and firms up the butter, which makes the dough easier to roll out. And chilling the cookies before they're baked helps preserve their shapes while they're in the oven.
Reach For The Baking Powder. Although many gingerbread recipes call for only baking soda, Rouxel emphasizes the importance of balancing it with baking powder. "Baking soda alone will yield a bitter taste. Baking powder can do most of the work but sometimes extra baking soda is needed to help neutralize the acids and create a more tender crust," he says.
Embrace Color. Of course you can of course use food coloring to tint your royal icing, but Rouxel sometimes also plays with freeze-dried fruit or yogurt powders. "They also help cut some of the frosting's sweetness and give it a more distinctive flavor," Rouxel says.
Embellish Creatively. "Use your imagination and don't decorate like everyone else does—find original-looking cookie cutters in interesting shapes," says Rouxel. His favorite toppings include crumbled graham crackers, sugar that's been tinted with food coloring, and shaved chocolate.
Gingerbread People Cookies
Makes about 40 cookies
5 ¾ cups all-purpose flour
1 tbsp. baking powder
⅜ tsp. baking soda
½ tsp. salt
1½ tsp. dried ginger
1½ tsp. cinnamon
⅜ tsp. ground cloves
2 sticks of butter, room temperature
1 cup molasses
2 eggs
1 tsp. vanilla
1½ cups dark brown sugar
1. Combine all the dry ingredients except the brown sugar. Sift or whisk them together and set aside in a bowl.
2. In a standing mixer or with a handheld electric mixer, mix the softened butter with the sugar and the molasses on speed 2 until combined together.
3. Add the eggs and the vanilla and mix on low speed.
4. Add the dry-ingredient mixture in three equal batches, mixing on low speed, stopping just after the ingredients form a dough. Be careful not to overmix.
5. Form a block and cover in plastic wrap. Refrigerate for 2 hours.
6. Roll out dough on a lightly floured work surface. Cut out shapes and refrigerate for 30 minutes before baking.
7. Bake at 350F for 10 to 12 minutes. Cool on a wire rack before decorating with royal icing (recipe below).
Royal Icing
Makes about 2 cups
4 cups confectioners' sugar
½ cup pasteurized liquid egg whites
1 tsp. lemon juice
Food coloring, fruit powder, or yogurt powder (optional)
1. In a standing mixer fitted with the paddle attachment or with a handheld electric mixer, mix the whites until soft peaks form.
2. Add all of the sugar and mix until smooth.
3. Add the lemon juice and mix until smooth.
4. Add food coloring or powder if desired, mixing until ideal shade is reached.
5. Pipe onto cookies using a pastry bag or a zip-top freezer bag with a small hole cut from a corner. Allow icing to harden and store cookies in a tightly sealed container at room temperature.
—Lexi Dwyer