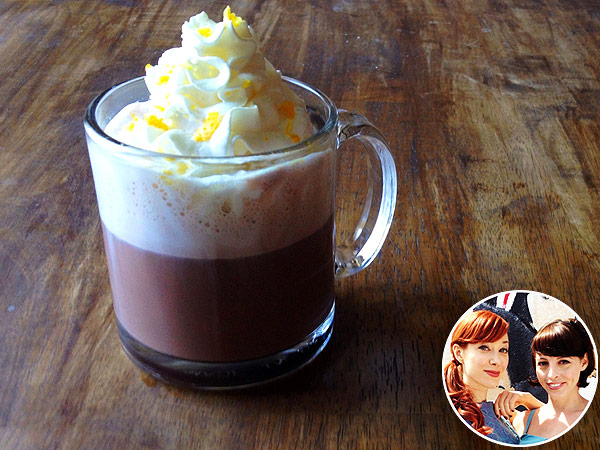 Courtesy Alie & Georgia
Alie Ward and Georgia Hardstark, a.k.a. Alie & Georgia, host Cooking Channel food-travel series Tripping Out with Alie & Georgia. Visit PEOPLE.com every Thursday for their playful spins on celebrity recipes, cocktails, entertaining ideas—and, of course, lots of laughs!

Show us a person who dislikes hot cocoa and we will show them the door. There is absolutely no excuse not to enjoy a rich, piping hot mug of thick liquid chocolate, especially one that has been scientifically crafted by chocolate genius Jacques Torres—a man who received the first-ever Nobel Peace Prize for his work in desserts. Okay, that's not true, but he should have.
Jacques dishes up an excellent Flavored Hot Chocolate that has a fruity, almost floral perfume due to the addition of freeze-dried strawberries. We love the idea of a fresh twist to a winter beverage, but why use fresh berries when you can use fresh liquor? We don't know, either.
We gave this hot cocoa a little citrus makeover by ditching the berries in favor of orange liqueur. Chocolate and orange turn out to be excellent friends, but did you know there's a third Musketeer in their posse? Yep, coffee. When we added a splash of coffee liqueur, the result was a wonderfully rich, almost smoky hot chocolate with an orange zing. Top it with some whipped cream and a little orange zest and you'll never want summer to come. Almost.
Alie & Georgia's Drunken Hot Chocolate
Makes 1
1 cup 2% milk
3 tbsp. heavy cream
2 oz. bittersweet chocolate
1 oz. orange liqueur (such as Cointreau)
1 oz. coffee liqueur (such as Kahlua)
Whipped cream, to taste
Orange zest, for garnish
1. In a small saucepan, bring milk to a low boil. Stir in cream and chocolate, then bring to a boil again, stirring until chocolate is fully melted.
2. In a mug, mix orange and coffee liqueurs. Pour the hot chocolate over the liqueurs and stir gently.
3. Top with whipped cream and orange zest. Try not to drink five in a row.