Your January Detox Plan (No Juicing Necessary!)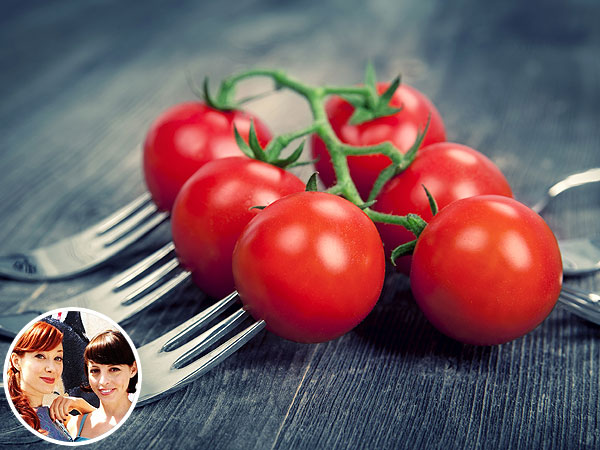 Getty; Inset: Courtesy Alie and Georgia
Alie Ward and Georgia Hardstark, a.k.a. Alie & Georgia, host Cooking Channel food-travel series Tripping Out with Alie & Georgia. Visit PEOPLE.com every Thursday for their playful spins on celebrity recipes, cocktails, entertaining ideas—and, of course, lots of laughs!

Happy 2014! How you feeling, buddy? Bloated? Not awesome? Is there more of you to love? If you've heard your pants audibly groan as you tried to zip them, it may be time to do a little detoxing.
As two human beings who eat pie and burgers and create boozy recipes for a living on Cooking Channel, we've learned how to get back on a healthier track, fast, when our signature vintage cocktail gowns are feeling a little snug. Below are some surefire ways to right your ship in a storm of gluttony:
Drink more water. Some doctors say to take your weight in pounds, divide that number in half and drink that many ounces of water a day. We say—after all the holiday airports and dehydration and carbs and stress—it's great to drink about 3 liters of water a day and see how you feel. It's kind of like taking a shower from the inside (don't swallow a loofa or eat any soap, however). Try adding some fresh lemon and cucumber slices to your pitcher, which not only makes for fancy-tasting spa water, but adds minerals and vitamins that will right your body chemistry all the faster. Within a few days, your skin will be glowing and you won't need a wrench to get your rings on and off.
Go vegan for a week. Our motto is: "If it's good enough for Beyoncé…" The pop star/powerhouse/general Alie & Georgia hero and her husband, rapper Jay-Z, took a pledge in December to eat a plant-based diet for 22 days. And we're just asking you to try it for seven! You can find some excellent recipes here on PEOPLE.com (including a Beyoncé-approved kale salad), as well as in books like Alicia Silverstone's The Kind Diet or on the Cooking Channel. So do some shopping and start cooking. It'll save you money, you'll be consuming less fat and salt, and if you can make it a week on a vegan diet, it'll be all the easier to stick to a healthy non-vegan diet for the rest of January.
Sweat it out. A good sweat flushes out a lot of salt and can rebalance your body. Go for a long walk with your dogs (or borrow the neighbor's dogs), chase your kids around the park (or offer to baby-sit the neighbor's kids…but probably don't call it "borrowing"), hit a yoga class, strap on ice skates…whatever works. Then, do it again. Don't worry if it feels like a chore the first few weeks. After you slip into the routine, you'll be excited to put on sneakers, like a dog who sees the leash and knows there's a fun walk ahead.
Take your vitamins. No matter how well you're eating or how much you're working out, you're probably going to be boozing it up sometime this month. Did you know B-vitamins may prevent hangovers? In one study, men and women who took vitamin B6 in 400mg doses before, during and right after drinking at a party reported half the hangover symptoms of the group who took placebo vitamins. Follow their example and the morning after you'll notice a little pep in your step and—coupled with plenty of water—the return of your cheekbones. Remember them? They're happy to see you, too.
With that, happy New Year!